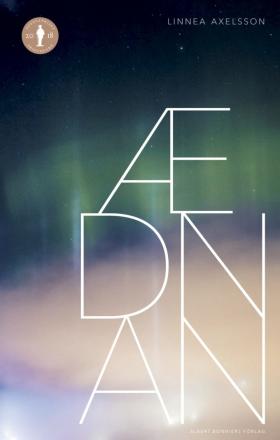 by Linnea Axelsson
reviewed by Brad Harmon
The title of Linnea Axelsson's prize-winning epic poem, Ædnan, is an old Northern Sámi word meaning the land, the ground, and the earth. Told from multiple perspectives involving two different families over the course of a century, Ædnan was one of the most notable books of 2018 in Sweden, not just in the field of poetry but for literature as a whole. Beginning in the early 20th century, the nearly 800-page epic tells a tale of settler colonialism, dislocation, and resilience. Axelsson has stated in several interviews that her goal is to uncover and recover voices lost to history and tell their stories.
Progressing more or less chronologically, the book is divided into three sections: 'Ædnan,' 'Ædno,' ('River') and 'Ædni' ('Mother'). The poetry is unornamented yet rhythmic, sparse on the page yet dense in pages. The poem's polyphonic structure requires the reader to follow the weaving of various voices. Long phrases of simple words blow like the wind across dozens of pages, or perhaps a slow brook over stones, across different lyrical subjects:
I nästan hela / mitt liv har jag följt / de där vågorna // Sett älven komma / rinnande mellan / fjällsidorna […] Jag ser hur // älven vill rinna förbi / men hålls kvar // för att dammen står / där i vägen // som en hämning / ute i naturen // Och jag har nog / inte alltid kunnat / skilja naturen // från mig själv 

For nearly / my whole life I have followed / those waves / Seen the river come / running between / the mountainsides // I see how / the river wants to run by / but is held back // because the dam stands / there in the way // like an inhibition / out in nature // And I have probably / not always been able / to distinguish nature // from myself
Though written in Swedish rather than one of the Sámi languages, the book is an event in terms of the history, recognition, and, perhaps most significantly, representation of the Sámi people and their discrimination and oppression caused by the Swedish state's colonisation of Sápmi, the traditional region of the indigenous inhabitants of the Northern coast of the Fennoscandian Peninsula stretching across Norway, Sweden, Finland, and Russia. It is of the same lineage as Amanda Kernell's 2017 film Sameblod (Sámi Blood), which also depicts complex Sámi identities within, against, and beyond Sweden and Swedishness.
A particularly interesting feature is the representation of language:
Det svenska / språket växte / längs tankarna // Samiskan sov / sen länge i kroppen / av skam // under lydnaden // Tilltäppt / sluten inom mig // Rörde sig rösten / knappt märkbart / nästan omöjlig / att rubba 

The Swedish / language grew / along my thoughts // The Sámi language slept / for a long time in my body / out of shame // in obedience // Clogged / closed within me / The voice stirred / barely perceptibly / nearly impossible / to dislodge
Of the ten or so Sámi languages, all but two have fewer than 1000 speakers and several have already become extinct. Many people with Sámi heritage have assimilated to varying degrees into mainstream Swedish ways of life. Thus, to varying extents depending on location, Sámi identity is becoming increasingly culturally and less linguistically focused.
One of the remarkable aspects of the book is the way in which the words flow to and from different affects. Another is the notion of landscape. Not only are the land, the ground, and the earth frequent images alongside a plethora of anthropomorphised bodies of water, so too is the text itself a landscape. The book is imposing, but when one opens the pages one sees only a dozen or so lines with a few words each placed in the centre of the vast white space of the page. Such a design feature is certainly intentional and symbolic: the words on the page are few, but they speak of and with the spirit of Sámi history. If one takes the book as a material representation of Axelsson's recovery of Sámi voices, then the black words against the white background show that there is more to be said. The fact that the book takes up such a large space on one's bookshelf is a reminder of that white space of history that has been forgotten and expunged, or that is remembered and has yet to be told:
De hade svarat / så lite när hon sagt: // Kan ni inte / berätta för mig / om hennes liv // hur hon var

They answered / so little when she said / Can you not / tell me / about her life / how she was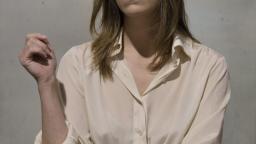 Albert Bonniers Förlag, 2018
760 pages
Foreign rights: Eleonoora Kirk, Bonnier Rights
In 2018 Ædnan won Sweden's highest literary award, the August Prize, for the year's best work of fiction.
Ædnan also won Svenska Dagbladet's Literature Prize in 2018 and the Norrland Literature Prize in 2019.
Linnea Axelsson made her debut with the novel Tvillingssmycket in 2010.