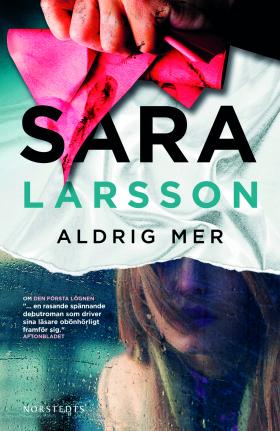 REVIEW
Aldrig mer
(Never Again)
by Sara Larsson
reviewed by Catherine Venner
Sara Larsson's second novel, Aldrig mer (Never Again), focuses on human trafficking and prostitution in the streets and apartments of Stockholm. Far from being a typical whodunnit, the novel explores the buying of sex – illegal in Sweden – from three very different angles. A trio of intertwining tales enables the reader to piece together the fate of Andreea, a Romanian teenage prostitute, and Johan, who at the start of the book is stopped by police for kerb-crawling.
We first meet Andreea locked in an apartment in Madrid. After running away from home, she is lured to Spain with the promise of restaurant work. Naively, Andreea travels to the Spanish capital but it slowly becomes clear that she has been sold. She endures violence and rape and is forced to walk the streets. Eventually she manages to escape to Romania. However, back home, Andreea is too ashamed to contact her friends and family so she rings the woman who, without her knowledge, had sold her, resulting in her recapture. The international reach of sex trafficking is seen as Andreea and one of her pimps are transferred to Sweden. Rather than working the cold streets of Stockholm, Andreea is obliged to host customers in a flat, where she lives a solitary existence until Nicoleta is also brought in. When Nicoleta is relocated to a Berlin brothel, the separation from her friend is unbearable for Andreea. Deciding that she will never be used again, she attempts suicide with a stolen penknife in the hotel suite of Johan Linden and his business associates.
Patrik works as a therapist for men seeking to stop visiting prostitutes. One night, he is out with the police when they pick up Johan, who claims that he was not buying sex but actually trying to help the girl concerned. Haunted by a missed chance to help a prostitute during his posting to the UN peacekeeping force in the former Yugoslavia, Patrik is shocked when Johan mentions that very girl's name. He tries to contact him later for more information, but Johan has disappeared. It emerges that Johan travelled to Romania just after their meeting (on a mission to help Andreea, as we later discover). With Johan's soon-to-be ex-wife, Patrik flies to Romania in search of him and confronts his own ghost from the past.
Four children, a beautiful wife and a very well-paid job: Ted has a perfect life. However, he still uses the services of an 'escort' on his frequent business trips to Stockholm. One day, he receives a small purple letter that reveals unsettling information about one of the girls he 'booked'. Desperate to keep his unfaithfulness from his wife, he follows the letter's demand to help the girl. He also attends a therapy session with Patrik's colleague. On leaving the meeting he finds a purple letter like his, but addressed to another man. He contacts this man, and they are instructed to meet a prostitute and bring her to a recreation centre. Patrik observes the pick-up and follows their car. At the centre, both Patrik and Ted are met by someone they know.
Sara Larsson artfully interweaves the stories of victim, perpetrator and investigator so that the book progresses at a steady pace, leaving the reader wanting more. About three quarters of the way through the book, Andreea's story noticeably falls silent, leaving us to guess her fate until the end. The simple yet emotive telling of Andreea's story is evidence of the author's thorough research in both Sweden and Romania. Furthermore, the well-rounded protagonists' believable motivations allow us to develop a real empathy for all of them. Aldrig mer is a hard-to-put-down crime novel. ​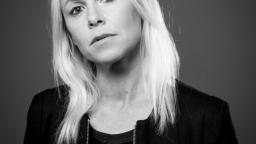 Norstedts, 2018. 430 pages.