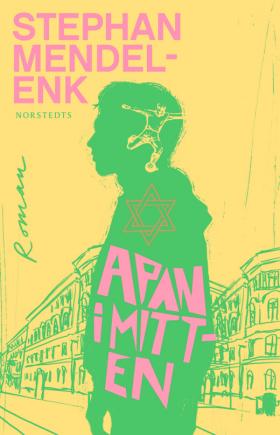 REVIEW
Apan i mitten
(Monkey in the Middle)
by Stephan Mendel-Enk
reviewed by B.J. Epstein
Jacob is a player on a pretty poor amateur football team, one just for Jews in Sweden's second-largest city, Gothenburg. Being on the team provides him with a community of sorts but also in some ways seems to deepen his anxiety and further lower his self-esteem. The football team and everything that comes with it – the other players, the connection to the synagogue and to Judaism in general, and the awareness of his weaknesses, including a lack of distinct identity – is the backdrop to this story, which is arguably aimed at both young adult and adult readers.
Apan i mitten is about a family in crisis. When Jacob's mother finds a new man and leaves her husband, Jacob's father falls into a despair that eventually leads him to suicide. Jacob, whose modus operandi seems to be to put on a brave face and pretend nothing bad is happening, is forced to confront painful feelings and experiences. He worships his older brother Rafael and tries to copy everything he does. Jacob believes that Rafael's return to Sweden from Israel, where he has been living, will improve the situation, but in fact Jacob comes to realise that Rafael too has secrets and isn't exactly who he appears to be or who Jacob wants him to be. Jacob needs to learn to believe in himself, but this is far from an easy task.
Apan i mitten is the sequel to Stephan Mendel-Enk's previous novel Tre apor (Three Monkeys), although it also stands alone, like the titular monkey. For readers both in Sweden and abroad, the book offers an insight into Swedish Jewish life that is seldom seen in literature. Mendel-Enk clearly depicts the tension between staying with one's own kind versus assimilation, and the challenges that come with belonging to various different groups, ones that don't always share opinions about issues such as Israel and Palestine.
Sorrow and confusion saturate this novel. Still, it is not necessarily as sad as that might sound; Mendel-Enk explores important themes such as family, identity, politics, religious beliefs, and grief through Jacob's coming-of-age tale, and he does so in an engaging and interesting way.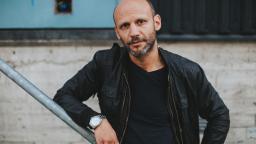 Norstedts, 2020
240 pages.
Foreign rights: Linda Altrov Berg, Norstedts Agency.
Stephan Mendel-Enk is a writer and journalist. Apan i mitten is a standalone sequel to his 2010 novel Tre apor (Three Monkeys).