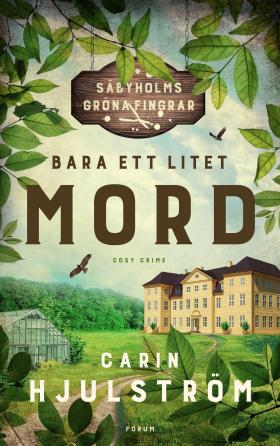 REVIEW
Bara Ett Litet Mord
(Just a Small Murder)
by Carin Hjulström
reviewed by Karin Filipsson


The winds were ripping and tearing into white clouds that were swirling across a greyish white sky. High above the fields, two birds of prey were circling. Majestic, like the monarchs of the air. He took a firmer stand, all the while following the birds with his gaze.
          'I can get caught for this. You know that, right?' he whispered.
          She pressed against him, like a sign.
          The birds slowly sank down towards the grove next to the fields.
          'Now', she said quietly.
          He lifted his rifle and placed it on top of his shoulder. Aimed, waited, and aimed. Seconds passed. The brown and black birds flew closer to the tree tops.
Just a Small Murder is first part of Carin Hjulström's series of crime novels, called Säbyholms Green Fingers. The series of novels – so far there are five books in the series – take place the surroundings of a castle in the Swedish countryside. They portray how famous actress Siri Ehrensvärd and her semi-criminal nephew Anton restore a run-down nursery and bring it back to life. Hjulström has already written a series of popular novels about Frida Fors, and with Just a Small Murder she successfully moves to the cozy crime genre which has its origins in the works of Agatha Christie, Alexander McCall Smith and others. It is being made into a television series in Sweden.
The story centers around an odd but endearing couple of characters: Siri Ehrensvärd is Sweden's most renowned and celebrated actress. Throughout her life she has felt guilty about not taking care of her orphaned nephew Anton, while instead prioritizing her love for the theatre and for the married head of the Dramatic Theatre, Egil Borg. For thirty-five years she has been waiting for Egil to get divorced so that they can show their love in public and build a life together. But during a meeting where Siri thinks that her big love is going to share the news of his divorce and perhaps even propose, he announces that he has gotten a young actress pregnant and that he is going to marry the young woman. In addition, there are no acting roles for Siri in the upcoming season at the theatre, which leads to Siri losing her footing completely.
She leaves the city and she ends up going to stay with Anton who has just won a run-down plant nursery in the beautiful, small village of Säbyholm in a poker game. Anton Ehrensvärd is 25 years old and has a complicated past. His parents were quite adventurous and when Anton was six years old, they took off on one last adventure to climb the Kilimanjaro, planning to finally settle down and start a shipping company when they returned. Anton's grandmother took care of Anton while his parents were gone, but they never returned and were never heard from again. Anton had to stay with his grandmother Henrietta and when she passed away, Anton was a teenager and he had to take care of himself, which led to him getting into trouble. The story starts when a hunt inspector is found dead in a field, surrounded by eagle feathers. Although the local police get involved, it is Siri and Anton who prove better at investigating the crime.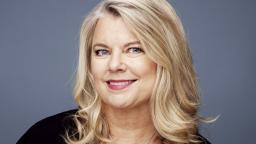 About
Bara Ett Litet Mord
Stockholm: Forum, 2020.
423 pages.
Foreign Rights: Enberg Agency.
Carin Hjulström has worked as a journalist, TV presenter, columnist, radio presenter, moderator and a novelist. She has become known in Sweden for her warm, humorous and very human stories with themes ranging from brutal political murders to tentative online dating and cozy crime.