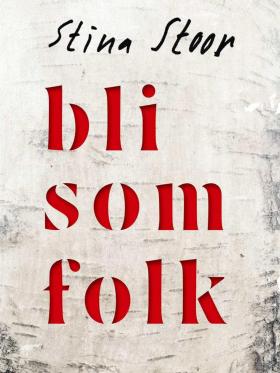 Review
Bli som folk
(Beasts and Other Stories)
by Stina Stoor
reviewed by Nichola Smalley
In September 2015 I saw Stina Stoor reading from her short story collection Bli som folk (Beasts and Other Stories) at the Gothenburg Book Fair. I found myself suddenly transported out of the din of the packed exhibition halls and into Stoor's world. Into Västerbotten, on the border between Sweden and Finland. Into a landscape where the neat dark forest and the narrow road stretch away into the distance. Into a community where the rules are different, where human interaction is sparse and direct. Into a world opened up to the reader by the frank voices of children and young people, voices that manage to convey the intimacy, sensitivity and love that lie at the heart of that world.
The nine stories in Bli som folk are set in a rural community in Västerbotten, in the far north of Sweden. On another continent, its people might be called rednecks: for the most part they are poor, with limited access to formal education and little need for the manners of the local town, let alone the southern urbanites they are so remote from. These people have their own codes and customs. The community is characterised by the diversity of the borderland in which it is situated, peopled by speakers of Swedish and Finnish, as well as Meänkieli (an official local minority language) and Saami. It's a kind of community rarely portrayed in literature. Notable exceptions to this are provided by fellow Norrland-based authors Torgny Lindgren and Mikael Niemi, though Stoor takes a less selfconsciously humorous approach than these two.
Instead, Stoor writes about this community simply and compassionately, allowing its people to speak for themselves. She does this partly through the everyday-ness of the stories, but also through the language she uses: a rich and complex portrayal of local dialect and personal idiolect. This simplicity and directness is linked to Stoor's decision to write the stories from the perspective of children and adolescents, which is in turn linked to her personal involvement in the stories and the community in which they are set.
One story, 'Ojura' (the 'Beasts' in the English title) is a particularly good example: it follows Sandra, a young girl who lives with her father and sister in an isolated spot where the undergrowth is her playground and its many-legged inhabitants are both her playthings and her friends. Stoor has stated that this near-magical world of Sandra's was inspired by her own childhood, and that the climax of the story – an uncomfortable encounter, at a children's party, with the relative sophistication of the local town – was based on her own encounters with children who led lives quite foreign to hers, even though they lived just a few miles away. Events are described in such a down-to-earth manner that the reader is drawn into the narrative, seeing the world from Sandra's perspective as undercurrents of meaning stream through the prose, making the simplicity quiver with the unspoken tensions, triumphs and humiliations of social interaction across class boundaries.
With writing this sophisticated, it's no surprise that Stina Stoor was shortlisted for the 2015 August Prize. And it's hard to see how she could fail to go on to even better things in the future, when her debut collection features stories as bold and original as these. Stina Stoor's world is the kind of world I would be happy to revisit time and time again, and I for one can't wait to be transported again soon.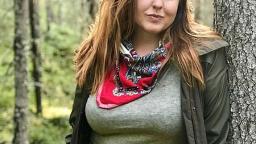 About the book
Bli som folk
Norstedts, 2015. 211 pages.
A translated story from the collection was published in SBR 2017:1.