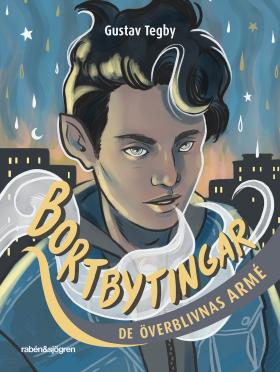 REVIEW
Bortbytingar 1 – De överblivnas armé
(Changelings 1 – The Army of Orphans)
by Gustav Tegby
reviewed by Catherine Venner

Dorian appears to be an average 13-year-old who has a habit for getting himself into trouble. However, his world is turned upside down when his older sister, Nadia, dies. At her funeral, he thinks he makes it rain in the church. Everything being too much for him, he runs out of the church and gets into a waiting taxi. During the journey, he notices that the driver is in fact a small girl. She introduces herself as Majken and explains that she is a changeling, to be more precise a myling, who can wake the dead. She had been waiting for Dorian for he too is a changeling and is to start school the next day to learn his powers.
At school Dorian takes a quiz and learns that he is an elf, who can create illusions but can never lie. His two class mates are Gabriel, a sprite who can talk to animals and nature, and Roja, a troll who is very strong and can talk to inanimate objects. Together they are to practise their new-found powers, as well as going on class trips to see the legendary Mimir's head (and sneakily ask it questions) and the giant that sleeps under the streets of Stockholm and holds up the world. The school is training changelings to guard the giants so that they do not awake and cause earthquakes.
Outside of school Dorian meets Majken as he believes that she will be able to briefly bring his sister back from the dead so he can ask her one last question. In return, Majken wants his help to recapture her friend who has been kidnapped by the ominous Army of Orphans. Her friend is also a myling and she and others of her kind are being forced to use their powers to create a legion of the undead. However, Nadia is missing from her grave. It is thought that she has also been taken by the Army of Orphans.
Together Dorian and Roja discover the army's headquarters and its guard, a huge troll going by the name of Besten who is never without Cindy, his knuckle duster. They plan to break into the headquarters to rescue the girls, but to do so they need the help of Gabriel, who Dorian feels inexplicably drawn to. They also enlist the assistance of Nadia's pet rat Sture and even Harry, a gnome who is working as a private detective.
Their daring plan involves smuggling wasps into the headquarters in Gabriel's mouth and Dorian creating the illusion for Besten that he still has Cindy. In the chaos, they quickly find Majken's friend, but Nadia is not among the legion of the undead and Gabriel is injured and must be left behind. Once Majken is reunited with her friend, she reveals she moved Nadia's body so that Dorian would help her. On returning to the grave, Nadia's body is once again missing and Dorian wonders if his sister is also a changeling, to be more precise a myling!
The Army of Orphans is the first in a trilogy by acclaimed YA author Gustav Tegby aimed at readers aged 11+ and it sets the scene really nicely: The mixture of modern-day phenomena, such as mobile phones and school, mix seamlessly with Nordic folklore and creatures from Nordic mythology. The teenage protagonists are likeable and relatable, with typical teenage struggles combined with those of discovering they are mythical creatures.
The themes of loyalty to friends and the budding romance between Dorian and Gabriel run through the novel, while the action drives the plot and makes the reader want more. And although it touches on difficult topics, such as death and broken families, there is no lack of humour thanks to characters such as Sture the talking rat and Harry the gnome, who appears to have a finger in every pie. As could be expected with the first book in a series, the ending leaves questions unanswered - plus a hostage to be rescued - so that the reader will be hungry for the next instalment. The next two books to be released in 2023 will be eagerly awaited.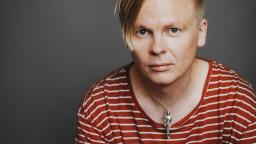 About
Bortbytingar 1 – De överblivnas armé
Rabén & Sjögren, 2022
165 pages
Foreign rights: Grand Agency
Gustav Tegby is a successful script writer for theatre and radio in Sweden, Finland and the USA. His debut novel, Beröringen (Touched) was nominated for Norrland's Literary Award in 2019. Bortbytingar was shortlisted for the Crimetime Awards 2022 in the category Best Children's Crime.