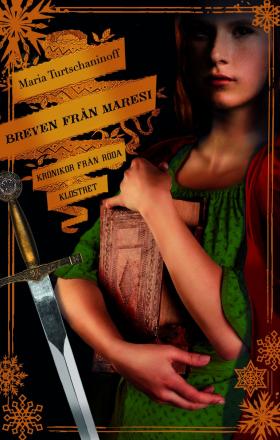 REVIEW
Breven från Maresi
(Maresi Red Mantle)
by Maria Turtschaninoff
reviewed by Mia Österlund
With Breven från Maresi (Letters from Maresi, to be published by Pushkin Press in June as Maresi Red Mantle) Maria Turtschaninoff confirms her status as an internationally renowned author of fantasy. She is the new link in a chain of feminist fantasy writers laying claim to female empowerment and to a specific voice and space for women. In this, she joins Finland-Swedish fantasy icons such as Tove Jansson and Irmelin Sandman-Lilius, as well as broader international currents. Addressing separatism, emancipation, generational community, ecofeminism, and the female body, playing on second-wave feminism, she shows an impressive ability to renew the genre.
Turtschaninoff's trademark mix of myth and feminism has won her several national awards in her native Finland.  And her books travel well. Her crossover series, The Red Abbey Chronicles, has been translated into a wide range of languages, including Chinese, English, German, and French, and has been compared to Margaret Atwood's The Handmaid's Tale (1985) and Ursula Le Guin's Earthsea series (1968-2001).
The Red Abbey Chronicles is a trilogy about a matriarchal religious community, set in a mythical, pre-industrial landscape. The first novel, Maresi, is narrated by Maresi Enresdotter, a young girl who has fled harsh conditions and found refuge in the separatist Red Abbey on a remote island. Female supernatural powers and a goddess mythology – centring on a trinity of Maiden, Mother, and Crone – are at the core of the novels, which feature collective power as a means of achieving emancipation and resisting violence against women.  And Turtschaninoff does not shrink from detailed descriptions of oppression. The second novel, Naondel, is a prequel, and a collective novel describing the events that led to the founding of the Red Abbey.[1] It is a patchwork of women's voices recounting the abuse they have suffered as members of a vicious ruler's harem. Here the violence escalates. In the third novel, Maresi returns to her home village. With her fiery red mantle and unbraided hair, and, above all, with her talk of founding a school for girls, she endures the hardships of an educated and emancipated woman who, having outgrown her social origins, now struggles to reconnect to them.
One of the most compelling aspects of the series is its literary form, bringing together chronicle, legend, and myth. Breven från Maresi is an epistolary novel featuring three collections of letters from Maresi to her fellow feminist friends and mentors at the abbey. Since the letters are archived for future generations, Turtschaninoff's masterpiece symbolically depicts women's history, literature and knowledge.footnote2
Whereas the first two novels in the series examine separatism and collectivism, the third one raises the difficult issue of how to convince others of your ideas, as a first step towards an equal and democratic society.  Addressing women's access to knowledge and leadership, as well as ecological issues, Turtschaninoff's novel is spot-on as a commentary on today's political climate. Questions raised by the individual's quest on the one hand and collective networking on the other are skilfully navigated, and a strong feminist genealogy runs through the trilogy.
One of Turtschaninoff's strengths is her ability to build credible fictional worlds with the potential to address societal dilemmas. How can a feminist handle heterosexuality? This is one of the thorniest underlying questions raised as Maresi confronts the oppressive patriarchy and happily states that she has found a way to have it all: a man, a family, and work.
Compelling and unpredictable, Breven från Maresi footnote3 is a timeless story about power and repression. Though written with a light touch, its prose is grounded in reality, and convincing. Whereas many YA fantasy novels seem to build their worlds as they emerge, Turtschaninoff apparently possesses a wealth of detailed knowledge of the regions she depicts. Most of her novels, such as Arra (2009) and Anaché (2012), return to similar thematic ground, such as gender and feminism. Rich in magic and provocative in their portrayal of a feminist utopia, the Chronicles of the Red Abbey are both timeless and contemporary. With her heroine Maresi, Turtschaninoff has revitalised feminist fantasy by taking the theme of the girl as saviour to the next level, thereby reimagining fantasy conventions.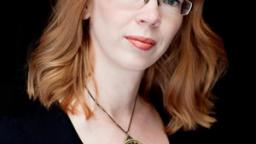 Förlaget (Finland), 347 pages
Rights: Elina Ahlbäck Agency
The first two books of the Red Abbey Chronicles, Maresi (Schildts & Söderströms, 2014, 2016) and Naondel (Förlaget, 2016) have appeared in A.A. Prime's English translation at Pushkin Press. Maresi Red Mantle (Breven från Maresi) will come out in June 2019.
Underfors (2010) and Arra - Legender från Lavora (2009) were reviewed by Agnes Broomé and Nichola Smalley in SBR 2012:2.
Anaché - Myter från akkade (2012) was reviewed by Agnes Broomé in SBR​ 2013:S.
Maria Turtschaninoff 's awards include the Finlandia Junior Prize, Skugg Finlandia and the Swedish YLE Literature Prize (all in 2014) and the Society of Swedish Literature in Finland (twice).
Breven från Maresi has been nominated for the 2019 Nordic Council Children and Young People's Literature Prize.