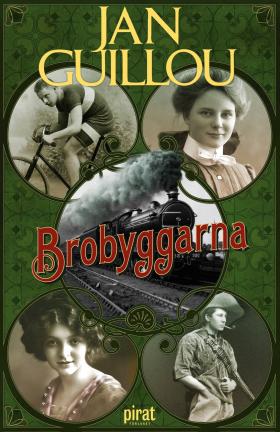 REVIEW
Brobyggarna (Det stora århundradet)
The Bridge Builders (Book 1 in The Great Century)
by Jan Guillou
reviewed by Michael O. Jones
The first of Swedish author Jan Guillou's ten-novel opus dramatising the 1900s from the perspective of three Norwegians and their descendants is an expansive, sprawling work of historical fiction, humanised by its focus on the effects of grand events on a small cast of characters.
Following the loss of their father and uncle at sea, three fisherman's boys from Norway's west coast must seek employment in late 1800s Bergen. After they construct a replica of a clinker-built Viking ship, replete with ornate carvings, members of a local charitable organisation see their potential, and set them on a path to study architecture in Germany. The condition is that the boys return to Norway on graduation to help construct the Bergensbane, a railway line over the mountains from Christiania (modern Oslo) to Bergen.
Only one brother returns to Norway.
Lauritz, Oscar, and Sverre (named after the author's own not-too-distant ancestors) are the brothers in question, blond, blue-eyed young men in a world which still hoped the future would be brighter, but whose own innocence is destroyed as Europe's age of empires comes to a bloody end. The eldest brother Lauritz alone returns to Norway, motivated by both honour and the necessity to prove his worth to his beloved Ingeborg's noble family in Germany. Middle brother Oscar is betrayed for money by the prostitute he believed loved him. Shamed, humiliated, and heartbroken, he reneges on his deal with the charity and flees to German East Africa, where he plays a pivotal role in constructing the railway from Dar-es-Salaam to Lake Tanganyika. Sverre, the youngest and most artistically-minded, falls in love with an English gentleman named Albert, and moves to Britain to live with him.
Railways are not of interest to most people who are not 10-year-old boys (more's the pity), and one may well be hesitant to read such a book as this, believing it is focused on steam engines. However, those of us who are not unrepentant anoraks need not fear, as architecture, bridge building, and steam engines are not the focus of the novel. Rather, it explores class, sex, and gender in Victorian and Edwardian Europe, as well as colonialism, war, racism, intra-European xenophobia, and the looming clouds of communism, ethnic nationalism, and the fading of the old ways.
Central in all this are the stories of Lauritz and Oscar in Norway and German East Africa. Lauritz founds an architectural business based in Bergen, but his financial success and comfort are impeded when German belligerence causes anti-German sentiment to rise in Norway, and his half-German children are attacked on the streets of Bergen.
Oscar spends almost two decades in German East Africa, at first constructing a railway, but also amassing wealth through the ivory and mahogany trades. In time, the Great War spreads to Africa and Oscar is called to fight alongside Germans and Africans against the uncivilised British.
The youngest brother Sverre's story does not feature in this novel, being only alluded to in passing, but his story runs parallel to his older brothers' and is the focus of the second novel in the series, Dandy.
The roots of socialism, communism, imperialism, and ethnic nationalism are all presented in this novel, sowing the seeds for subsequent events later in the century. In addition, as a reader from the Anglosphere I found the depiction of the Great War from the other side a fascinating eye-opener. We are given considerable nuance in Guillou's portrayal of several conflicts. For example, native African tribes rightfully resisted colonisation with force of arms, and suffered many losses, but their resistance on occasion led some bands to enact horrific atrocities of their own on settlers. The British Empire's treatment of African and Indian people under its dominion causes Oscar – whose wife is African and whose son is mixed race – to view the 'English' as uncivilised and subhuman. The British bombardment of Dar-es-Salaam in German East Africa during WWI leads to horrendous casualties, but still Lauritz's German wife Ingeborg shows deep humanity in caring for dying English soldiers on the Norwegian coast. The author allows a lot of grey space in conflicts, encouraging the reader to understand and empathise with several points of view.
The author's own possible squeamishness about certain aspects of his characters' lives is sometimes in evidence. Whilst book one presents us with unexpectedly graphic sex scenes between the brothers and their respective female partners, sexual behaviour between Sverre and his male partner Albert is glossed over in a very Hollywood manner.
What is also a shame is that the sheer expanse of the storytelling necessitates simplification of some aspects of the characters. Whilst Lauritz and Oscar (and later Sverre in his own novel) show agency and make their own decisions, they on occasion feel like archetypes rather than true characters. This is not in itself bad, nor does it exclude the characters being genuine personalities, as the cast of Moberg's Utvandrarna (The Emigrants) show, but now and again it feels as though the historical events are the true focus rather than the characters.
However, these are all minor gripes which many people will likely not even notice, and they certainly did not affect my enjoyment of the novels. The positives of the series far outweigh these tiny issues, and a reader will come away from them after a journey which is both gripping and educating.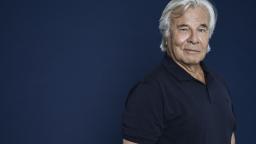 About
Det stora århundradet: Brobyggarna
Piratförlaget, 2011, 595 pages
Foreign rights: Piratförlaget
Jan Guillou is one of Sweden's best-known authors, journalists, and television personalities, with a career spanning over five decades. He has published historical novels set during the Crusades, as well as novels on the war on terror, with many being adapted for television and film in Sweden. Brobyggarna begins what is perhaps his biggest project yet, a suite of ten novels detailing the twentieth century. The final novel in the suite, Slutet på historien (The End of the Story) was published in 2020, and the novels have been translated into all the major European languages excepting English, to great commercial and critical success.