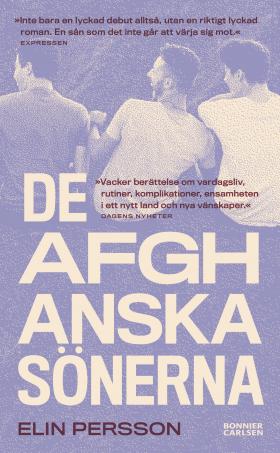 LATEST REVIEW
De afghanska sönerna
(The Afghan Sons)
by Elin Persson
reviewed by Joanna Flower
De afghanska sönerna is the debut novel by Elin Persson. It tells the story of Rebecka, a young Swedish woman who recently started working in sheltered accommodation for unaccompanied minor refugees, where she cares for three teenage boys from Afghanistan.
Rebecka did not expect to get this job, due to her lack of experience in this type of work. During her interview, she was asked what she would do if she opened the door to one of the young people's rooms and found them hanging. Rebecka says: 'What should I do?' 'That's a good answer,' says the boss. 'That shows that you work according to instructions.' Working to rules and regulations is what the job is all about. The boys in the sheltered accommodation are constantly observed, their every movement methodically noted down in a daily report, with personal correspondence photocopied 'for the file'. They lack privacy almost entirely; Rebecka's fob key allows her access to their rooms at any time. Persson's writing style reflects this cold detachment, reducing the boys' individuality and personalities to facts and observations. In many places, the book reads like a report itself, the details given are very concrete, with purely external descriptions of the boys and their environment, like a collector of butterflies who has her object of analysis pinned down for observation.
The story follows Rebecka's relationships with the three boys up until the eighteenth birthday of the eldest, Ahmed. Since he is no longer a minor, Ahmed's asylum application must now be assessed – and is rejected. He will therefore have to leave this community, and the Swedish way of life into which he has been assimilating, in order to return to Afghanistan. He refuses to go, and the story ends in tragedy.
Rebecka is a mirror of the refugee land of Sweden, a place where rules are followed and life is simply accepted without question. One day she declares it is time for skating, and when one boy asks who has decided that, she replies that it just says so on the daily planner; another boy invites her to go onto his prayer mat to 'talk to her God', but she has no idea what to think or do; she cannot answer a question about Swedish Christmas customs, which prompts one of the boys to ask why she knows nothing of her own country. Rebecka is only a few years older than them, but the difference in their worldviews and their connection to their feelings as human beings is vast. As the novel progresses and she begins to form relationships with these boys, who clearly have rich inner lives, Rebecka begins to perceive the sterility of her inner self, and to rebel against the rules and regulations.
Persson was awarded the 2021 Nordic Council Children and Young People's Literature Prize for this book. This novel may have been marketed as a Young Adult book, but really it resists such categorisation. It can be read as a commentary on the technocratic nature of the Swedish asylum system, and leaves the impression of a bureaucratic and robotic jungle of red tape with a distinct lack of humanity. It has been very well received in Sweden, and behind the chilly reserve of the narrative voice ('He takes my hand. You're not allowed to hold anyone's hand if you work here'), there is a real sense of connection and empathy with the subject matter and the characters. This is a story about the dehumanising of Afghan refugees by someone who is longing for the system to change.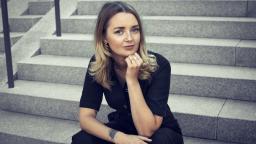 About
De afghanska sönerna
Bonnier Carlsen, 2020
188 pages
Foreign rights: Cherry Koivula, Nordin Agency
Elin Persson is a social anthropologist who works in the welfare sector. She was awarded the 2021 Nordic Council Children and Young People's Literature Prize for De afghanska sönerna.