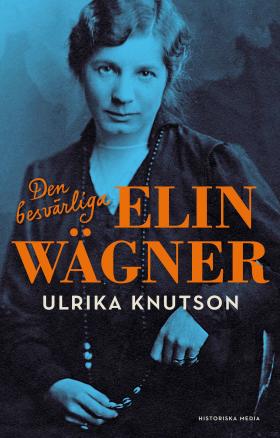 REVIEW
Den besvärliga Elin Wägner
(The difficult Elin Wägner)
by Ulrika Knutson
reviewed by Anna Paterson
For as long as print was the dominant way of disseminating, analysing and debating new and old ideas, publicists made up an informal think tank, consulted nationwide. Generations of writers – reporters, thinkers, debaters, fantasists and jokers – knew each other, sometimes too well for everyone's peace of mind, and were occasionally interrelated in complicated ways. In Sweden, Elin Wägner (1882-1949) was a life-long member of the club and one of its most influential opinion-formers. An idealist with a self-confessed 'passion for extremes', her emotional self coexisted, often uneasily, with an independent, sceptical wit. She wrote all the time, apparently effortlessly, and produced some 20-odd novels and short story collections, several non-fictional works often with a polemical edge, a major biography, some poetry and endless pieces of journalism and correspondence.
Public interest in Wägner eventually faded, at least until a major biography in two volumes was published (1977 and 1980), reminding Swedes of the invaluable literary heritage she had left them. As her new biographer Ulrika Knutson comments, a little ruefully: 'By now, she has become one of Sweden's most researched 20th century writers … unsurprisingly, given her wide range of activities as journalist, activist, debater and novelist.' Knutson, herself an outstanding kulturjournalist, has written a wonderfully readable, almost novelistic Wägner study for the 21st century. The chronological pattern is interrupted by passages rich in insights that follow up on relationships and topics. It can't have been easy to strike a balance between the famous, self-righteous public persona with her causes and feuds, friendships and love affairs, and the private woman who, especially as she grew older, was torn by doubts, regrets and anxieties. Overall, the description of Wägner as 'difficult' fits her: she was smart, incisive and impatient with opponents, contradictory, charming and wilful – altogether more exciting and annoying than most of her earnest, politically skilled contemporaries.
An instinctive journalist, Wägner was barely 20 when, in 1902, her occasional book reviews led to an offer of a reporter's job on a large regional paper, otherwise staffed by and written largely for men. Elin had left her secondary school for girls before the last year: 'I'm not learning anything new', she had told her worried father. She liked men and coped easily with male colleagues until her attractiveness landed her in a thrilling but ultimately deeply upsetting relationship with the paper's editor. Knutson has traced the emotional fall-out in at least nine of the twenty-two short stories in Wägner's first work of fiction (Från det jordiska museet (The Museum of Earthly Things), 1907); the affair may well have influenced her writing and thinking until much later in life.  
By 1906, Wägner had escaped to Stockholm and successfully continued her journalistic career. Her lively love life and fascination with the social roles of men and women are reflected in her fiction, though the male characters, Knutson says, are often uninteresting – 'dimly perceived wimps'. Wägner embraced feminism early and became a dedicated supporter of women's suffrage although, like the majority of Swedish campaigners, she abhorred aggressive methods: she portrayed the female suffragists she wrote about as '…real women in every way […] who dreamt of men, children and pretty hats.'
This kind of double-take is typical of Wägner's restless mind. Later in life, she annoyed more orthodox feminists, as well as practically everyone else, by insisting on the historical existence of an ancient, wise matriarchate where women were the true cultivators of soil and family. A radical pacifist and a convinced Christian who joined the Quakers, she saw men as innately and incurably aggressive warmongers, but even that belief was tempered by the scale and extent of persecution in WW2 and in its grim aftermath. Most intriguing for today's reader is her passionate engagement with a 'deep green' version of environmentalism, long before it was considered more than an eccentric fad. This is the major theme in Väckarklockan (Alarm Clock, 1942), her deliberately controversial collection of interlinked essays. It is actually a polemic tract that succeeded in offending, among others, women in public life (too feeble), socialists (too pro-industry), democrats (too ineffective) and Christians – God, Wägner seemed to say, had allowed mankind to ruin His Creation.
But 1942-43 were also the years when the public controversialist completed an ultra-respectable project:  a well-received, two-volume biography of the Nobel Prize-winning storyteller and national treasure Selma Lagerlöf.  This opened the gates to the literary establishment and, in 1944, the difficult Wägner joined the Swedish Academy as the second female member since its inception in 1786 – the first being Selma Lagerlöf herself.
The inevitable challenges brought by her election to the Academy were more than matched by her pleasure in the recognition it entailed. The combination of security and ageing, however, did not stop her from completing a last, thoughtful and 'difficult' novel (Vinden vände bladen (The Wind Turned the Pages), 1947). These events make a deeply satisfying end to a historically fascinating, vibrant biographical narrative.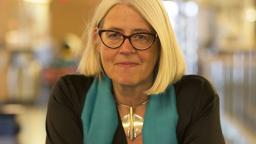 About
Den besvärliga Elin Wägner
Historiska Media, Lund 2020.
400 pages.
Foreign rights: Lena Amurén, Historiska Media.
Ulrika Knutson is a journalist and critic, whose previous books about the women who shared Elin Wägner's lifetime and interests include Kvinnor på gränsen till genombrott – gruppporträtt av Tidevarvets kvinnor (Women on the brink of a breakthrough – group portrait of Tidevarvet's creators). Albert Bonniers Förlag, 2004.