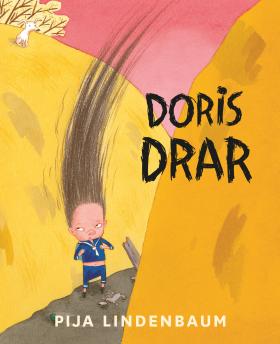 Review
Doris drar
(Doris runs off)
by Pija Lindenbaum
reviewed by Fiona Graham
Doris is a determined little girl who knows her own mind. And what she wants is to finish the civil engineering project she's working on in her sandpit, not to go out for afternoon tea – particularly when that means putting on a pink flouncy frock rather than her favourite sailor suit. To make matters worse, eleven-year-old Egon, her new step-brother, commandeers her bike and makes fun of her lopsided cardigan in front of the grown-ups. Doris loses her temper and stalks off on her own to teach the whole family a lesson.
As Doris stumps across country, her hair grows ever longer, wilder and spikier. She stops for a chat in Arnim's kebab restaurant, whose patrons include a human-sized rodent. She makes her way across mountain ranges and exotic countries with incomprehensible languages. She braves a hippopotamus in a great river, and plunges into a muddy chasm, after which she dries off by wrapping herself in her now floor-length hair.
Yet when Doris finally decides to go home, the family are in the middle of a game of Scrabble and haven't even noticed her absence. Mum invites her to join in, though the child can't yet read or write. It's at this point that Doris's ever wilder hair expands to fill the whole living-room in an explosion of angry red. Finally, the two grown-ups get the point. The smallest member of the family demands to be taken seriously, not for granted. And she badly needs a cuddle.
Pija Lindenbaum's expressive illustrations skilfully reflect the magical inner world of a young child, mixing the everyday with the outlandish. One double-spread features three girls trundling their go-kart downhill – against a backdrop of exotic golden onion domes, with snow-capped peaks adorned by a polar bear in the background. The vivid colour schemes reflect changes in the child protagonist's emotional state. The initially muted colours of everyday life shift into rich purple and gold while Doris is on her travels, and pillar-box red when she finally vents her full fury.
Anyone who can recall feeling hard-done-by as a young child will be able to relate to this quirky, gently humorous story, which so clearly demonstrates that a child's feelings are just as strong as an adult's – if not stronger. Lindenbaum's fine book, which is suitable for reading aloud to pre-school children, lends itself to exploring the emotional needs of the very young. It may appeal particularly to those coping with the demands placed on them by a reconstituted family.
About the book
Doris drar
Lilla Piratförlaget, 2015. 32 pages.