INTERVIEW
'Earning a living as a translator is a lot better than telling teenagers to take their coats off and put their mobile phones away'
An interview with Marlaine Delargy
by Ian Giles
Marlaine Delargy studied Swedish and German at the University College of Wales,  Aberystwyth, where the late Laurie Thompson – founding editor of Swedish Book Review – was her tutor.  She has been shortlisted for the Crime Writers' Association International Dagger on four different occasions and has won twice – most recently in 2018 for her translation of Henning Mankell's After the Fire. She is about to start work on her fiftieth novel translation.
Q: Why did you choose to study Swedish?
I went to Aberystwyth to study German, French and English. Unfortunately, I hadn't read the prospectus properly, and had failed to grasp that I wasn't allowed to study my three A Level subjects. The admissions tutor said that if I liked English, I would enjoy American Studies. This proved to be incorrect . . .  After about six weeks someone I'd got to know on the German course suggested I switch to Swedish, because it was good fun. I went to see Laurie, who was highly sceptical about my ability to catch up. However, he agreed to let me have a go, and within a very short time I was hooked. Tom Geddes was my tutor for the first two years as well.
Q: Is it true that your first ever translations were for Swedish Book Review?
Yes – Ivar Lo Johansson's Stadens ensamhet (Loneliness in the City) was in the very first issue, then an extract from Sven Sörmark's En oscariansk skandal (Sherlock Holmes in Stockholm), then P O Sundman's Diskaren (The Man Who Washed Dishes). I also translated Göran R Eriksson's survey of Swedish books for SBR for many years. The variety of the work I did was invaluable, as was Laurie's no-nonsense approach as an editor.  As I said in his tribute (SBR 2016:1), he taught me that only your best is good enough.
Q: How did you take the step from translating for SBR to other projects?
Although I'd done bits for Laurie when he started SBR, I always had other jobs. I was tutor in German and Swedish at Aber from 1979 to 1981, then taught English in Finland for a year. I started my PGCE in 1985, and subsequently taught German in secondary schools from 1986 until 2004. When I left teaching, it wasn't with the aim of moving into translation; I just didn't want to spend the next ten years telling teenagers to take their coats off, put their mobile phones away and so on. I got a part-time job teaching IT to adults and started to explore the possibility of doing some translation on the side. Laurie was very helpful, as was Sarah Death. Laurie put me in touch with the big Swedish literary agencies, and on his recommendation, they commissioned me to translate extracts from novels and non-fiction publications, catalogues, all kinds of things. One of those extracts was from Åsa Larsson's Solstorm (Sun Storm), and when it was bought by Random House USA, they asked me to translate the whole thing. That was the beginning; I continued teaching IT until summer 2010, by which time I'd built up enough of a reputation to earn a living as a translator.  Which is a lot better than telling teenagers to take their coats off and put their mobile phones away.
Q: You've made your name specialising in translating crime fiction – why crime? Is there something that makes crime different from other genres?
I just love crime – it's what I read for pleasure, and what I've always read. The writing of Colin Dexter, P.D. James, Ruth Rendell, Reginald Hill, Peter Lovesey, Susan Hill and so many others has shaped the way I write. I also translate literary fiction for Other Press in New York (Ninni Holmqvist, Therese Bohman, Theodor Kallifatides), Kristina Ohlsson's children's books, and of course John Ajvide Lindqvist's brilliant horror novels and short stories, so I have plenty of variety.
I don't feel there has to be a distinction between crime fiction and literary fiction when it comes to translation. Good writing is good writing, and good translation is good translation.
Q: Do you have a favourite book or author that you have translated?
I can honestly say that I like all the books I've translated, with one exception [Lars Kepler's The Hypnotist, eventually published under the translator's pseudonym of Ann Long]. However, I particularly love Johan Theorin's Öland quartet (Echoes From The Dead, The Darkest Room, The Quarry, Voices from Beyond). Echoes is my absolute favourite – the characters, the sense of place, the mystery itself. Theodor Kallifatides' Another Life is very special too.
Q: Are there any writers currently not in translation who you'd like to see translated?
I'm very sad that Penguin Random House have dropped Hans Rosenfeldt / Michael Hjorth's Sebastian Bergman series. Hans has had such success with The Bridge, and I've translated three of the novels, but because sales were disappointing, the rest haven't been taken up. They've all been bestsellers in Germany.
Q: How was it taking over as Henning Mankell's translator, and how does it feel to win the International Dagger a second time?
Bitter-sweet, inevitably. If Laurie had still been around, I wouldn't have been asked, but of course it was a real privilege to work on After the Fire. I re-read Laurie's translation of Italian Shoes, which is a prequel to Fredrik Welin's story, and tried to echo his style as far as possible without losing my own identity.  And of course, it's Henning's last novel – such a loss.
I'm very pleased to have won. I think it's terrific that the Crime Writers' Association recognises the role of the translator with the International Dagger. Johan Theorin's Echoes From The Dead won the New Blood Dagger in 2009, but the translator isn't acknowledged for that award. Johan did send me half his prize money though! It's always lovely to get a pat on the back, and I suppose it doesn't do any harm when it comes to securing future projects.
Q: Why do you think Swedish is so strong in crime fiction (fifteen Swedish titles have been shortlisted for the International Dagger since 2006)?
Success breeds success. I think the global impact of Stieg Larsson's Millennium trilogy, plus 'Scandi noir' TV series like The Killing and The Bridge must have inspired writers, agents and publishers, and also encouraged international publishers to take a chance and take advantage of the huge interest in the genre. It's not only Swedish – don't forget about Jo Nesbø, Karin Fossum, Anne Holt, Yrsa Sigurðardóttir, Arnaldur Indriðason . . .
Q: What advice would you give to emerging translators of Swedish?
Hone your craft, then try to work with Swedish agents to begin with. Do as much as you can, and tackle as wide a variety as you can. I did literally hundreds of texts before I was asked to translate Sun Storm, and I still translate extracts for several agents if I can possibly fit them in. They will often recommend a good, reliable translator to a British / American / Australian publisher when a book is sold.
Communicate with the author. Most are only too happy to answer questions; some will want to read the final version, some won't. If they suggest improvements to your English, be polite . . .
Read – you can't be a good translator if you don't read. It's the quality of your English that will set you apart. If your final version doesn't read as if it had been written in English, then it's not good enough.
Never miss a deadline.  Allow yourself plenty of time, then you can gain Brownie points by delivering early!
Don't be afraid to argue with editors. They will often make significant improvements, but they're not always right, and nobody (except the author) knows the text better than you do.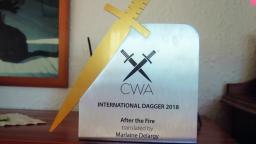 Marlaine Delargy has translated novels by Swedish writers including Henning Mankell, Johan Theorin and Åsa Larsson. She has been shortlisted for the Crime Writers' Association International Dagger on four different occasions and has won twice – most recently in 2018 for her translation of Henning Mankell's After the Fire. At the time of this interview she was about to start work on her fiftieth novel translation.