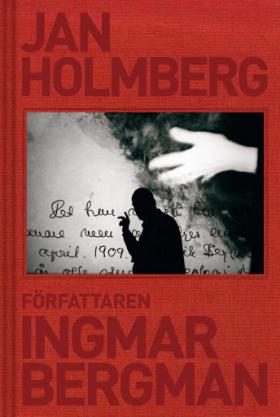 REVIEW
Författaren Ingmar Bergman
(The Author Ingmar Bergman)
by Jan Holmberg
reviewed by C Claire Thomson
That Ingmar Bergman was a writer as much as he was a film director is the central premise of Jan Holmberg's book Författaren Ingmar Bergman, published to coincide with the world-renowned auteur's centenary year. Indeed, the title is insistent on this point: the Swedish translates literally as The Author Ingmar Bergman (rather than, say, Ingmar Bergman as Author). For the purposes of this ground-breaking book, Bergman's films are regarded not as the end-points of a teleological process in which notes and screenplays are subordinate stages, but as audiovisual interpretations of the manuscripts.
It therefore makes perfect sense as a rhetorical strategy to focus in the book's first chapter ('Bergman's Hand') on the material paraphernalia that underpin Bergman's writings and which now constitute his archive. The reader is struck by the sheer volume of Bergman's arbetsböcker or workbooks, the A5 spiral blocks in which he wrote drafts: some sixty of them dating from 1938 to 2001 are preserved. Bergman's favoured paper was a yellow-toned, lined variety, measuring 18 x 22 cm. When this product was discontinued in the early 1970s, Bergman bought in large quantities to ensure he could continue to use it for the rest of his life. Though clean versions were typed up by Bergman's current wife or secretary, it is his handwriting that leaps from the many facsimiles included in Holmberg's book. The visual impact of Bergman's rounded script, based on the 'library style' taught in Swedish schools of the day, takes on more resonance once the striking similarity with the handwriting of his idol August Strindberg has been established in chapter 1.
Chapter 2, simply entitled 'Författaren?' ('The Author?'), delves into Bergman's early publications from the mid-1940s onwards. Despite his own disparaging remarks about his career as a writer, before he established himself as a film-maker Bergman had published two novels and a range of short stories with Sweden's leading publishers and literary journals, and his early radio and theatre plays were performed by elite companies. The director's best-known essays on film from the 1950s are also discussed in this chapter, as well as minor pieces such as his obituary for the great actor and director Victor Sjöström. The tendency towards self-deprecation, thinks Holmberg, serves Bergman's preferred role as underdog well – he was a master of the art of what we would today call a 'humblebrag', he notes. Nonetheless, by March 1943, Bergman's screenwriting had captured the attention of Gustaf Molander, head of Svensk Filmindustri, and his career as film director was underway.
Chapter 3, then, which centres on Bergman as 'Filmförfattaren' (Film Author), needs no question mark. Holmberg not only explores Bergman's screenwriting process and practice, and the many facets of literature as a trope in his films, but also recounts the fascinating publishing history of Bergman's screenplays. Not until 1963 were any of his manuscripts published in Swedish, though they had previously appeared in English and many other languages – much to Bergman's horror, at least at first. One memorable anecdote is the director's insolent refusal to provide the contracted original 10,000-word introduction to a selection of his screenplays published by Simon & Schuster: 'Have no time, not interested', he telegraphed.
Chapter 4, 'Memoarförfatteren' (The Memoir Writer), adopts the fruitful strategy of weaving together a number of genres which collectively constitute what Holmberg calls Bergman's autobiographical project. The chapter begins with a detailed reading of a little-known essay, 'Ingmar's Self-Portrait' from 1957, Bergman's annus mirabilis, during which his canonical works Smultronstället (Wild Strawberries) and Det sjunde inseglet (The Seventh Seal) were released, and the director himself emerged as the quintessential auteur as defined by the young men of the Nouvelle vague. (1957 is also the focus of Jane Magnusson's recent documentary Bergman – A Year in a Life). But his autobiographical project is also revealed to encompass not only the renowned book of interviews Bilder (Images – My Life in Film, 1990), but also Bergman's screenplay for his former lover Liv Ullmann, Trolösa (Faithless, 2000), his autobiography Laterna Magica (The Magic Lantern, 1987) and the television drama Fanny & Alexander (1982). As Holmberg suggests, the short essay of 1957 explodes the individual into a kaleidoscope of personae, as do many of Bergman's films; but the director's writings as a collective opus can also be seen to refract the myth of Bergman into a complex and shifting constellation.
The transition between chapters 4 and 5 reminds us of the difficulty of teasing out the various genres in which Bergman worked; the novels from later life covered in chapter 5 are semi-autobiographies he had no intention of filming himself. Nonetheless, these, too, are categorised by Holmberg into sub-genres which cross-fertilise with stage and screen: Den goda viljan (The Best Intentions, directed by Bille August, 1992) is a 'krönikespel' or historical play; Söndagsbarn (Sunday's Children, directed by Daniel Bergman, also in 1992) is discussed as 'minnesleker', memory games; and Enskilda samtal (Private Confessions, directed by Liv Ullmann, 1996) is a chamber play.
A fifth chapter, 'Avslutning: Den utplånade väggskriften' (Conclusion: The Writing on the Wall Annihilated) begins as a detailed reading of Bergman's last film, Saraband (2001). Drawing on Edward Said's posthumously published On Late Style (2006), and examining the film's play with temporality, Holmberg seems at first to have fallen into the trap he has studiously tried to avoid in this book: narrative analysis of Bergman's films. But the chapter takes an unexpected and poignant final detour back towards the paraphernalia of writing with which the book began, and towards a kind of annihilation of language. The genesis of Saraband in its workbook from 1998 onwards is explored, complete with the director's all-caps notes berating his inability to pin down the film's structure. Here at the end of his life, Bergman has realised that his hoarded stocks of yellow paper will indeed outlive him. And Holmberg's own narrative ends with an account of Bergman's final act of writing. On his deathbed in his house on the island of Fårö, Bergman asked his home help to use his black felt-tip pen to inscribe on the bedroom wall: 'Ingmar Bergman, Hammars, Fårö, Sweden, Europe, the World, the Universe'. The child-like message was soon cleaned off, but, as Holmberg concludes, the work of this great writer endures in the myriad of forms so painstakingly examined in Författaren Ingmar Bergman. ​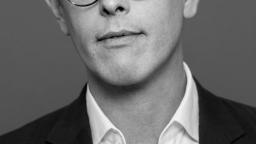 About
Författaren Ingmar Bergman
Norstedts, 2018, 289 pages.
Rights: Hedlund Agency.
Jan Holmberg has been CEO of the Ingmar Bergman Foundation since 2010 and he writes for the culture section of the Swedish newspaper Dagens Nyheter.
An extract from Författaren Ingmar Bergman was featured in SBR 2018:2.