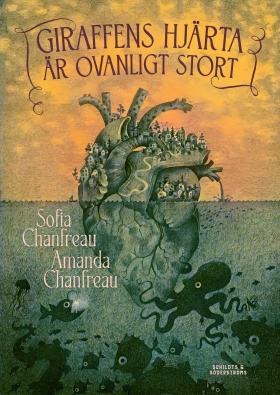 LATEST REVIEW
Giraffens hjärta är ovanligt stort
(A Giraffe's Heart is Unbelievably Large)
by Sofia Chanfreau, with illustrations by Amanda Chanfreau
reviewed by B.J. Woodstein


From the outset, I have to admit that A Giraffe's Heart is Unbelievably Large is one of the best books I've read this year. It is a beautiful middle-grade novel that is hard to put down, while you simultaneously also don't want it to end, and it deserves to be translated to as many languages as possible.
Nine-year-old Vega lives with her father on Giraffe Island. She spends a lot of time with her maternal grandfather – a doddering, confused but loving old man who is regularly visited by 'agents', or health care workers – and yet Vega knows almost nothing about his daughter, her mother. Vega has no friends who are peers, but she does see amazing, fantastical creatures wherever she goes, and they keep her company, even if no one else acknowledges their existence.
Three things happen to change her life. First, her father brings home a new woman, and Vega fears that Viola is an ice queen who is freezing her father's heart and taking him away from her. In addition, Vega is assigned a pen pal from the mainland, and their correspondence opens Vega's horizons. Finally, she meets a boy called Nelson who, like Vega, is different in his own way; in Nelson's case, he is obsessed with cataloguing the world and sharing his knowledge with others. Vega finds him hard to trust, but they gradually become friends, and Vega is then able to ask Nelson for help in solving the mystery of who her mother is and where she went.
Vega and her grandpa travel together with Nelson and his giant dog to the mainland in search of both Vega's pen pal and her mother, and Vega learns things about herself on the way. The term neurodiversity is never mentioned in this book, but I felt that certain characters could be read as neurodivergent and that the novel showed how differences may at times make people feel isolated or afraid, but that ultimately they are strengths that can create bonds and lead to fascinating lives. Everyone longs to be accepted for who they are and by centring protagonists such as Vega and Nelson, Sofia Chanfreau subtly affirms the value of all people.
The debut author and illustrator are sisters from Åland, an autonomous Swedish-speaking area of Finland. Vega is a talented artist and her work is reflected in Amanda Chanfreau's lovely illustrations, which, like the story itself, have a touch of magical realism to them. The work was nominated for the 2023 Nordic Council Children and Young People's Literature Prize.
The adventure in the novel carries the reader from one page to the next, but in the end, it is the engaging characters and the sense of love that stay with you. The heart of this book is undoubtedly unusually large, and unusually touching.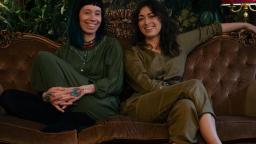 About
Giraffens hjärta är ovanligt stort
Schildts & Söderströms. 207 pages.
Foreign rights: Helsinki Literary Agency.
Awarded the 2022 Finlandia Junior Prize and Nominated for the 2023 Nordic Council Children and Young People's Literature Prize.
Sofia Chanfreau and Amanda Chanfreau hail from Åland and currently live in Malmö, Sweden. A Giraffe's Heart Is Unbelievably Large (2022) is the sisters' debut work. It will be published in English as Giraffe Island by Gecko Press in 2024. An excerpt from the book, translated by Julia Marshall, is published in SBR's special issue on Finland-Swedish Literature.