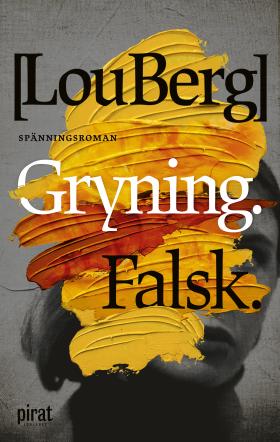 LATEST REVIEW
Gryning. Falsk.
(Dawn. False.)
by Lou Berg (Tiina Nevala and Henrik Karlsson)
reviewed by James Walker
Gryning. Falsk. is a thriller with a difference and, for a fan of Swedish 'noir', an exciting and welcome departure from the usual crime novel format: there are almost no bodies or detectives! Instead, we enter a thrilling world where fine art and art forgery meet organised crime. Intermingled with this is a sad love story now facing new challenges.
The Stockholm police find a painting purporting to be by the Russian artist Ivan Botkin in an unlikely place. What are a bunch of minor-league criminals doing with such a work of art? Is it real or is it a forgery?
Enter Nea Hallgren, a teacher at Stockholm's Konstfack (University of the Arts and Crafts and Design) and an authority on the artist's work. Roger Forsén, the sole member of the Stockholm police's art squad, asks her to assist him by examining the painting they have discovered and advising on its authenticity and likely provenance. The French title on the reverse of the artwork, 'Aube. Faux.', translates into Swedish as 'Gryning. Falsk.' –  the name of the book. The title is typically Botkin – two words: a noun and an adjective.
Nea is married to Johan, a committed but unsuccessful session musician who, it turns out, has succumbed to his old gambling addiction and has run up a huge debt which they cannot pay. When Nea returns home one day with her son, Nick, they are passed by a stranger who is fleeing from their building, and in their apartment they find a bloodied and battered Johan. This is a warning from the Balkan gangsters who he owes money to. Pay up or …
The painting that was discovered has been forged by a very skilful artist. It should never have been discovered by the police and so another copy is now urgently needed. The forger, Nadezhda, a student at Konstfack, where Nea teaches, is pressed into producing another painting. All she wants is to be left alone to make her own works of art, rather than turning out forgeries to be passed off as the work of other artists. However, Nadezhda has been pressed into forgery by another Stockholm-based underworld organisation. Pressed, as although she moved to Sweden from her native Ukraine when her mother married a Swede twelve years earlier, they had to leave behind her grandmother and severely disabled brother. They send money home to support her grandmother and provide treatment for her brother. But the criminals use the vulnerability of Nadezhda's family still living in Ukraine to force her to continue her forgeries. They show her photographs of them going about their daily lives in rural Ukraine as proof that they can target them unless she helps.  
Nea agrees to help Roger Forsén and examine the painting in some detail, to try to establish whether it is a forgery or not. But from her very first examination of it, she determines that it appears to be the real thing, as it has all the characteristics typical of Botkin (a realist painter in the manner of Edward Hopper).
At the same time, she approaches the gangsters to whom Johan owes money, to try and find a solution. They are implacable and give her a very short time in which to find the 1.3 million kronor owed to them.
The debt causes a rift with her husband, who has become passive, and who is in denial about everything and unable to function. Nea fears for her family's safety, knowing the gang's threats to be only too real. So she embarks upon finding a way to get the money. She finally confides in her student Nadezhda, who persuades Nea to let her help find a way to pay the debt and wipe the slate clean. However, what at first seems to be a simple enough plan spirals out of their control as it unravels before their eyes. Nevertheless, these are two women to be reckoned with!
Like all excellent thrillers, Gryning. Falsk. contains an interesting twist in the tale.
An alternative title could have been Spänning. Absolut. (Suspense. Absolutely.)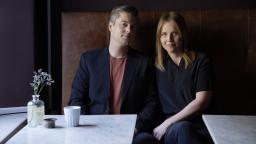 Piratförlaget, 2021
329 pages
Foreign rights: Alice Stenberg, Hedlund Literary Agency
Gryning. Falsk. is Tiina Nevala and Henrik Karlsson's second novel under the pen-name 'Lou Berg'.  Their first collaboration, in 2018, was För såna som oss (People Like Us).
The German rights to Gryning. Falsk. have been sold at auction to DuMont.