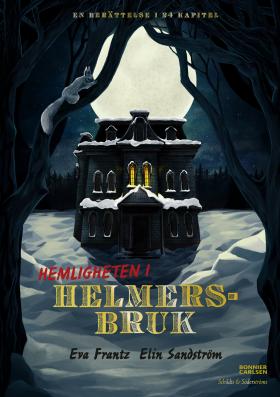 LATEST REVIEW
Hemligheten i Helmersbruk
(The Mystery of Helmersbruk Manor)
by Eva Frantz
illustrated by Elin Sandström
reviewed by Annie Prime
Twelve-year-old Flora Winter and her mother travel to the small seaside town of Helmersbruk in December so that her mother can focus on writing her next book. Flora's father, who loved Christmas, died a year or so ago, and her well-meaning but absent-minded mother is too busy writing to remember to cook dinner every day, let alone put up Christmas decorations. Alone in a strange place with no Christmas cheer, Flora misses her father more than ever.
Their temporary residence is the porter's house on the grounds of a vast manor. Their host is a stern but kind old man who lives in the manor's wash house and keeps himself to himself. Clever Flora zips through her schoolwork and reading, and consequently has a lot of time on her hands. Though she has no one to play with or talk to, she has no friends back home either, and so is used to solitude and flights of fancy. She begins to explore the grounds.
What she finds is straight out of a fairy tale: a grand, dilapidated old mansion with extensive gardens – and even a labyrinth! There is no way into the manor house, which only intrigues Flora more. Bewitched by the manor's splendour, her imagination is set into motion. But is it just her imagination? Strange phenomena begin to occur and the lines between imagination and reality blur: Flora hears voices whispering about her, questioning her identity, alluding to hidden treasure; she has visions of an elusive snow-white squirrel; she finds figurines in different places that all seem to be part of the same nativity scene…
After Flora has a vivid dream of entering the mansion and walking around, she finds that the door magically opens for her, as though the building has a will of its own. The interior is just as she dreamed it would be. Has she been here before?
She meets a young boy in the grounds one day, who dresses and speaks in a very old-fashioned way, but later she is told that no one ever enters the grounds because there is no way in. But if there is no way in, how does she have access? And who is this boy?
As Flora explores the mysteries of Helmersbruk Manor, the reader is given insights into its history through diary entries from another 12-year-old girl long ago. She was the groundskeeper's daughter who went on to fall in love with Robert von Hiems, son and heir of the manor. Her diary reveals a terrible tragedy that befell the von Hiems family: they all died in a car crash, leaving no heir.
As Flora's bravery and independence grow, so too does her affection for the manor house and grounds. So when she learns of a plan to tear it down to build a hotel, she is distraught. How can she solve the mystery of Helmersbruk Manor and save it from demolition?
Without giving away the details, I can reassure you that the touching conclusion sees Flora solve the mystery, reconnect with the memory of her father, and find a home and community in Helmersbruk.
Author Eva Frantz is a successful writer of crime and mystery for adults, but her recent forays into children's literature have proven that she is a master story-teller for all ages. Like Hallonbacken (The Mystery of Raspberry Hill – winner of the Runeberg Junior Prize 2019 and due for publication in the UK by Pushkin Press) and Nattens Drottning (Queen of the Night – as yet untranslated), this book continues with her strong themes of lonely, imaginative children finding adventure in magnificent haunted buildings. Her books always contain dark notes but strike a bittersweet balance, ultimately ending in joy.
What is particularly heart-warming in this instance is the Christmas theme. The story is told in 24 chapters, each just the right length to be read aloud before bedtime, beginning with a beautiful illustration by Elin Sandström, and ending in a suitable cliffhanger. The idea is to read one chapter a day, in 'real time' with the story, until the happy conclusion on Christmas Eve – a concept I find utterly charming. However, it is such an enjoyable read that it might be difficult to ration it.
There is nothing particularly groundbreaking about this middle-grade mystery novel, but the 12-year-old girl in me is thoroughly delighted and satisfied.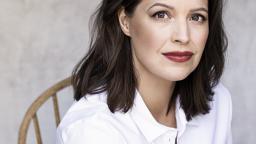 About
Hemligheten i Helmersbruk
Schildts & Söderströms, Finland, 2021, 266 pages
Foreign rights: Urpu Strellman, Helsinki Literary Agency
För han var redan dö (Out of the Game) by Eva Frantz was reviewed by Catherine Venner in SBR 2021:1.
Eva Frantz works as a journalist at the Finnish national broadcasting company. She is a successful writer of crime and mystery for adults, including the popular Anna Glad series. Her Runeberg Prize-winning Hallonbacken (The Mystery of Raspberry Hill), her first book for middle grade readers, is to be published in the UK by Pushkin Press.