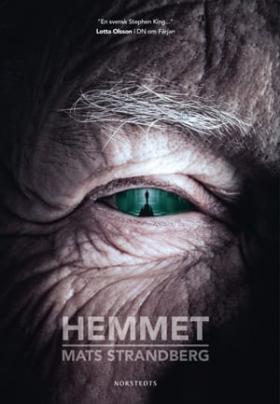 by Mats Strandberg
reviewed by Michael O Jones
Unfortunately, horror has a bad reputation outside its fanbase. The same is true of all genre fiction, but Strandberg shows that genre merely provides extra tools for telling a story; it dictates neither the content nor the audience. Whilst Strandberg's previous novel Färjan (Blood Cruise) dealt overtly with both internal and external conflicts, Hemmet puts a dampener on the latter in order to tell a haunting tale of dementia and the horror of seeing loved ones lose control of themselves.
Hemmet takes place on modern-day Sweden's west coast, in a small town near Gothenburg. The novel begins right at the heart of the narrative; 39-year-old Joel has returned to his childhood home to care for his aging mother, Monika, who is suffering from dementia. But he can no longer care for her alone, and thus takes her to nearby Tallskuggan (Pineshadow), a home for dementia patients. There she will have trained staff to take care of her 24/7.
The other half of the story is Nina, a carer at the nursing home. Her own mother was a drunk, and she sought refuge with Joel and Monika. However, she betrayed Joel's friendship twenty years ago, and has spoken to neither him nor Monika since, until Monika's admission to Tallskuggan brings them back into her life. As a carer with years of experience of dementia patients, she has seen it all. Even so, something starts happening on D corridor after Monika's arrival. The behaviour of the old folk changes, and Nina is unsure whether it really is dementia - or something equally sinister, but less natural.
Old Lillemor believes a guardian angel is watching over them, and ninety-five-year-old Wiborg believes her parents are calling her on the phone, but all the while Monika's condition rapidly deteriorates. She says something ​ is haunting her, she has 'seizures', tells people secrets about their dead relatives that she has no way of knowing. It seems a new guest arrived with her, but it is no guardian angel. Perhaps it's from the other place.
Unlike Färjan, Hemmet is completely focused on two perspectives and a story affecting a small group of people. This is a good change, as in Strandberg's previous novel the more important narrative threads had to fight for attention with less significant ones. However, one viewpoint conspicuous by its absence is Monika's. The most important conflict in the novel is Monika's fight to remain Monika, but we only get glimpses of this through Joel and Nina's eyes. This means the novel does not have quite the narrative force it could have had; imagine slowly losing the memories of your husband who died too young, or forgetting the faces of your children. Or something you cannot fight destroying your self and taking over your body.
Don't misunderstand me: this book is head and shoulders above other Nordic horror fiction I've read, even better than some books by a certain author in Maine. Perhaps my expectations were too high after Färjan (I've still not recovered from the death of a certain person just when it seemed the novel might have at least one happy ending), but it didn't have the same edge-of-your-seat-stay-awake-reading-until-1a.m.-on-a-schoolnight tension as its predecessor. In addition, the subplot of Joel's substance abuse, his conflict with his brother Björn and Nina's unhappy marriage could have been better developed.
Horror in a mental health facility can easily become a cliché, but Strandberg has successfully made Tallskuggan a cliché-free zone. This novel should appeal to readers of John Ajvide Lindqvist and Stephen King's earlier work.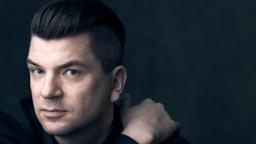 Norstedts, 2017
387 pp
Rights: Grand Agency
Strandberg's second horror novel, The Home, secures his spot as a master of horror. He has compared it to "a mix of The Exorcist and Cocoon".