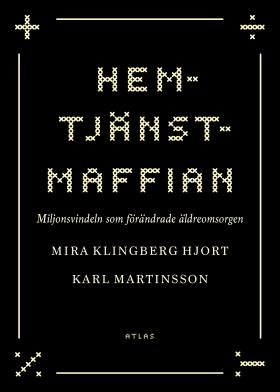 REVIEW
Hemtjänstmaffian. Miljonsvindeln som förändrade äldreomsorgen
(The Home Care Mafia. The monumental fraud that changed home care services)
by Mira Klingberg Hjort and Karl Martinsson
reviewed by Anna Paterson
This is an outstanding piece of investigative journalism whose virtues more than make up for the slight flaws. The helpful subtitle ('The monumental fraud that changed home care services') indicates the scale of a scandal unravelled in 'one of the most time-consuming and expensive court cases [in Swedish history]'; the year-long proceedings (2015-16 before it progressed to the High Court) required 27,000 pages of documentation. The long opening chapter entitled 'A Wake-Up Call' discusses the evidence of wrongdoings by greedy entrepreneurs and muddled officials, which alerted the government, the local authorities and the public to the importance of the rather dull-sounding topic 'home care services, the provision and funding of'.
Central to the charges of fraud was clarification of the ways in which private care providers in Södertälje (a large town near Stockholm) managed to run up outlandish profits by subverting the regulations. The police work had begun in 2013, but tracing the ramifications of the local network of businesses concerned, many of them in cahoots with each other, took time. Investigations were made trickier still once it became clear that a close-knit immigrant community was involved, both on the provider and the user side.
Provider loyalties meant supporting each other, for instance, with legal and promotional issues, and with the process of importing care staff from their home territories. These cousins-many-times-removed, in Sweden on temporary work visas, were utterly dependent on their employers. Requirements such as approved qualifications and a decent command of Swedish were of course not met, and the workers generally accepted missing out on proper lunch and toilet breaks, sick pay and so on. Pay was what the employer could get away with, but top-ups were available in return for exaggerating the amount of work carried out. Users of the service could also be persuaded by cash handouts to lie about the amount of care they needed.
Why should anyone lie about care needs in the community? Answer: private provider incomes are proportional to needs met, as reported to the relevant local authority – which, in turn, gets funding from the state.
In 2009, a law 'enabling freedom of choice' had been passed with the effect of removing the state/local authority monopoly on care services. Instead, 'market competition and user choice' – read 'business interests' – would be the preferred option. Many local authorities happily outsourced their responsibilities for the growing and ever more expensive care sector. To exert arm's-length control over the costs, certain reporting duties were placed on providers, but doctoring reports soon became a well-honed skill.
A study of the Södertälje case alone could easily have filled a whole book. However, the authors went further and investigated several other local authority areas. They unearthed telling information: the local balance between state and private provision, and the relative costs; how monitoring of home visits was done; and the pressures put on the staff by employers – both honest and dishonest.
In a society that is not only ageing but also becoming increasingly competent at keeping alive people with what were once life-threatening conditions, care in the client's home, with or without a clinical element, is growing into an ever larger and more complex sector. Growth means funding, most of which comes in rivers of state cash. The task Klingberg Hjort and Martinsson set themselves was to provide records of this system in the wake of the court case, to offer examples and to name names – of the worthy and the less so.
The Appendix is almost 30 pages long and contains the already mentioned unique compilation of fraudulent but sometimes still tolerated providers: 'Since 2013 […] these 66 businesses have been fired by the local authority for cheating […] we also state which local authorities have dismissed them …businesses not discussed by name [in the preceding chapters] are not named in the list.'
Hemtjänstmaffian is genuinely readable and accessible to a wide audience. The British literature on care services is huge, but mostly aimed at people with a professional interest. Klingberg Hjort and Martinsson identify strongly with their subject matter and are good communicators. Sometimes, though, their determination to clarify the problems has led to some elimination of detail, and a great deal of repetitiousness in language and selection of evidence. The many interview comments by care workers and officials are cases in point.
In Sweden, this kind of committed writing for and about 'the people' is an up-and-coming trend. The new working class it describes is typically made up of members of large, insecure workforces 'in the field.' The writing focuses on the social conditions of those least able to change them, and invariably criticises the bosses. This phenomenon has been discussed previously in SBR, most recently in Ruth Urbom's review of The Return of Working-Class Literature by Rasmus Landström (Verbal, 2021) and in Anna Paterson's review of Bad People by Kjell Johansson, published by Weyler in 2021 (both in SBR 2021:2).  
Home care offers more emotion and drama than writing about the precariat at work in other sectors. Caregivers have made vivid literary records of their work, from the sensitive memoir Tjänster i hemmet (Home Services) by Marie Hållander (Kabusa, 2013) to the poetic narrative in Vi kommer med hjärta hem till dig (We come with heart to see you) by Elliot Baron (It Lit, 2021). But there is always a strand of anger in their stories, and to properly understand the context, the tough investigative work reported in Hemtjänstmaffian is essential.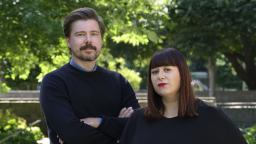 Atlas, 2021, 256 pages
Foreign rights: Jesper Bengtsson, Atlas förlag
Mira Klingberg Hjort is a journalist working for Kommunalarbetaren (Local Authority Worker). She was awarded the 'Guldspaden' prize (2013) for her investigation of the privatised home care providers operating in Greater Stockholm.
Karl Martinsson is a journalist working for the newspaper Arbetet (Work).
Klingberg Hjort and Martinsson were awarded the Trade Union Press prize for 'Best Exposure' (2020) for their findings about the care provider 'Enklare Vardag' (A Simpler Life). Hemtjänstmaffian is their first book.