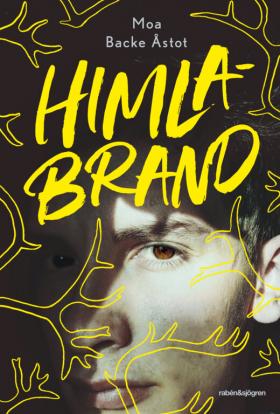 REVIEW
Himlabrand
(Polar Fire)
by Moa Backe Åstot
reviewed by Saskia Vogel
Are there any other homosexual reindeer herders out there? Teenage Ánte wants to know. He has fallen for his schoolmate Erik, a friend and fellow reindeer-keeping Sámi (one of the Indigenous people of the Fennoscandian region of Sápmi). He asks the Internet: the prognosis is grim. But as Ánte discovers over the course of this sparkling YA novel set in a small town on the Swedish side of Sápmi, the broad horizon of the Internet doesn't measure up to the depth and nuance of lived experience.
Mixing teen romance, family, colonial, and high school politics, debut author Moa Backe Åstot's Himlabrand is a poignant coming-of-age tale for fans of Jenny Han's To All the Boys I've Loved Before and teen TV dramas such as Degrassi, Young Royals, and Never Have I Ever, and anyone interested in themes of LGBTQI2S+, Indigenous lives, and decolonialism.
With crisp prose and a pacy structure, the novel follows Ánte as he explores questions of culture and identity. The setting moves between a high school milieu that will be familiar to Anglo-American readers, not least because of the Anglophone influence on teen slang, and life in a small town with a strong Sámi community. We follow Ánte and his friends through the buzzing social scene of a Saturday market, a house party, ongoing work with reindeer, and a wedding, while they learn about traditions and community intrigue along the way. The 'will they or won't they?' drama between Erik and Ánte is full of tingles and tension. Ánte's supportive friendship with his forthright schoolmate Ida (who 'ships' Erik and Ánte and is determined to find their perfect couple name) is beautifully rendered, as are the intergenerational relationships, in scenes of conflict and connection.
Himlabrand is one of a number of celebrated contemporary Swedish-language books that led to the Swedish media announcing a 'boom' in literature by Sámi writers, a 2021 headline that was met with criticism. In an opinion piece in daily broadsheet Göteborgs-Posten, editor and translator Helena Fagertun called this idea of a 'boom' problematic, saying it 'risks perpetuating a colonial view of Sámi culture. It's as if the Swedish majority society is incapable of listening: instead of drawing attention to Sámi literature on its own merit, we're drawing attention to the attention we're paying it.' The gaze takes center stage in Himlabrand—how different the world, its history and people, looks depending on where one is standing; whose gaze is privileged and at what cost; and how transformative it can be to assert a different view. 
Author Moa Backe Åstot addresses the colonial view head on. In one plot line Ánte finds a 'racial science' book about the Sámi written by Harald Lundgren. Lundgren is based on Herman Lundborg, the first head of the Swedish State Institute for Racial Biology, founded in 1922, where eugenics and human genetics were studied and a racist agenda was promoted in which the Sámi were labeled an inferior race. Åstot roots the reader in Ánte's perspective as he pores over Lundgren's photographs of what turn out to be his relatives. Lundgren's dehumanizing view is alienating and distressing to Ánte, but catalyzes his questioning of where he comes from, who he is, and who he can be. Together with Erik, Ida, and his beloved áhkko (his grandmother, who herself challenged community norms when she fell in love with Ánté's grandfather), Ánte explores his family history, the history of Swedish colonial violence, and the family legacy he fears he may have to abandon because of his romantic feelings. Can he be both a reindeer herder and a man who loves men?
Ánte is devastated by the idea that he will have to choose between two fundamental parts of himself. In a heartbreaking scene, he overhears his dad and his dad's friends discussing two men who left the community and moved south to Stockholm. It's a macho, homophobic conversation that makes Ánte feel even more alone and like he'll never be able to come out to his community. As a result, he tries to fall for a girl, Hanna. The way Åstot handles friendship, betrayal, and resolution in this storyline is complex and tender. Ida encourages Ánte to be true to himself, and honest with the people around him. This is no easy task, but following Ánte's journey towards self-awareness is a pleasure.
According to Åstot, homosexuality is still taboo in Sámi society, but it is increasingly being discussed in the open. This is a novel for a generation dedicated to divesting themselves of prejudice and harmful taboos. Åstot's message is one of hope and assurance that love is love, and for teens like Ánte, the world is changing for the better.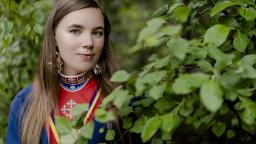 rabén&sjögren, 2021
206 pages
Foreign rights: Åsa Bergman, rabén&sjögren
Nominated for the 2021 Augustpriset, in the category for literature for children and young adults. Winner of the 2021 Junior Runeberg Prize. Co-winner of the 2021 SV author prize.
Moa Backe Åstot has received a number of prizes for her writing, including the Sveriges Radio prize in 2018 for the short story 'En liten röd droppe' (A Little Red Drop). Himlabrand is her debut novel.