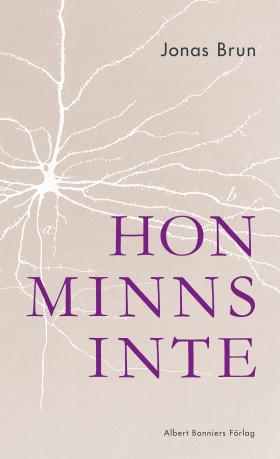 REVIEW
Hon minns inte
(She Doesn't Remember)
by Jonas Brun
reviewed by Andy Turner
Writing about dementia is a loaded task. Whether we fear the disease, or already have experience of it, the threat of it remains all too real. Hon minns inte is Jonas Brun's account of his mother's final years up to her death with dementia. As such, it is a work which represents a marked departure from his earlier award-winning novels and poetry collections.
Spanning the years 2018-2010, the book is written in reverse, starting where it all ends: one dark Stockholm December night, Brun learns that his mother has taken her last breath, and he and his father are subsequently told they have eight calendar days to clear her room at the care home.
Described as a memoir on the cover page, the book is, however, much more than a simple collection of retrospective poignant vignettes. Through the power of Brun's language, we are transported beyond the lyrical encapsulation of a mother loved, mourned and lost as we learn of Catarina's vibrancy and the achievements of a life well lived.
Each new section opens on a fresh page with the words, 'She doesn't remember…' as we are introduced to a different aspect of her varied life. This recurring narrative structure offers some comfort of familiarity, at least to me.
'She doesn't remember it's her I mean when I say Mum.' 'She doesn't remember her mother's name.' 'She doesn't remember the yellow photo album.' 'She doesn't remember I'm Jonas.' Catarina no longer remembers the word for snow when she sees it lying thick on the ground and in the trees. She doesn't remember continually losing at card games because she's not sure of the rules, putting the lunch out straight after making the breakfast, filling carrier bags with random items, keepsakes and ephemera. There was a time when she would stoop down and smell the lilac, but she walks right past the flowers now because she doesn't remember they have a fragrance. Back in the day, before she started to lose her own memory, she used to work in the field of dementia care research. She is now the youngest resident in the dementia care home.
Parallel to the wanton indiscrimination of the disease and its rapacious plundering of what is held dear, the story of the family's unenviable struggle for appropriate residential care for Catarina becomes all too clear. The system is broken and held together by a network of zero-hour front line staff and managers who don't hang around any longer than necessary. Anonymising these professionals by their first initials, Brun conjures up a care system that those of us outside the perimeters of Sweden will recognise only too clearly.
A hospital psychologist as well as a writer and literary translator, Brun existentially questions and examines the fabric and function of the brain in its relationship to the minutiae of memory. If a person has forgotten who she is, is she still in there? 'I don't know. I can't know. No more than I can see out of her eyes.'
Brun tells me that the first print run of this book sold out in Sweden in a matter of weeks. It's not difficult to see why. The themes of death, grief and loss, juxtaposed with the ideas of love and relationships, are recognisable to us all. In her recent book, What Dementia Teaches Us about Love, Nicci Gerrard meditates that dementia 'is all around us, in our families and in our genes; perhaps in our own futures… If it's not you or me, it's someone we love.'
Surely we can all recognise that when a child becomes the responsible carer for a parent, a fundamental nurturing role has been reversed.
Hugely timely but unusual from its male perspective, I am convinced Hon minns inte has a place beyond the Swedish language market alone. As the book progresses and in the dawning light of the advancement of Catarina's Alzheimer's disease as her care plan and medication regime is navigated, family life carries on regardless – just as it does pretty much elsewhere in the world. But by the time we reach the end of these courageous pages, which is where the story begins, we feel we have been more than witnesses to an honest and impassioned exploration of experiences and emotions. We are profoundly moved and we are the better for it.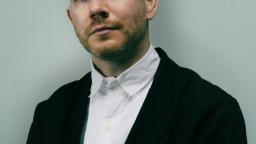 Albert Bonniers förlag, 2021, 344 pages
Foreign rights: Jonas Brun
Jonas Brun's previous works include collections of poetry and three novels. Brun's third novel Skuggland (Shadowland) won Swedish Radio Award for Best Novel of the Year in 2013. Other literary prizes include the Mare Kandre Award 2009 and De Nio Literary Society's Winter Prize 2016.
Andy Turner reviewed Jonas Brun's Ingen jämfört med dig in SBR 2018:2.