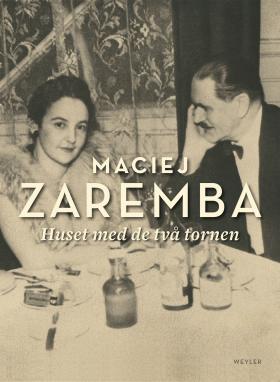 REVIEW
Huset med de två tornen
(The House with the Two Towers)
by Maciej Zaremba
reviewed by Fiona Graham
Oskar Bielawski is a scion of the Polish nobility and the highly respected director of a psychiatric hospital, reinstated after five years in a German POW camp. Lila Immerdauer is a Polish Jew half his age who has survived five years in hell and is seeking help for her traumatised brother. He instantly falls madly in love with her. She reciprocates, but there are conditions: a proper wedding in a Catholic church, and a clutch of children. Depicting his parents' first encounter, Maciej Zaremba speculates that this was the only time when Lila spoke frankly to Oskar about her wartime struggle for survival. Did he ever fully comprehend who she was and how much she had suffered? Maciej thinks not.
Huset med de två tornen is both a memoir of Maciej Zaremba's youth and an imaginative reconstruction of his parents' lives. The son of two psychiatrists, he devoted hundreds of hours to researching their backgrounds in an attempt to understand their complex and contradictory relationship. For young Maciej grew up in a family where certain things were not spoken of. His father said little about his years in Oflag I D, and his mother nothing at all about the pogrom in Krzemieniec, the Warsaw Ghetto – or even the fact that she was Jewish. This remarkable book is the fruit of a search for the truth behind the silence, and a testament to two extraordinary individuals.
The 'house with the two towers' is the sanatorium where Maciej spent his early childhood, depicted in one of the book's many atmospheric black-and-white photos. But one could also read the title as a metaphor for the Bielawskis' family life, dominated by two strong and original personalities. The first part of the book focuses on growing up in post-war Poland. Some anecdotes make you gasp; others make you laugh out loud. It was a point of honour for the tough kids in Poznań to ride on the outside of the trams, sometimes with fatal consequences. As an upper-middle-class child in a rough neighbourhood, Maciej was often bullied. His father's response was to give him a blackjack, a weapon that could have made him a murderer had he ever used it.
Impersonating a French journalist in order to meet the Rolling Stones, amorous interludes with older girls, and the endless search for jeans – even if cobbled together from heavy-duty sailcloth – these were all part of Maciej's teenage years behind the Iron Curtain. A striking vignette depicts the sixteen- year-old schoolboy's attempt to show solidarity with protesting students – decried as spoilt 'banana youths' – by demonstratively munching a banana at Communist Party headquarters. At seventeen, in 1969, he would discover his mother's secret when Gomułka's regime made life so impossible for Polish Jews that they were forced to leave Poland in their tens of thousands.
If the first part of the book shows the often surreal nature of Poland under communism, the second is even more surreal. Here, anecdotes from Oskar's life in a POW camp alternate with snatches of Lila's tormented existence in wartime Poland and Ukraine. Polish officers in Wehrmacht captivity were subject to a chivalrous code of conduct that stood in stark contrast to the brutality meted out to POWs of the non-officer class. Thus Oskar spent five years in a time capsule, mostly insulated from Nazi atrocities: prisoners put on operas, concerts and plays, studied arcane subjects, and even competed in 'Olympic Games'. Lila, in contrast, was constantly in flight, her survival hanging from a gossamer thread. She narrowly escaped death dozens of times.
Maciej Zaremba's incredibly rich book is many things: a personal memoir, an attempt to come to terms with his parents' heritage, an exploration of the darkest chapters in Poland's 20th-century history, and a monument to the victims of anti-Semitism and totalitarian oppression in its Nazi and Soviet bloc iterations. It is, beyond any doubt, a masterpiece that deserves a prominent place in European literature.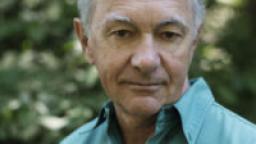 About
Huset med de två tornen
Weyler förlag, 2018. 303 pages (including notes).
Rights: Weyler förlag, Anton Gustavsson.
Maciej Zaremba emigrated to Sweden in 1969. He is one of Sweden's foremost investigative journalists, writing mainly for Dagens Nyheter.
Anna Paterson reviewed Maciej Zaremba's Patientens pris (The Cost of the Patient) and wrote about his journalism in 'Campaigning Literature' (both in SBR 2013:2).
Zaremba's ground-breaking book De rena och de andra: om tvångssteriliseringar, rashygien och arvsynd (The Pure and the Others: On Forced Sterilisation, 'Racial Hygiene' and Original Sin, 1999) dealt with Sweden's programme of compulsory sterilisation from the mid-1930s to the​ mid-1970s.