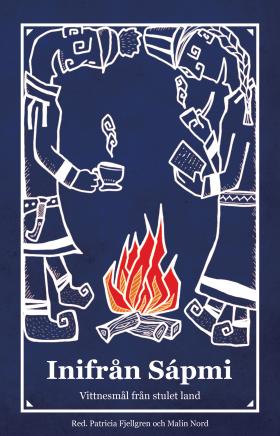 REVIEW
Inifrån Sápmi: Vittnesmål från stulet land
(Sápmi from the Inside: Testimonies from Stolen Land)
by various authors, edited by Patricia Fjellgren and Malin Nord
reviewed by Fiona Graham
'Valleys embedded between massive peaks, rivers rushing forth with a furious primordial force, the vivid contrasts of seasonal costume changes, broad mires that can swallow you up entirely […] just who are we to rule over this marvellous landscape, formed long before there was anyone to remember its beginning: the everlasting mountains, the star-sprinkled lakes, the forests that give protection, the rivers' thunder. We are subordinate to all of this. We own nothing, not even our own time here.'
Singer-songwriter Sofia Jannok's yoik to the landscape of Sápmi (the homeland of the Sámi people) voices one of the main themes of this timely anthology of memoirs, opinion pieces, poetry and short stories: the traditional Sámi view that humans are an integral part of nature and must live in harmony with it. It is a view reflected by the subtitle Vittnesmål från stulet land ('Testimonies from Stolen Land'). In recent centuries, the Sámi people of northern Norway, Sweden and Finland and north-western Russia have been displaced from much of their ancestral homeland, so that it could be put to uses deemed more 'productive', notably farming, hydroelectric power, and mining. This has often led to conflicts involving the nation states, majority society, and Sámi communities.
Land has been 'stolen' in two senses: the indigenous Sámi have lost the right to pursue their traditional livelihoods in certain areas, and in some cases the land has been despoiled. This remains a burning issue. A current example is Beowulf Mining's plan to open an iron mine on Sámi pastureland near Jokkmokk, Norrbotten, as reported in the Guardian on 11 February 2022 ('Greta Thunberg condemns UK firm's plans for iron mine on Sami land').
The history of the Sámi, as shown by Anna-Lill Drugge's useful overview, has been plagued by colonisation. One result has been the imposition by the state of administrative structures that fail to take account of Sámi people's wishes and needs. This is the subject of Elin Anna Labba's article about samebyar, which are both administrative districts and associations of reindeer herders. Since relatively few Sámi people now live from reindeer herding, and because it is difficult to join these associations, they have all too often proven divisive. Labba quotes researcher Malin Brännström as follows: 'It sometimes feels like the way Europeans drew colonial borders in Africa. In a Swedish context, there's a need to draw clear lines on a map […] Yet reindeer husbandry is incredibly flexible, by nature; it depends on weather, wind, who comes down to the winter pastures and who doesn't.' As Labba pointedly remarks, the word sameby – which misleadingly suggests something organic, a 'Sámi village' – has no natural equivalent in the Sámi languages.
Language, and specifically multilingualism on the one hand and language shift on the other, is another of the anthology's key themes, and the link with colonisation is clear. Lea Simma writes of learning Swedish almost like a foreign language. She would stammer when obliged to speak it, and, after a long day at school, came out with, 'I don't understand how Swedes can speak Swedish all day. My tongue is worn out.' Inga Marja Steinfjell writes of switching between Norwegian, North Sámi and South Sámi in different family constellations. Ann-Helén Laestadius and Elin Anna Labba explore the discomfort of not fully mastering the language or languages you feel closest to. Laestadius, with a Sámi mother and a father who speaks Meänkieli (a variant of Finnish, spoken in Tornedalen), learned to speak neither language fully as a child. Labba writes movingly of the continuing struggle to make the language she loves best fully hers:
jag vill hålla kvar Gárasavvondialektens rum
dit jag inte fick komma
kan jag en dag hålla i språket, jag också
ömt lägga det mot bröstet som mitt nyfödda barn
se dörrar gläntas
efterlängtade fjäll ta form

I want to keep that room where they speak the Karesuando dialect
the room I wasn't allowed into
will I too be able to embrace the language one day,
lay it tenderly at my breast like my newborn child
glimpse the fells I yearn for
through doors now slightly ajar
Several contributions address the legacy of racism against the Sámi. Proponents of the pseudo-scientific theories of race current between the late nineteenth century and the early twentieth century regarded the nomadic Sámi as a primitive people who would ultimately disappear, in line with the theories of social Darwinism. Herman Lundborg, head of Sweden's State Institute for Racial Biology, travelled around Sápmi in the 1920s and 1930s taking skull measurements of Sámi people and photographing them like zoological specimens. In 'Baksidan av ett släktfotografi' (Reverse of a family photo), Lis-Mari Hjortfors voices her indignation at the realisation that her grandmother's family were made to take part in this pseudo-scientific project whose aim was to classify 'races' with a view to keeping them separate. Discrimination remains even today, as detailed by Patricia Fjellgren in 'Racismens koreografi' (The Choreography of Racism), and Anna Elin Labba in her chilling poem about the malicious slaughter of a child's reindeer calf (a theme that also runs through Ann-Helén Laestadius's novel Stöld (Stolen)).
The variety of the contributions to the anthology raises the question of its target readership. In a podium discussion at the Gothenburg Book Fair, editor Patricia Fjellgren pointed out that the historical articles are useful not just to the non-Sámi majority, but also to Sámi people who have never had the opportunity to study their own history in Swedish schools. Ann-Helén Laestadius noted the importance of representing Sámi people in a way younger readers, in particular, can identify with. For anyone with an interest in the literature, arts, culture, and socio-political situation of national minorities, particularly indigenous peoples, the anthology is a rich source of inspiration.
Finally, there is a universal message in the late Paulus Utsi's poems about the place of humans in the natural world. We would do well to reflect on our individual insignificance and the vastness of nature. As Sofia Jannok says, 'We own nothing, not even our own time here.'
Vårt liv

Vårt liv
är som ett skidspår
på den vita vidden
som snöstormen sopar igen
redan i gryningens början.

Our life

Our life
is like ski tracks
in the white expanse:
swept away by the snowstorm
at early dawn.

From: Giela Gielain (1980). Original language: North Sámi.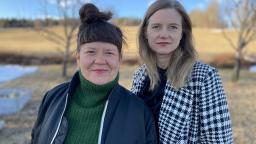 About
Inifrån Sápmi:Vittnesmål från stulet land
Verbal förlag, 2021, 263 pages
Foreign rights: Verbal förlag
The excerpts quoted in this review were translated by Fiona Graham (from Swedish).
Patricia Fjellgren received the Swedish Language Council's Minority Language Prize in 2017 for her work on the revitalisation of Sweden's Sámi languages. Malin Nord is active in the Swedish Writers' Union's Sámi Literature Council. She is the author of Stilla havet (2012) and Barmark (2017).
Elin Anna Labba's Herrarna satte oss hit was reviewed in SBR 2020:1-2. An excerpt appeared in Fiona Graham's translation in SBR 2021:1. Ann-Helén Laestadius's Stöld was reviewed in SBR 2021:2.