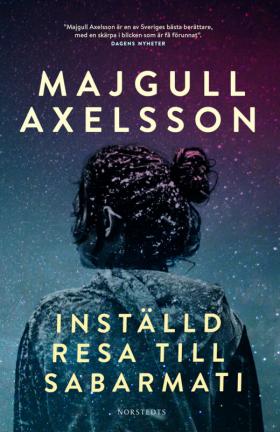 REVIEW
Inställd resa till Sabarmati
(Cancelled Trip to Sabarmati)
by Majgull Axelsson
reviewed by Linda Schenck
Majgull Axelsson is known and admired for taking firm stands in her fiction on important issues ranging from prostitution and street children to anti-Semitism and racial injustice. It is thus no surprise that the societally current theme of violent white supremacism and the consequences of its propaganda permeate her latest novel, Inställd resa till Sabarmati. Here, the white supremacists are sarcastically described by one of the minor characters as 'Decent people who only lie, embezzle, steal or fight with iron pipes in extreme circumstances.'  This novel runs the gamut from thriller to romance and readily retains the reader's attention throughout. Axelsson implicates the reader from the very beginning, using an authorial 'we' to point out to us that although we may be omniscient, we are anything but innocent bystanders. She seems to want us to ask ourselves what we would do in each given situation.
Initially, the reader is introduced to individual characters and themes, which gradually coalesce. As the novel opens in the typical Swedish small town of Nässjö, these people have all known each other for most of their lives, and live in an atmosphere where gossip runs hot.  
The title of the first chapter, 'A mother who isn't a mother', becomes a sort of mantra running throughout the novel. Although used to describe Lykke, a woman with no biological children but who is both a schoolteacher and a sort of 'extra mother' to the young protagonist Fatima/Meera, the mantra actually describes all the major adult female characters. Others include Lykke's childhood friend, neighbor and colleague Rosmarie, and Margareta, Fatima's adoptive mother, psychologically underequipped to care for Fatima. Early on, Lykke is the object of what appears to be a completely arbitrary street assault, and the excitement begins to mount.
Soon we meet Samuel, a young redheaded taxi driver who lives in a world of his own, mainly comprising fantasies of unrequited love, and with an underdeveloped sense of political consciousness. His real life, it transpires, is intertwined with those of Lykke and Rosmarie.
Next we learn more about Rosmarie, and Martin, the physician under whose care Lykke finds herself at the hospital after the assault (which left her in a coma lasting weeks) and who was a classmate of hers back in the day. He is now wealthy and married to a woman of German descent, deeply rooted in her Nazi family history and inclined to carry it forward.
Lastly we meet Henrik, the epitome of the ubiquitous drunken Swedish minister (since at least Lagerlöf's Gösta Berling), husband of Margareta and cruel, egotistical adoptive father of Fatima/Meera, of whose history we learn the salient details.
From section II and forward, Fatima and her story is in focus. Having grown up with her highly dysfunctional adoptive parents Henrik and Margareta, she is now eighteen and has 'escaped' from Nässjö into the wider world, planning never to return and never to be in touch with the people there again (her mother, Margareta, has died of cancer). Although she has very little experience of any other community (and no memory of her first four years in India), she is surprisingly fortunate and finds herself relatively quickly in good and safe hands, with one competent friend from a background not unlike her own, and a kind and understanding Icelandic boyfriend, Baldur, soon to be her husband. After a year of studying and working in Gothenburg, the girls follow their Icelandic boyfriends home to Iceland, where much of the rest of the novel is set.
Fatima retakes her birth name, Meera, and does her best in the security of Baldur's Icelandic family, who open their arms to her, to efface her past entirely. She bears twins, loves motherhood (becoming in every sense a mother who is a mother).  But life back in Nässjö continues as well. Lykke, who has been nothing but kind to Fatima (though a bit overbearing), grieves her absence and silence terribly as she recovers, with a great deal of help from Rosmarie, from the assault. Martin's and Samuel's lives come closer and closer to those of Lykke and Rosmarie, and eventually, despite her best efforts, the past catches up with Meera. The twists and turns of the plot remain for the reader to decode.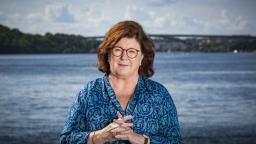 About
Inställd resa till Sabarmati
Norstedts, 2020
242 pages  
Foreign rights: Catherine Mörk, Norstedts Agency
Majgull Axelsson is a journalist and author with several bestselling works behind her. Her books have been translated into 23 languages. Reviews of her previous works can be found in SBR 2014:2, 2009:2, 2005:1, 2003:1.