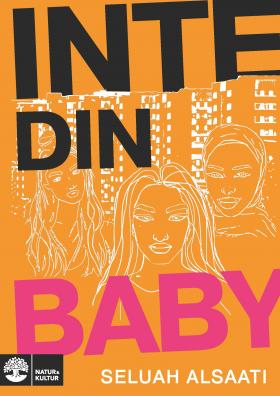 LATEST REVIEW
Inte din baby
(Not Your Baby)
by Seluah Alsaati
reviewed by Sophie Ruthven
Samira is a high school student in Husby, and enjoys a full teenage life of making her own music, playing football with her friends and just living life. The friends are planning a girls-only football tournament to inspire others to get into the sport, whilst at home Samira is helping her mum realise her authorial dreams, by translating her own fantastical children's stories from Arabic to Swedish.
Samira also knows exactly what she wants from a man, and she's already kept her standards up by dumping her last boyfriend, who'd shown he really didn't understand his way around women. When her eyes meet Nabil's from the other side of the metro carriage, she falls head over heels – could this be her dream man? Very quickly however, Nabil starts to display worrying behaviour – whilst showering Samira with the words she wants to hear, he is easily slighted by some of her innocent actions and comments. Samira can't work out what's going on. Worse, he starts to show his controlling side. At school, Samira's best friend Amina starts dating another student. Although at first things seem to be going well, they break up and suddenly a particularly nasty act of online revenge threatens the friends' social standing, emotional wellbeing and happiness. At the same time, Samira seems unable to break free from the toxic cycle in which she has found herself with Nabil.
Watching Samira from the outside, I keenly felt the frustration vocalised by her friends, as she seems to drop her standards and change the structure of her life to shadow the moods of another. It was also painful to see Samira's blindness to the red flags which are present right from the outset of her relationship with Nabil. Yet this is easily done – especially when we're young – and it is also impossible not to feel empathy for someone who wants to be loved in a certain way and believes they may have found the provider of that love. For anyone who has experienced a manipulative relationship, this will make for difficult or redemptive reading. Often deeply dark and unsettling, Alsaati's portrayal of destructive relationships pulls no punches, and Samira plunges from exuberance into unhappiness, ever more dependent on Nabil's moods and actions.
Yet the novel is also interwoven with such joy that I was always pulled forward, wanting to see the friends succeed and convinced Samira would find a solution to every problem she encountered, even as I knew she was always just one message – or lack of a message – away from another huge sweep of emotion. The friendship between Samira and her best friend Amina is particularly heartwarming. When a nude photo of Amina is posted online by her vindictive ex-boyfriend, Samira doggedly defends her against the tide of abusive comments, regardless of her own troubles, which start online and quickly spill over into the school. While these comments initially stem from male commenters, many of the girls at their school soon join in, and Samira is shocked to realise they cannot see Amina as a victim, many of them even siding with the perpetrators. Later, it is Amina who vocalises one of the main issues the girls face in their dating experiences – the boys treat some girls badly not because they're inherently 'crazy', but because they think that's the way girls should be treated.
The novel raises questions such as why should one person in a relationship have to put up self-respecting walls? How do we learn how we want to be loved and treated, especially when we are learning this in a technology-driven, fast-paced dating culture? We also see that people of all ages haven't quite got relationships sorted out. Samira's mother's behaviour around her father is unfathomable to Samira. Her mother is a kind and brilliant woman who puts her dreams of publishing children's books into action without hesitation, yet allows her husband to rule the roost and – as far as Samira can see – pay her no attention whatsoever.
Alsaati's prose speaks not only to and for those caught in the whirlwind of destructive relationships, but to and for a part of Stockholm that is also often ignored or misrepresented. The writing is sharp, with a fluency that is truly exciting for a debut novel. Though perhaps, given Alsaati's own background as a rapper, this brilliance is unsurprising. The handling of dialogue stands out as particularly impressive; it often slips under the radar that you're reading, as opposed to eavesdropping on playing field or bedroom conversations.
The ending does tie things up rather more quickly than expected, but the revenge is satisfying and there is a sense of redemption for Samira. We see the strength that we as people have when we support one another and how that helps us stick to our guns, a message suitable for both the intended YA audience and adults alike.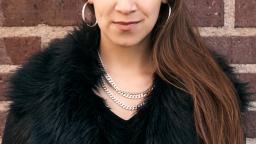 Natur & Kultur, 2020
176 pages
Foreign rights: Carin Bacho and Catharina Lantz, Koja Agency
Winner of the 2020 Slangbellan Award: Debut of the Year (Children's and YA)
Seluah Alsaati is a community organiser and has written rap, poetry and drama. Inte din baby was initially written in 2017 as a monologue for Kulturhuset Stadsteatern, but was re-written as a new story in book form.