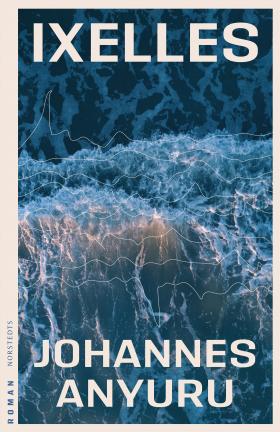 by Johannes Anyuru
reviewed by Emma Olsson


Ruth comes from tjugosjuttio – twenty seventy – a postcode whose name conjures up images of poverty and alienation. But sometimes she tells people she's from Ixelles, a Brussels suburb of wealth and privilege. These two neighbourhoods appear fixed in their own social mythology, discouragingly finite. When Ruth arrives at a gentrification protest in twenty seventy, she quickly feels the urge to leave. 'Nothing will happen that isn't already part of the existing stories about the city, about twenty seventy, about the politics and its citizens.'
But Ruth is a poet. She might spend her time working for the secretive 'agency' these days, a cryptic bureau of spin doctors working to influence public opinion; but at her core, she is still a poet. She cannot help but view the world through symbols and synchronicities. So when her job takes her back to twenty seventy and she hears talk of a prophet on a golden CD purporting to be Mio, her dead lover and father to Em, her young son, she is unable to dismiss it.
Mio was violently murdered before Ruth even found out that she was pregnant with Em. He became a neighbourhood martyr, with his own mural eventually painted on the walls of the local library. Ruth accepted his death, gave birth to their son, and fled twenty seventy for a better life. She tells Em that his father died in a car accident. But she never actually saw his dead body. Could it be true? Could that be Mio speaking on the CD, alive and espousing promises of a different world?
'People out here carry so much vague longing,' she thinks.
The door between reality and something else is wide open in Ixelles. Ghosts haunt Ruth and Em's lives, apparitions of hope made literal through the voice on the CD. Ruth tries to convince herself that it's a prank, just some guy from the neighbourhood pretending to be Mio. But the poet in her, the one Ruth has tried her hardest to suppress, to squeeze into the stable box of logic, is enticed by the legend.
The prospect of Mio being out there somewhere beyond twenty seventy (and the grave) undoes the existence she has crafted for herself and her son. Em is growing up fast and starting to question the story his mother has always told him of his father. He demands to know the truth. Even in his absence, Mio is 'careless and almost boundless.' He breaks down life's boundaries.
Anyuru tells the story of Ruth, Em, Mio and all of twenty seventy in poetic spurts, but the language is never obtrusive. The power of the story prevails. In fact, Ixelles reads like a paranormal thriller at times. I was drawn into its mystery. I felt myself beside Ruth, chasing the voice on the CD. Or with Em, discovering messages from the beyond. Life unravelling before me.
Like Anyuru's previous novels, Ixelles explores the way familial and societal disruptions bleed into each other. In De kommer att drunkna i sina mödrars tårar ('They Will Drown in their Mothers' Tears') – which won the 2017 August Prize – politics and social upheaval propelled the novel forward. In Ixelles, the social commentary is more spectral, like Mio's voice weaving gently through the day-to-day. But don't be fooled: a message delivered in whispers, in cyphers, or in symbols can still be deafening.