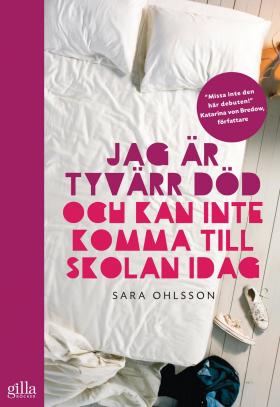 Review
Jag är tyvärr död och kan inte komma till skolan idag
(Unfortunately I'm Dead and Can't Come to School Today)
by Sara Ohlsson
reviewed by Ian Giles
Jag är tyvärr död och kan inte komma till skolan idag is the debut novel of Sara Ohlsson, whose day job is Head of Scheduling for Swedish Television's children's channel.
Originally published in early 2011, this book enjoyed excellent sales in Sweden upon publication and remains in print. It was published in German in mid-2014 and in Danish in the spring of 2015.
The story is narrated in the first person by the protagonist, 17-year-old Olivia. Olivia has just been dumped by her boyfriend of three years and is bereft. As time passes, the deadness referred to in the title gives way to something else as she discovers the pleasures offered by no-strings-attached sex. At the same time, she attempts to question the differing roles of teenage boys and girls – why can't girls sleep around?
At least, this is what the blurb on the jacket and online would have you believe. In reality, the journey of self-discovery is less profound than suggested, though no less real or recognisable to the reader for that. Olivia often seems far from emboldened – indeed, she suffers from many insecurities, such as her concern that her parents are about to separate.
Set largely in the town of Kalmar and in Byxelkrok on Öland, the book draws on Ohlsson's Baltic coast roots. The sense of place is very strong, especially in the rural setting of northern Öland, where you can almost taste the sea and feel the sand.
There is a degree of sensationalism to the book, with a focus on sex, drugs and booze that is reminiscent of Melvin Burgess' Doing It – slated by Anne Fine in her 2003 review. In fact, in many ways it feels as if Ohlsson has been influenced by the previous decade's trends in British television, in the shape of coming-of-age programmes such as Skins. What is remarkable is that this has translated to the page so effectively and succinctly.
The stream-of-consciousness style of Olivia's prose is engaging and easy to read, ensuring the reader feels a reasonable degree of empathy with her. What is a little difficult for the British reader to swallow is the setting in Kalmar, where Olivia and several fellow Ölanders have moved to complete their 16-18 education. They appear to live independently in apartments and have vast disposable income, with little parental or teacher oversight. To most Anglophone readers, this will seem somewhat improbable. If the book made it to translation, an editor would be well advised to consider how best to present this element of the setting so that the reader's capacity to suspend their disbelief is not overly taxed.
This is the kind of book likely to elicit the attention of gatekeepers in the world of YA fiction. There is no suggestion in the Swedish media that this happened on its original publication (nor in Germany or Denmark), but it would undoubtedly cause minor controversy if it were translated into English.
Ultimately, what is satisfying about this book is the quite innovative approach to young adult writing taken from the screen, the fluid writing, the sense of place, and the description of teenage insecurities – presented in one easily digestible novel. While apparently set in a very particular time, it draws inspiration from the young adult culture of the 1990s and early 2000s. And it provides some insight into where the young adult genre may be going in years to come – not only in Sweden, but also in Britain.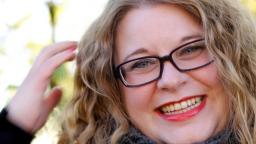 About the book
Jag är tyvärr död och kan inte komma till skolan idag
Gilla Böcker, 2011. 299 pages.