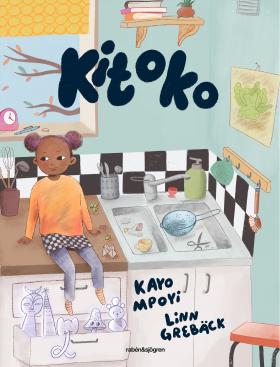 by Kayo Mpoyi
illustrated by Linn Grebäck
reviewed by Fiona Graham


Little Kitoko's father tries to instil hope in them both, as if reciting a prayer: they have hope, he says, they'll find hope, and hope is with them. Yet father and daughter have had to move more than once since Kitoko's mother left, and hope can sometimes seem in short supply – especially on those days when her father lies under his quilt with the curtains drawn, murmuring, 'Not just now, not just now.'
Being eminently practical and enterprising, Kitoko searches their flat for the hope that has gone missing – in vain. But then she recalls that she can slip into her own inner world just by closing her eyes. She joins her train-driver friend Connal in his locomotive for a magical journey into an enchanted country where memories hover over the ground like shining bubbles. She relives the time she and her father tried out one comb after the other, to find the one that was best for her hair, and the moment when they found just the right place to live. And so Kitoko restores her father's spirits: as long as they are together and share happy memories, there will always be hope.
Kitoko's name, which means 'beautiful' in the central African language Lingala, is a fitting title for this touching tale of the love between father and child, and of the healing power of imagination and memory. The illustrations, too, are a joy. The book should have widespread appeal for young children (up to the age of six or so) in many countries, including the UK.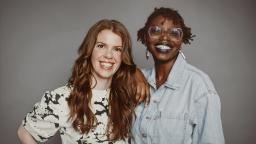 Rabén & Sjögren, 2022, 32 pages
Foreign rights: Norstedts Agency
Kayo Mpoyi's first novel, Mai betyder vatten (Mai Means Water), published in 2019, won the Katapult prize for Sweden's best debut in 2020. It has appeared in Finnish, German and French translation, and is shortlisted for the French Prix du premier roman étranger. It was reviewed by Joanna Flower in SBR 2020 1-2. An extract translated by Alex Fleming appeared in the same edition. Mpoyi's second novel, En övning i revolution (An Exercise in Revolution) came out in August 2022.
Linn Grebäck is an illustrator, animator and graphic designer based in Stockholm. Kitoko is her debut as an illustrator.