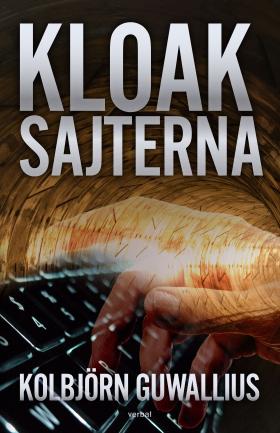 REVIEW
Kloaksajterna
(The Sewer Sites)
by Kolbjörn Guwallius
reviewed by Catherine Venner
Kolbjörn Guwallius's debut novel is a timely tale that takes us into the world of hate sites and alternative media. Set against the backdrop of the 2018 Swedish election, the novel begins with a foreword stating that although the author has been inspired by reality, most notably the milieu of the Sweden Democrats, and although statements found in the pages may have been uttered by real people, the novel is most definitely a work of fiction.
The story centres on Aron Frankowski,  once a local politician and member of the right-wing Sweden Democrats (SD) party. He has left the party but still maintains contact via Robin Lönnstam, an SD member of parliament, who bought the domain name for the 'Telegrafen' website and passed it on to Aron for him to publish and circulate SD-friendly articles. From his modest apartment in Malmö, Aron runs the 'Telegrafen' website and generates a buzz on social media by using multiple accounts. He is also occasionally paid by a Russian TV company to report on the situation in Sweden. Although he is close to the party, he wants to give the impression of being a serious news outlet so when he is invited to accompany Jarek Kowalski, an SD member of the Swedish parliament, to observe an election in Poland, he takes the opportunity to expose him as a drunk who tries to bribe the authorities to send him prostitutes.
While in Warsaw, a drunken Kowalski mentions that they have a new assistant in the parliamentary office called Ilja Ivanov, who has been sniffing around Kowalski's desk and who Kowalski believes is a Russian spy. At a later date, Aron asks Robin about Ivanov but there is no concrete evidence, so Aron doesn't run the story. However, a national newspaper reveals that Ivanov earned a lot of money selling a house that once belonged to an oligarch.
As a result of the scandal, Ivanov must change jobs and is sent to help relaunch another of Robin's websites, 'Samhälle24', which is in competition with Aron's 'Telegrafen'. Ivanov believes that Aron is responsible for the leak, and when the identity of an anonymous right-wing blogger is revealed and he subsequently dies of a heart attack, Ivanov claims that Aron is behind it. Later a reporter contacts Aron, who gives her a tip-off about Ivanov's possible espionage. The reporter does her research and outs Ivanov as a disinformant on the Russian payroll. Ivanov then returns to Russia and to get revenge he has Aron kidnapped and left on a boat with the body of a murdered homeless man. Aron is arrested for murder, but it becomes clear that his story is true. Ivanov intends to return to Sweden to kill Aron; however, he is poisoned with a nerve agent before boarding the flight. At the end of the book, Aron wants to return to a normal life and deletes the 'Telegrafen' website.
This close-to-the-truth fiction introduces us gently to the world of hate sites or, as Aron himself would rather see them, 'kloaksajter' (sewer sites), but as the rivalry between the two websites grows, the pace picks up and the protagonists are soon involved in a life-and-death struggle. As a reader, I was grateful for the chance to get to know this milieu before being plunged into the action. Although this novel is based in Sweden, the presence of alternative media is something that will be recognised throughout Europe and America, and will prompt readers to think about where they get their information from. The strength of Kloaksajterna is the non-fiction setting of the novel.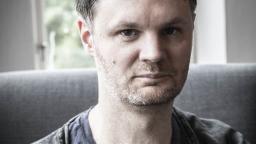 Verbal förlag, 2019
212 pages
Foreign rights: Verbal Förlag
Kolbjörn Guwallius has written four non-fiction books that investigate Swedish society. Kloaksajterna is his debut novel.