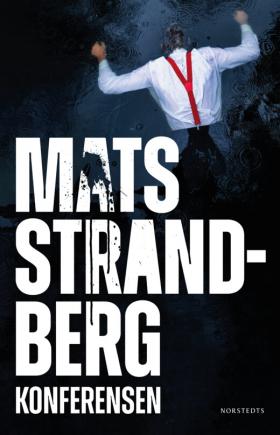 REVIEW
Konferensen
(The Conference)
by Mats Strandberg
reviewed by Catherine Venner
While most of the world was getting to grips with working from home, Mats Strandberg was writing about office life at its worst. In an author's note at the back of the book he acknowledges this irony, but as a reader I did not feel that this timing detracted at all from the addictive escapism of the novel.
Konferensen sees an already splintered council department set off on a team-building trip, only to be confronted by a mass murderer as evening sets in over the isolated lakeside holiday village. Told from the various perspectives of the employees in the urban development department, the narrative acquaints us with the characters and the tensions between them, which centre largely on a shopping centre development that caused a local farmer to be evicted from land his family have worked for generations. We spend a lot of time in these characters' heads, and the drama, scandal and lying around the planned construction could almost be a story in itself, lulling us into a false sense of security that this book may fall into the less bloodthirsty genre of financial crime writing.
Lina has just returned to work following a breakdown, and we follow her as she tries to fathom what happened during her absence that caused the department to become two warring factions. She is also realising that the feelings she had for her colleague, Amir, are still present, although she is worried that he may now be interested in Nadja, the new recruit, who has found some incriminating documentation about the development. Nadja and Amir are working to bring the affair to light.
Ingela, the department head, has passed on the project and given her full confidence to Jonas, who will stop at nothing to get what he wants. He is seeking to forward his career and has managed to attract a job offer from the investment company involved in the development. Kai appears to follow Jonas blindly and is mostly interested in how he looks and approval from Instagram.
Add to the mix the office old guard: Torbjörn, gearing up for retirement, is cynical after many years of service, while Anette believes the leadership group bullied their former colleague to press on with the project even after he noticed something was amiss. Eva is haunted by the holiday village's former use as a home for girls with behavioural difficulties.
While the colleagues argue and scheme, an unknown murderer sets about killing them one by one. The tyres on their vehicles are slashed and telecommunications have been cut to ensure isolation. Once the first murder has occurred, the others come thick and fast, and the team must hold together if they are to have any chance of making it through the night alive. But can they really trust each other? And could an extra death attributable to the mass murderer be advantageous?
As the author has given us the time to get to know the characters, we are really rooting for the 'good' ones to survive and pull through. We follow them as they make their way through the dark, seeking places to hide from the hunter who appears to have blocked every way to escape. The writing is deft and pacy, making the book difficult to put down.
Mats Strandberg has been called Sweden's Stephen King, and Konferensen is a horror story that lives up to this accolade. His craft is seen in the slow, yet tense start, which really pays off by making the horror of the unfolding bloodbath all the more tangible. It allows us to develop a real connection to the protagonists and sympathise with their plight.
This traditional horror, interwoven with workplace tensions, is a perfect read to keep you entertained as you return to office working – although you may find yourself staying up late to read one more chapter.
Previous works by Mats Strandberg have been nominated for and have won prestigious prizes both in Sweden and internationally, including the August Prize, IBBY (International Board of Books for Young People) Honour List and Storytel Awards. Several of his books have already been translated into English.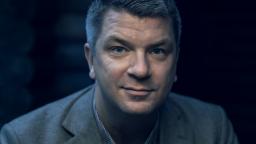 Norstedts, 2021
354 pages
Foreign rights: Jenny Khayon, Grand Agency
Mats Strandberg's Hemmet was reviewed by Michael O. Jones in SBR 2018:2.
Swedish national tabloid Expressen has described Konferensen as Strandberg's best solo novel to date.