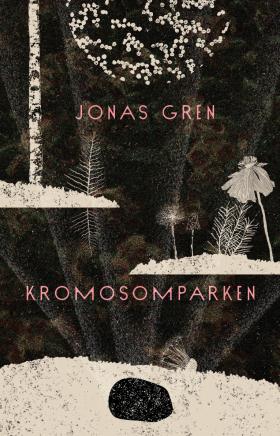 REVIEW
Kromosomparken
(The Chromosome Park)
by Jonas Gren
reviewed by Sophie Ruthven


Humans as part of the natural world, as part of Earth's processes. How we humans can manage this great, celestial park in which we are all born and die, how we can manage ourselves and the circumstances in which we can do this, based on genetic factors we may understand but have limited control over. Fantastic solutions to huge problems. Sisterhood and friendship. Work and vocation. Intergenerational responsibility. There's an awful lot going on in the slim Kromosomparken, Jonas Gren's first novel, and yet somehow its multitudes are portrayed with the spaciousness of a Norrland landscape and the lightness of Earth's upper atmosphere.
Ella lives in Ödsele, a fictitious settlement in the north of Sweden, in a not-so-distant future where, to keep global temperatures at a manageable level, the uppermost level of the earth's atmosphere is covered in an artificial yet organic mist. Living alone, she commutes five days a week to her job at the Hub, one of the global centres for mist generation. There she supports the tiny, genetically modified spider hatchlings before they are projected into the atmosphere, forming the mist.
With two colleagues, Karla and Milton, Ella need never be alone, though there is a loneliness inside her. Her almost-twin-sister Vera has died, and she herself is affected by the same genetic illness which led the sisters to need wheelchairs from their early twenties. Ella's thoughts frame the narrative, filled with memories of their childhood and of the shifts in how they were viewed as their mobility changed. It's hard to tell at times whether we should read the novel's events as happening in the present with a view of the future, or in the present with a view of the past, which in a way brings attention to the brevity of human life in comparison to the age of the planet on which we live.
We encounter Vera through Ella's memories, sense through her feelings. Does Ella ever fully understand her sister? I'm not certain even she herself is sure. Perhaps it's always this way with those we've shared a lifetime with: on the one hand, we know them intimately and require no explanation for their actions and reactions, but on the other hand, sometimes their deepest thoughts never uncover themselves despite years of analysis and experience. It might be a stretch to say so, but perhaps this applies to life on earth too: no matter how familiar we are with it, much is still a mystery. Just when it all seems to make sense, there's another unexplainable discovery.
In general, Kromosomparken does a great job of portraying a conceivable everyday life in a future most readers will not need convincing is a possibility. Furthermore, with the current knowledge we have about climate change, it is perhaps not only easy but natural that much speculative fiction has climate disaster in the background, as opposed to the front-and-centre main event. Knowledge of what is already happening and could still happen hasn't lost its heaviness but is a given sort of weight and doesn't require express articulation, because it permeates our everyday knowledge. The experience of losing a loved one and reckoning with your perhaps complicated relationship is also heavy. However, Gren is a poet, and so his carefully measured and perfectly timed language allows just the right amount of space for numerous ideas to breathe, something possibly assisted by the Swedish language's toleration of sparseness. Words seem to be written with the careful yet directed pacing of nature's background processes. There is a good amount of humour in the novel too, be it through the no-holds-barred character of Vera or Milton, Klara and Ella's joint escapades. One character in particular, Ella and Vera's aunt, Eva-Lisa, introduces the concept of generational experience and responsibility, but also brings a smile to every scene in which she appears:
He says that he's not all that mad about cloudberries, and that he doesn't make jam in any case. If needs must, he buys pre-made jam in the shop. Eva-Lisa looks at him, then at me and she says:
'That's the worst!'
Many important topics arise throughout Kromosomparken, yet by the end I began to wonder whether the text could've done with fewer thematic elements. Some things I was so keen to know more about that I was left feeling that the ending had done my curiosity a disservice. The 'berf', for example, an ancient organic object that seems to defy all previously understood laws of nature and could potentially provide either another solution or another problem for humanity. And how successful was the mist in the long run? Perhaps this isn't as important though: the airy weight of Kromosomparken is real, and makes for a beautiful, fascinating and poignant read about our home, the Earth, and what could be humanity's final moments.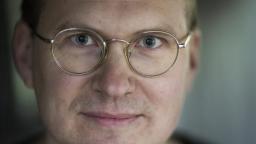 Weyler Förlag, 2022
189 pages
Foreign rights: Sofia Thermaenius, Natur och Kultur / Weyler förlag
Jonas Gren is a poet and contributor to various publications including the newspapers Dagens Nyheter and Sydsvenskan, where he frequently writes about climate change. He has so far published three poetry collections, focused on ecopoetry.