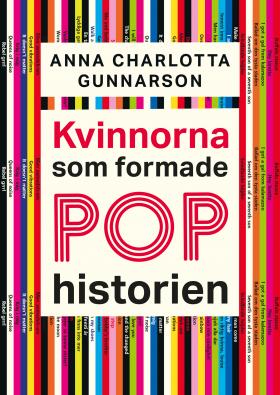 REVIEW
Kvinnorna som formade pophistorien
(The Women that Shaped Pop Music History)
by Anna Charlotta Gunnarson
reviewed by Henry Jeppesen


When the subject of popular music from the past century (and earlier in some cases) is discussed by experts and just plain music lovers of all vintages, the vast majority of the exponents and others involved in the making of this music that are mentioned, are men. Based on these discussions, the general consensus seems to be that women made very little contribution towards this industry. With her book Kvinnorna som formade pophistorien, Anna Charlotta Gunnarson attempts to rectify this situation.
Anna Charlotta Gunnarson has enjoyed a rich and varied career as a freelance journalist, author (of a number of children's books, in addition to this one), actor, musician and playwright, as well as a reporter, presenter, panel member and producer on a number of different Swedish TV channels and radio stations. She has truly done her homework when it comes to this book and has consulted a considerable number of music encyclopaedias written in the last forty years. Unfortunately, and yet not surprisingly, she discovers that women are underrepresented in these tomes. Many major international artists such as Whitney Houston and Janet Jackson are barely mentioned in some of these books, while several minor male artists and groups apparently warrant a few paragraphs. Needless to say, virtually all the articles about men are written by men.
However, despite the omissions in these works, Gunnarson has been able to locate invaluable nuggets of information in other publications about women who in some cases have been practically erased from music history. For example, the first Swedish artist to feature on the American Billboard Hot 100 chart wasn't Björn Skifs in 1974 under his group name of Blue Swede with his song 'Hooked on a Feeling' – as is commonly thought – but in fact a woman, Siw Malmkvist, with her song 'Sole Sole Sole' in 1964. The book features many other stories of women in the industry, and I shall mention some of them here. There has been a plethora of groups comprised of female singers and male instrumentalists, but very few, if any men, accompanied by a female rock band. Did you know that Dolly Parton turned down an offer by Elvis Presley? When his manager, Colonel Tom Parker, demanded half the rights for a record, as was customary when Elvis covered someone else's song, in this case, 'I Will Always Love You', Dolly said no. Thankfully, this proved to be the right decision, as Whitney Houston's 1992 version of the song is now the biggest selling single by a woman in history.
There was a time when there were many more all-female orchestras (damorkestrar) than all-male orchestras touring around Sweden in venues such as hotels and restaurants, often only taking days off on Good Friday, Christmas Eve and Christmas Day. Agnetha Fältskog, who is often patronisingly known as 'the blonde one' in ABBA, is a very gifted songwriter and producer in her own right. She wrote her first tune at the age of five and was given her own piano on her seventh birthday. She self-penned many songs during her solo career pre-, during, and post- her time with ABBA. Finally, Sylvia Robinson was one of the most influential and powerful women in the music industry, in which she worked for sixty years. Although she is known primarily for bringing hip-hop into the mainstream, she was also a brilliant guitarist, songwriter and singer in her own right.
Kvinnorna som formade pophistorien is a must-read for all music lovers, as well as for those with just a passing interest in the subject. It is vitally important to pass on the knowledge that the music industry isn't just a 'man's, man's, man's world'; but that for many years, women had a tough time in all areas of the business, including in songwriting, producing, sound engineering and performing. Maybe young girls will read this book, learn about these pioneering and trailblazing women, and be inspired to pursue a career in the music industry themselves.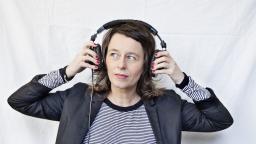 About
Kvinnorna som formade pophistorien
Atlas, 2019
324 pages
Foreign rights: Anna Charlotta Gunnarson
Anna Charlotta Gunnarson is a freelance journalist, author, actor, musician and playwright, as well as a reporter, presenter, panel member and producer on a number of different Swedish TV channels and radio stations.