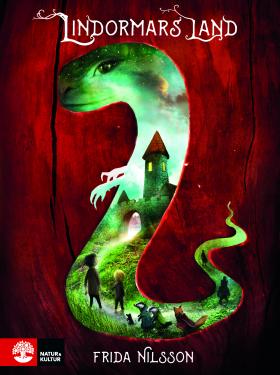 REVIEW
Lindormars land
(The Land of the Lindworms)
by Frida Nilsson
illustrations by Alexander Jansson
reviewed by B.J. Epstein
Samuel and his little brother Mortimer live with their foster mother, Tyra, a cruel woman who forces the young boys to work polishing nickel silver goods. They spend their days in their tiny room, bent over ashtrays and coffee pots, inhaling chemical fumes, never going to school or getting to play.
It's no wonder, then, that the boys are intrigued and tempted when a rat suddenly begins talking to them and tells them about another land where they could have a very different sort of life. This life would include silk pyjamas, plenty to eat, and, perhaps most importantly, lots of toys. Samuel is naturally more cautious and protective than young Mortimer and doesn't think they should go, but when Mortimer runs off in the middle of the night after a fight with Tyra, Samuel has no choice but to join him on the trip to the Land of the Lindworms.
Lindworms are monsters in traditional Nordic mythology; they are related to dragons but have slightly different characteristics, such as large fangs. Mortimer and Samuel are both drawn to and frightened by the Queen Lindworm, who promises to spoil them if only they will agree to be the children she has always longed for. Somewhat strangely, she shows much more enthusiasm for Mortimer than she does for Samuel, although Samuel initially tries to put this fact out of his mind and to accept their new living situation as easily as his brother does.
The Land of the Lindworms is an exciting, gently frightening page-turner that is beautifully written. Samuel and Mortimer are depicted with affection and all the characters are well fleshed-out, including the pompous rat, who aims to meet his demanding liege's every need, and the careless and easily confused fox, who serves as a maid in the Queen's household.
 Frida Nilsson has published a number of books for young readers and received many awards, including the James Krüss Award for International Children's Literature and the Astrid Lindgren Prize. Her books have been translated to the other Scandinavian languages, as well as other tongues (including English), and deserve to be more widely known. She does not shy away from difficult subjects, but she places them within warmly and fully developed stories. In the middle-grade novel Lindormars land, Nilsson writes about the need and desire for love and about the difficult choices we sometimes have to make.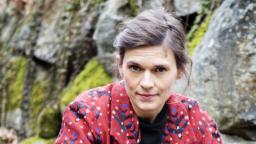 Natur & Kultur, 2020. 416 pages
Foreign rights: Carin Bacho, Koja Agency
An excerpt of Frida Nilsson's Jagger, Jagger appeared in SBR 2015:2, translated by Kate Lambert. Ishavspirater was reviewed by Fiona Graham in SBR 2016:2. It appeared in Peter Graves' translation as The Ice Sea Pirates in 2017.
Frida Nilsson (born 1979) is one of the most prominent children's book authors in Sweden today, and has won awards in Sweden and internationally.