INTERVIEW
So How Was Your Year? Selling Nordic Literature in 2020
A panel with three literary agents working in the Nordic region
In late 2020, the Swedish-English Literary Translators' Association was delighted to welcome three distinguished literary agents working in the Nordic region to find out about their year, and to gain a better understanding of what their work involves. Urpu Strellman (Helsinki Literary Agency), Judith Toth (Nordin Agency) and Sofie Voller (Politiken Literary Agency) kindly shared their insights on the year that was, in a panel chaired by Alex Fleming (Editor, Swedish Book Review).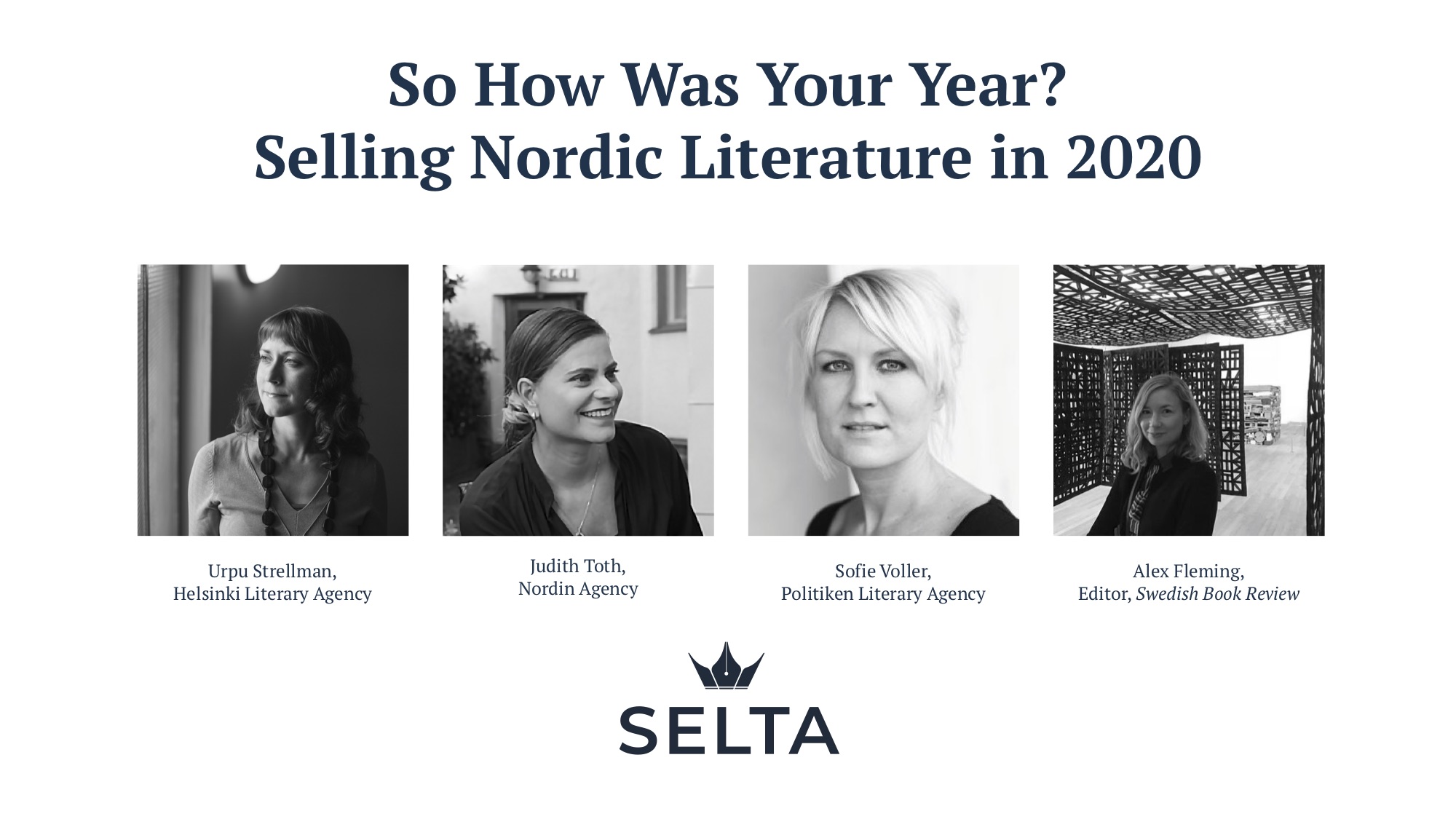 Q: To start us off, could you tell us a little about what your work as a literary agent typically involves, and how that has changed over the past year?
Urpu Strellman (US): My usual work (as I think is the case with my colleagues here) is pretty much e-mailing, sending out submissions and taking in offers, and booking and holding meetings. One of the biggest things that has changed this year is that we are not booking for book fairs but for (just as many!) Zoom and online meetings. I find the work of a literary agent to be quite reflective of the publishing world nowadays. One of the biggest changes this year for me has been that we are not travelling all the time, which gives us (or me, at least) the chance to do things that I normally wouldn't have time to do. Even if the pace is still hectic – and my to-do list is as long as always – I think it has still been a little less exhausting.
Sofie Voller (SV): I think our job is so dependent on personal relations and getting a feel for what any individual editor is into acquiring, which is difficult with the distance, so I think that has been a huge challenge and a huge change. I feel that that contact is where all of us get the majority of our energy as well (I think that's why we're working with rights and not in editorial) so that aspect is definitely more difficult on screen.
Judith Toth (JT): We are also seeing more caution from some publishers. It's not that publishers aren't looking for books anymore, or great stories (of course they are!), but I think their process is a little different from a year ago. Everything used to be concentrated around the book fairs, and agents would send out their submissions to publishers roughly around book fair time. Now publishers are looking for projects all year round. The publishers that I have spoken to all agree that they have received many, many more submissions than normal. So it seems like there are actually more books out there, but the process of acquiring them has toughened up. We as agents need to adapt our way of doing business to their acquisitions process.
There is also a positive here, in that many people are able to have many more meetings than normal. For me, I feel that I have had more meetings, and better quality meetings (as they can be longer), and meetings with publishers that I haven't met before.
SV: I think that's an interesting point of view. We haven't been booking ourselves back-to-back in this book fair season; we have had a lot of online meetings, but not as many as we normally would. But what I – and I think a lot of us – have done is get over the barrier of actually meeting people online, and I think that's a good thing for the future, for many aspects. It's definitely a way to meet more people, and for authors as well, it's a way to meet their foreign publishers in areas that you might not prioritise travelling to. We have had quite a lot of those meetings as well, and I think that's definitely something good that has come out of this.
US: I agree with Judith that meetings have been of a better quality than at book fairs, because we have more time. My colleagues and I have had a few hundred meetings, and we have booked them every hour instead of every half-hour, which also gives a chance to chat a bit more than at the book fairs. This works especially well with the publishers we already know. Although I think we would have had more meetings with new publishers at physical book fairs, it feels like our newsletters are reaching more people than before, and more people are reacting to them, including publishers and editors that we don't already know.
Q: We've talked quite a bit about the book fair side of things, and how the manner in which you sell rights is being reshaped in a physical sense. Have you noticed any changes in what acquiring editors are looking for? Are there any genres that are taking off, or more interest in different types of media in light of our changing lifestyles?
SV: I actually think we're selling more authors now, but to fewer territories, whereas I would like to say that before it was the other way round. That might have something to do with our focus, as well – obviously we can see that many markets are a lot harder affected by the pandemic than we are in Scandinavia. I think we are seeing that we can work longer on the books – and sell more rights to books that we would normally consider backlist titles. Having said that, creating hype is a bit more difficult than when you're at a book fair, or even when people are in their offices, where they can run to a colleague or their boss and get permission to make an offer. It does take longer to work with a broader range of titles, but that isn't to say we've made fewer sales than in 2019 – just across more authors and genres.
JT: I second what Sofie says. During this period, the territories that were maybe less strong in the audio or digital market are really shaping up, and we are also seeing a rise in backlist sales and sales to digital publishing houses. In terms of genre, what I am seeing is that in certain territories publishers are looking for more upbeat genres. All of them say that they are receiving a lot of books that an agent might think is suitable or timely at the moment, but that what they are looking for is a more positive, optimistic outlook.
US: I think I might see things differently, as quite a few books on my list are Finnish, and Swedish and Danish are read by more editors. I think this caution we are seeing in publishers affects literary fiction especially: publishers are looking for more commercial titles, quite often ones that will work in audio, which has now increased in many countries. Literary fiction often also needs some level of author promotion and translation support, and publishers are perhaps more dependent on support than before. What I have also noticed is that children's books are going very well (especially now in autumn), so I am very happy that we have this other leg to stand on, as it were.
Q: What are your impressions of the Swedish literary landscape? How do you feel it is doing at the moment?
JT: It is difficult to talk about how things are going without mentioning the wider situation. I think we all feel the cautiousness, and a lot of that has to do with the fact that many publishers had to push their titles back into the next year. So when we are talking about our books, we are mostly talking about what might be published two years from now. I think it also differs from country to country, but overall we are seeing no decline in interest in Scandinavian fiction. 
Swedish fiction is very much linked with certain genres – such as Scandi noir or Scandinavian crime fiction. There is a lot of crime fiction out there, and we feel that publishers are looking to select wisely. For instance, we have a lot of publishers asking for one-offs or standalones as opposed to long series in certain genres. Nordin represents literary authors and commercial authors, and genres like crime and women's fiction, and I think that as long as you have good material for publishers, that's what matters, whatever the language you are working from.
SV: It's difficult to say if one thing will or won't work: if a series is the right one, it'll work. As mentioned before, the decision-making process is taking longer, but we also know that it's quite expensive to invest in a one-off author, especially if it's a commercial author. Of the books we've sold this year that are more on the commercial side, we have seen a lot of 2-or-3-book deals, and I think that's because the publishers that have invested in the more commercial books (which are quite often traded more expensively in our world) want to make sure they will at least get their advance back over a couple of titles.
But I think in general translations are selling more easily: I think editors in a lot of the world are getting used to accessing a sample translation, and in general it's not as "exotic" as it was maybe 10 years ago. I think we are seeing that in how we are acquiring at our publishing house as well. So I think the openness towards the material and the translations has changed a lot.
JT: Another thing that has been discussed is debutants vs established authors. During this year of course nobody can travel, meaning for certain publishers it's great to have a successful ongoing series with authors that are already brand names. Some say that they are more cautious with debutants, while others may be looking out for that fresh new voice. So it is very much dependent on the type of territory and market and publisher.
US: I agree with everything that's been said. In fact, for our spring list this year I split our rights list into the acclaimed, prize-winning authors, and then new or emerging voices, and that has worked tremendously well in guiding publishers, especially with literary fiction.
SV: On the discussion of genres, and what's working: I find that things have to be more "straight" in the genre than perhaps a few years back; that publishers are more dependent on categorising because of digital sales and streaming. Most genres can sell, but in my experience it has to be quite sharp within that genre. So genre crossovers can be much more difficult to pitch, and I think it's because we're now so dependent on tags.
JT: I totally agree. Ten years ago, if you take crime fiction, for instance, there was a lot of experimentation – with supernatural elements, etc. But we are finding that we are heading back towards what shelf something will sit on at the bookstore or in your audio app. So I totally agree, it's almost a "back to basics" within each genre.
Q: What are your main – positive – takeaways from this year that you will take into the next year?
SV: That you could meet your foreign colleagues wearing your pyjamas! No, I think for me the biggest difference has been with my authors – online meetings have been a huge help for them. If you're an author being published for the first time, you might not always get invited to go to present your books in a country that you're published in. I think it does make quite a big difference that they can meet their publishers and marketing department online now, and I think that's definitely something we're going to carry on using a lot more. It has become a lot easier to involve authors in a lot more.
US: There are quite a few things! Even with all this year's difficulties, what I have liked a lot is that I feel in publishing, people everywhere have come together more than before, that there is a strong spirit of doing things together and making it work. Also, I know that publishers are experiencing huge difficulties in some areas, but there are also loads of publishers who are extremely happy with their sales and how the book business has been going, which in particular is a sign of an increasing interest: everybody has overdosed on Netflix and HBO already, and they are actually reading and buying books, which is always great to see.
On the agency side, similar to what Sofie mentioned, there is more cooperation with authors. We have done things that we probably wouldn't have had time to do if we were travelling to all the book fairs. In the spring we did some very short video clips with the authors where they presented their books, which got a very nice response from all over. And now we have started a podcast, just this autumn. I think we will start to see the results of these things in coming years. So I think there are plenty of good things that will come out of all of this horrible stuff in the end.
JT: I think what Sofie and Urpu said is right on the money. I think there is always a discussion about the book industry and the struggles it has, but I think we can all agree that there is a need for good stories, whatever the format. We as an industry have also shown that we can adapt really, really quickly to a situation, not just in how we sell books, but also, as we discussed, the way to market books to booksellers quickly. I'm not sure that we want everything to go back to how things were: I think many of us want to take the positive things and instead go towards the future with this new digital era knowing that we actually can adapt really quickly if we need to.
Q: Finally, as you all work a lot with translations to pitch books, do you have any top tips for translators?
US: Not very original really: I think it's important for translators to grow their expertise on their country and language. Finland-Swedish literature is of course a smaller field, but we have some really interesting titles. Integrity is also important: if you don't think a book is good, or fits the publisher, then say. Otherwise you risk losing the trust of that publisher. And thirdly, be in touch with us if you want to receive material or hear about the books, because we're aware that translators can do very valuable work.
SV: I think there's several stages at which we can work with translators, because the samples that we commission to send to publishers are very much what those publishers are basing their decision on. It can be quite difficult to find good translators who are willing to take on sample translations, but I quite often experience that if it's a good sample, and we sell the rights to the UK or US publisher, it will be that translator who gets the commission to do the full job. I also think that interacting with authors can be very beneficial – just ask loads of questions!
JT: Like Sofie says, we begin our relationship on a book with a sample translation that we then send to publishers, and I would advise translators that it's important to see the entire chain of the translation's life – we want to be able to sell that translation to the publisher in the UK or US. Like Sofie said, there is a great chance for that translator to then be the one who actually gets the job to translate. So be open, and it's a dialogue and a collaboration, because the translation is so important to us, of course. And also send us a note – this is what I do, these are the languages I work from – at certain times of year it can be a struggle to find somebody who is available. So make yourselves known to us so we know that you're out there.
This interview has been adapted and edited on the basis of an online public event hosted by the Swedish-English Literary Translators' Association in November 2020, in which Urpu Strellman, Judith Toth and Sofie Voller were in conversation with Alex Fleming. The full panel - and subsequent Q&A session - can be viewed here.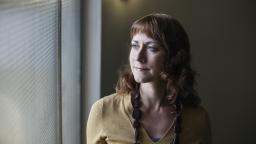 Urpu Strellman
Urpu Strellman is CEO and Literary Agent at the Helsinki Literary Agency, representing in excess of one hundred Finnish authors and illustrators. From 2005–2017, Urpu was Acquisitions Editor and Publishing Manager at Art House Group. Alongside her roles in publishing, she has taught editing and writing at the University of Helsinki for a decade, and also given dozens of lectures on publishing industry, selling foreign rights and writing nonfiction. Urpu has also published a number of books in Finnish on writing and authorship, as well as being an occasional translator of English and Swedish to Finnish.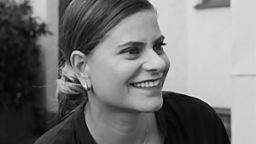 Judith Toth
Judith Toth is Senior Literary Agent at Sweden's oldest authors' agency Nordin Agency. Previous positions include Manager Acquisitions Literary Rights for Nordisk Film Production, Executive producer and Board member at Breidablick film and tv production company, Head of Film Rights/Literary Agent at Bonnier Group Agency, and a decade as a Film/TV Sales Agent at NonStop Sales/Millennium Media Group, later acquired by Turner Broadcasting/Time Warner.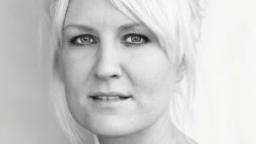 Sofie Voller
Sofie Voller has worked in British, American and Danish publishing for 15 years. She was an agent and editor for translated literature at Gyldendal for nine years, and has spent the last four years at Politikens Forlag as Head of Foreign, Film & TV Rights. She currently represents authors including Jussi Adler-Olsen, Søren Sveistrup, Karin Smirnoff and Klas Östergren.