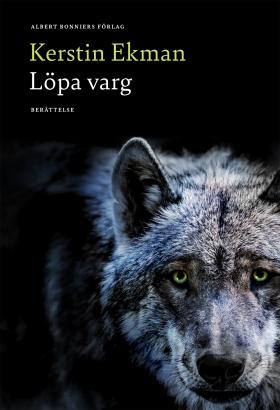 REVIEW
Löpa varg
(The Wolf Run)
by Kerstin Ekman
reviewed by Deborah Bragan-Turner
Kerstin Ekman needs no introduction to readers of Swedish Book Review. Her latest book, Löpa varg (The Wolf Run), is her first novel since Grand final i skojarbranschen (Grand Finale in the Trickster's Trade), published ten years ago, and it has received glowing reviews in the Swedish press. It resonates with a wisdom and sensitivity deeply rooted in nature, evoked through one man's meditations on the damage inflicted on the earth by humankind – and himself.
The story is set in the summer of 2018, when a series of wildfires occurred in much of Sweden. It begins early one morning when Ulf, for over fifteen years the leader of a hunting team in Hälsingland, is alone in the caravan he uses as a refuge. There he sees a male wolf and on closer inspection finds the tracks of a she-wolf. In his mind's eye he pictures the pair and the life they lead. Ulf is a thoughtful, private man, about to celebrate his seventieth birthday with his wife Inga, and retired from a lifetime of forestry management. The passage of time and the waning strength of his ageing body make him feel increasingly useless. Of his daughter, now a qualified doctor working for Médecins sans Frontières, he says: 'When she was little, I was the one who knew everything, because I was her father. Now there's a lot she could tell me about.' When the other hunters, urged on by a younger team member, kill the she-wolf, he knows that his days leading the team are over.
Inga senses her husband's preoccupation and distress and urges him to write his own hunter's journal, citing Turgenev's Sketches from a Hunter's Album as an example. Thus he begins to reread his old logs, starting with his first encounter with a bear in 1960, when he was 12; and as he sifts through his memories, he realises how intricately balanced are the many layers. 'The boy's memory stores more than his brain and knowledge encompass.'
Ulf's health is deteriorating, he is troubled by his own indecision and prevarication, and he reflects on the likelihood of ending up in a care home, where the rooms are named after flowers and trees. 'When you can no longer remember your name it's assumed you'll find it easier to remember whether you belong behind Pine or Spruce.' He senses that he is near the end of a life that has been ordinary; but now that he has seen the wolf, he feels the need to seek reasons for his life, and for his death.
Relations between Ulf and the younger members of the hunting team become more strained and he resigns from the team. His heart condition worsens and increasingly he finds log entries and correspondence that fill him with shame. Meanwhile, daily life continues: a neighbour's neglected sheep are left out at night and killed by a predator, a bear attacks another neighbour and kills his dog, the pipes freeze when winter comes and Ulf has to muster all his strength to clear them. And still in his imagination he follows the life of the wolf, but finds himself unable to explain it all to Inga. The mounting unease in the narrative comes to a head when, after having suffered a heart attack that requires surgery, Ulf learns that his caravan has been burnt down and the police have made a sinister discovery in the wreckage.
This book is not for the squeamish: there is blood, violence and crime. There is the mystery and mythology surrounding man's ambiguous relationship with wolves. At the same time the novel is the portrait of a long marriage: the tenderness, the disagreements, the slow, everyday ordinariness. It is also the gradual recognition of ageing, of life coming to an end, of time running out. And on an elemental level it is the confession of mankind's mistakes: 'We're killing off life in the seas and the forests and I don't want to be part of it anymore.'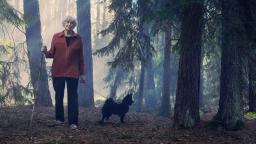 Albert Bonniers förlag, 2021
150 pages
Foreign rights: Elisabet Brännström, Bonnier Rights
The quotations in this review are from Linda Schenck's sample translation, available from the agent.
An excerpt from Kerstin Ekman's Grand final i skojarbranschen (Grand Finale in the Trickster's Trade), translated by Linda Schenck, appeared in SBR 2013:2.