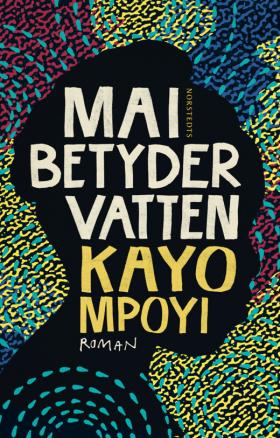 REVIEW
Mai betyder vatten
(Mai Means Water)
by Kayo Mpoyi
reviewed by Joanna Flower
Mai betyder vatten (Mai Means Water) is a story of family trauma and its impact through the ages as seen through the eyes of Adi, a six-year-old diplomat's daughter from Zaire. In Kayo Mpoyi's debut novel, which is set in Tanzania in the early 1990s, African mysticism clashes with Old Testament-style Christianity, women and girls suffer the devastating effects of an uncompromising misogyny that has passed on down the generations, while the effects of colonialism and political upheaval loom in the background.
At the beginning of the novel, Adi's mother gives birth to her eighth child, who is to be called Mai. 'God have mercy on us,' she says, on announcing the name. The family believes that they are living under a curse which started when Adi's ancestor, Mai, was captured by the Belgian occupiers of the then-Congo and held to ransom while pregnant, in an attempt to force the males in the family to go into the jungle to work. The family paid for the release of Mai's newborn son, but not of Mai herself. Adi's father believes that by giving this new baby the same name, the curse will be lifted.
Mai means 'water' and this is a motif that flows throughout the novel. Water as a means of purification, as a means of cleansing oneself of sin, water as pure nature, as an element that cannot be tamed or repressed. Adi's father, on the other hand, is ruled by the intellect; he spends his free time reading dictionaries and is obsessed with words, and it is this conflict between spirit and intellect that is at the heart of the novel. Adi's father uses strict Christianity, rules and punishments in order to try and oppress African spirituality, women, nature. For he, too, has experienced the effects of the family curse and has dealt with them by becoming a brutally strict presence, demanding absolute obedience from all of his family. As a result, every member of it is alienated and unable to connect with each other. As Adi comes to realise late in the book: 'I understand why Daddy reads the dictionary. If you don't have the words to express your feelings, you drown in them.'
The prominent theme of female abuse could make this book a hard read, but Mpoyi's narrative technique in presenting these issues is deft and subtle, and leaves a great deal unsaid (and that silence, of course, could be said to contribute to the impact of unexpressed feelings of trauma). Although this makes in places for an uncomfortable reading experience, one does not want to stop reading, and as the story of this family tyrannised by a domineering patriarch unfolds, we learn how female sexual activity – female sin – has been punished within families for generations.
But perhaps more than anything, Mai Betyder Vatten is a story about telling stories: the stories we weave for ourselves from the threads of received ideas, our ancestral histories, colonisation; stories from the Bible told during Adi's obligatory Sunday evening Bible-reading sessions; stories of the runaway siblings who have fled the rigid family home. It is notable that Adi frequently refers to the fact that she has decided to become an author when she grows up, and it is as if this decision allows her to gain some agency over herself. The main narrative is peppered with stand-alone stories, going back generations, about members of the family, which complement Adi's voice, having the feel of a very different storytelling tradition.
Mai betyder vatten has been critically acclaimed in Sweden, where Mpoyi's self-assured writing style has earned particular praise. This novel has an almost tangible sense of an underlying significance; it may be a 'Swedish novel' in that it was written in Swedish, but there is something markedly universal about it.
Norstedts, 2019
256 pages
Foreign rights: Norstedts Agency, Sara Dobareh
Kayo Mpoyi was awarded the 2020 Katapult Prize for Sweden's best literary debut.
An extract from Mai betyder vatten is featured in SBR 2020:1-2.