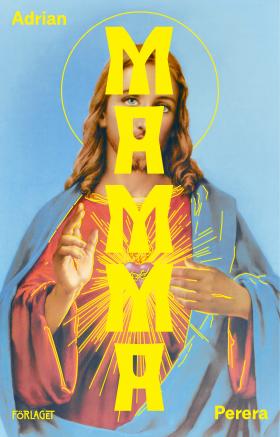 by Adrian Perera
reviewed by Darcy Hurford
Born in 1986, Adrian Perera is a Finland-Swedish poet and journalist. He debuted in 2017 with White Monkey, a cycle of prose poems that won the Swedish-language literature prize awarded by YLE (Finland's national broadcaster) the same year. White Monkey has been called a 'turning point in Finland-Swedish literature'. Mamma, his first novel, has been well received by the Finnish media.
Summer, the endless, vivid summer of childhood. The river flows like 'tissue paper', a corrugated iron roof is as 'silver-white as birch bark' and flies are as 'big as trouser buttons'. It's the early 1990s in a small Finnish town, where Tony, aged about eight or nine, is mostly home alone watching Disney cartoons. A large, slightly menacing picture of Jesus with the Sacred Heart dominates the living room. On Saturdays he sees his father, a Swedish-speaking author, and otherwise he lives with his mother Constance, a Sri Lankan who works in a packing factory.
Summer, but not as a typical middle-class Finnish child experiences it. No summer cottage, no holidays, no 'improving' hobbies, just helping Constance pack wet wipes in the evening. Linguistically, too, Tony's environment is unusual; although the novel is in Swedish, it also features significant amounts of English, Sinhala and Finnish.
Events are told from the child's perspective. Lots of things remain unexplained – Tony's parents' divorce, a mysterious box of photos of Constance that turns up, a tape recording, even Constance herself. These puzzling aspects add a detective story element, but also stem at least partly from Tony's lack of information.
From the word go, Mamma plays with the reader's assumptions. Footnotes recur throughout the novel, but instead of explaining something in the main text or adding a reference, they function more as snippets from Tony's internal monologue, as his personal comment to the reader on what's happening in the story. This starts on the first page:
'He sits like a mountain. Dad's elbows are resting on the table, the sleeves of his flannel shirt rolled up.
"How you are?" [1]
[1] She can't speak Swedish. Everything she says sounds stupid.'
This is used to brilliant effect when Tony's mother is taken into hospital in the middle of the night. She speaks no Finnish, the doctor speaks mostly Finnish and some ropey Swedish, and it's left to Tony to act as interpreter: 'Tuberkuloosi? Does she have difficult the lungs? Does Mum have keuhkoahtaumatauti?' to which the footnote (and several more in this episode) simply reads 'Where is Dad?' Terrifying – and believable.
Anyone wondering about kohomada, putha, keuhkoahtaumatauti or other new words is in for a pleasant surprise at the end of the book. The story part of Mamma ends on page 174, but is followed by an appendix, in which conversations held partly in languages other than Swedish appear in translation; even words used specifically by Swedish-speakers in Finland are glossed for readers from Sweden. It's a little like being back in a language lesson at school: having done a listening comprehension in French, understanding most of it but with some parts of the dialogue passing you by, you then turn in relief to the transcript at the back of the textbook to understand it completely. Swedish is a minority language in Finland, and daily life is often at least bilingual, so Finland-Swedish writers have of necessity had a head start in trying to reflect multilingualism on the page. Mamma takes a novel approach: four languages are spoken in the story, just as they would be in real life, while the appendix is a sort of second version of the novel, making it intelligible to readers who don't know all of them.
Maybe it's the limited cast of characters (mostly Tony and his parents), the claustrophobia of the setting (mainly at home) or Tony's regular asides to the reader (like a Shakespearian character addressing the audience), but it is easy to visualise Mamma on the stage. The picture of Jesus as the backdrop, translation using surtitles. On the page, in any case, it's absorbing.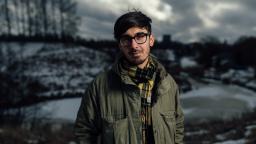 Förlaget, 2019
218 pages
Foreign rights: Adrian Perera
An extract from Mamma is featured in SBR 2020:1-2.
Adrian Perera's second novel, Pappa (Dad), was published in September 2020.