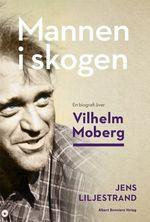 REVIEW
Mannen i skogen
(The Man in the Woods: a Biography of Wilhelm Moberg)
by Jens Liljestrand
reviewed by Kate Lambert
Jens Liljestrand wrote his 2009 dissertation on the personal and the political in Vilhelm Moberg's Utvandrarna series and his 700-page biography of the Swedish literary giant expands this theme to encompass the writer's life and all his works. It is an extremely thorough biography, which places the author in his historical and cultural context and demonstrates the ways in which he was often determinedly and independently at odds with his times.
Swedish readers will be more familiar with Moberg's life and character than foreign ones, but the book is an interesting and informative read even for those who may only be aware of the Utvandrarna novels, or the musical Kristina från Duvemåla in which Benny Andersson and Björn Ulvaeus brought Moberg's characters to a new, modern audience. Liljestrand provides the plots of all the novels and plays, showing their sometimes recurring themes. 'Again', he points out, a young peasant hero has an encounter with an open, uninhibited goddess-like woman in a haystack. The novels are linked to the sources on which Moberg was drawing from his own family history, growing up the son of a soldier on a small, self-sufficient, impoverished farm in the forests of Småland, and his influences from his early reading of Dickens and Dumas, which saw him out of step with the Swedish modernist literary establishment of the​ 1930s. We are shown the influence of events in his own life, including his extra- marital affairs, and his detailed research, particularly in America when writing Utvandrarna, which included borrowing the names of cows from an immigrant farmer's diaries. Liljestrand also clearly sets out the liberties that the historical novels take with historical fact.
The works are also seen and explained within their political context, particularly in the case of Rid i Natt! (Ride this Night!), the tale of a Swedish peasant refusing to bow to the demands of a German lord. Copies of this novel, written during Sweden's neutrality in World War II, were smuggled into a prison in Nazi-occupied Norway. The biography also covers Moberg's journalism, from the early days in which amusing tales of rural life were his first route to publication, to his later polemical journalism as a well-known public figure vociferously disagreeing with the prevailing political climate, the literary establishment, and in some cases his former friends and colleagues.
The biography is not solely focussed on Moberg's works. We see his personality, with all its contradictions, and his development from a childhood in a rural home in which the only book was the Bible, one of the few surviving children of parents who stayed in Sweden rather than emigrating. His need of the soil, closeness to the land, is clear throughout, even though when he does attempt to farm full-time, the land and his harvest fail him.The conflict between nature and natural, primitive, human instincts on the one hand, and the demands of society on the other, are ever-present in his writing and his life; Liljestrand even sees his death, walking out of the house to drown in the sea off Väddö at twenty past seven on the morning of 8 August 1973, as a final breach of the ultimate social contract.
The biography does not assume knowledge, but neither does it talk down to the reader. Its wealth of detail, evidently thorough research, and 11-page index of people mentioned, also make it a valuable resource for students of Swedish 20th-century literary history and indeed Swedish 20th-century history in general.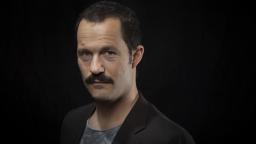 Albert Bonniers Förlag, 2018 
731 pages
Rights: Bonnier Rights
Jens Liljestrand is a culture columnist for Expressen.
He was one of the seven young novelists whose 'Manifesto for a New Literary Decade' was translated by Neil Smith in SBR 2009:2.
An excerpt from his short story 'Transitional Space', from his collection Paris-Dakar, which won Vi magazine's literature prize in 2008, was translated by Fiona Graham in SBR 2014:2.
In 2018, Samfundet De Nio awarded Jens Liljestrand the John Landquist prize for Mannen i skogen.
In spring 2019, he received the Axel Hirsch prize, awarded by the Swedish Academy.