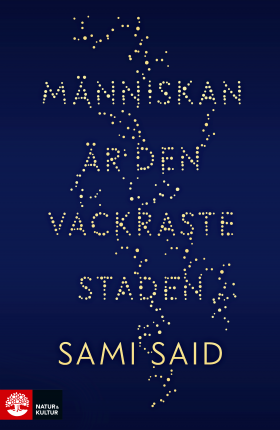 REVIEW
Människan är den vackraste staden
(There is a Garden)
by Sami Said
reviewed by Alex Fleming
San Francisco is a self-proclaimed adventurer from the Horn of Africa who dreams of a life in the shimmering city after which he is nicknamed. Now, finding himself evicted, alone, paperless and destitute in southern Scandinavia, he hits the road in search of a way to that ever-elusive shimmer, a way past the physical and metaphorical borders that confine him.
Sami Said's third novel unfurls like a modern picaresque: written with swagger and verve, it serves up a mix of vignettes and longer sections on 'reliably unreliable' San Francisco's life and misadventures through cities, islands, ghettos, gardens, and the odd branch of Western Union. Starting in a cold and closed-off Scandinavia, as San Francisco's journey progresses further into (an unspecified) Europe his story expands, opening up his troubled childhood in Africa and wider issues of assimilation and exclusion. He develops, too: life-changing surgery gives him a new outlook on the world, and he is eventually able to come to terms with his past and future. Said navigates these topics nimbly, balancing the tragic with the darkly comic, a gritty realism with a sense of the absurd.
But, as the Swedish title (which translates literally as 'Man is the Most Beautiful City') suggests, what is central to San Francisco's journey are not the places he visits but the people he meets, a motley crew of refugees, activists, fascists, loan sharks, stalkers, and thieves. These include Manni, a Maasai entrapped by his Swedish sugar mama; Richard, a flamboyant conspiracy theorist so desperate to integrate that he has taken up with some right-wing racists; Isol, who carries a gun in her handbag and keeps a packed bag at the door; Madam, a hundred-year-old widow who resorts to increasingly problematic measures to keep her dead husband's memorial park open; and, finally, the irascible, wild Yei, San Francisco's oldest friend and confidante, whose recklessness and sacrifice paved San Francisco's way to Europe. It makes for a rich and vivid gallery of (often marginalised) characters, portrayed with great insight as well as compassion.
This non-judgemental curiosity is indicative of San Francisco's general outlook on the world, and his narrative is delivered with an effective combination of naivety, euphemism and deadpan humour. 'I had won back my freedom,' he writes of being made homeless, 'and all it had taken was losing everything I had.' As a constant – and involuntary – outsider, San Francisco observes the societies around him with a bemused interest in the status quo, meaning that his perceptive observations on racism, social injustice and destitution are often couched in a conspiratorial tone and, at times, accompanied by absurd humour.
Said's language is a constant driving force of the novel. Loosely stream-of-consciousness, it is full of punchy metaphors and offbeat linguistic associations, while his bold fluidity of form echoes a life in constant flux, a mind always on the lookout for the next beacon of hope. Where the plot is at times chaotic, the sheer energy of the prose sustains the reader's focus and interest until the novel's quietly hopeful end.
This novel follows Said's critically acclaimed Väldigt Sällan Fin (2012) and autobiographical Monomani (2013), both of which demonstrate a similar narrative zest and sense of comic timing. But, as many Swedish critics have noted, with this novel Said raises the stakes even further, asserting himself as one of Sweden's foremost stylists and an author to watch.
With its rich, scintillating language, bold narrative style and human approach to a sadly topical issue, I found this an impressive novel that entertains, provokes and moves in equal measure.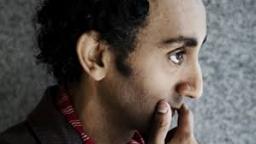 Natur & Kultur, 2018
367 pages
Rights: Erik Larsson, Partners in Stories 
Nominated for the 2019 Nordic Council Literature Prize and shortlisted for the 2018 August Prize.
B.J. Epstein reviewed Sami Said's Väldigt Sällan Fin in SBR 2013:1.