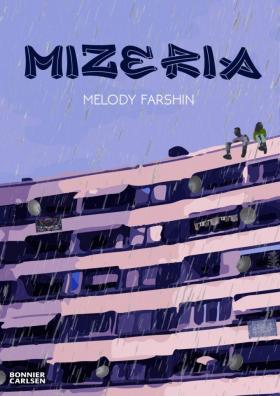 by Melody Farshin
reviewed by Kate Lambert
Mizeria follows Aicha and Ali, twins in their late teens. They live in one of Stockholm's 'million programme' neighbourhoods of 1960s and 1970s concrete public housing blocks. Their father, who was a physics lecturer in their (unspecified) homeland but works double shifts as a taxi and bus driver in Sweden, tells them to put the postcode of the neighbouring less stigmatised area when applying for jobs and cannot understand their 'patriotism' as they 'wave their postcode like a flag'. Melody Farshin grew up and still lives in the same kind of area, and the book is about the neighbourhood, its dangers, its community, its loyalties and its language as much as it is about the characters.
The book has a distinct voice. There is a lot of slang. In an interview, the author said she deliberately chose not to include a glossary because the book was not written for people who didn't know its language. The target group that she was writing for understand the words. 'If there had been translations, it would have been pointing out that the slang wasn't Swedish. I see slang as a bonus to the Swedish language.' 
Not being the target audience for this YA novel, I did initially find some of the language confusing, but the voices are so energetic and moving (in every sense) and the pace so fast that the reader is swept up in the story with no need to look up every word. After a while, the meaning becomes clear from the context or from repetition. And the book was not written for me. It was written for the teenagers whose lives it depicts; finally giving them a book about their reality.
The book's short chapters are narrated by each of the twins in turn, with some also from the point of view of their mother, their father and their friend Osman, who they view as a brother but have been banned from seeing due to his sudden ability to afford designer brands, which their mother rightly interprets as a sign that his connections are a bad influence. Aicha's friend Sibel also gets a voice in a scene in which she is loyal to Aicha when questioned by the latter's twin, and provides information that Ali did not know about a victim of a killing. The girls and the boys move in different overlapping worlds, which their parents know nothing about, and the narrative device of a story told by twins brings both worlds together and accentuates the differences while appealing to male as well as female readers.
Although the title Mizeria refers to the misery that everyone carries with them, this is far from a miserable book. The author is a stand-up comedian and makes excellent use of snappy imagery and inventive metaphor. The narrative can switch from tragedy to laughter in a second, as with Aicha's stream-of-consciousness rant at her father for insisting on taking the cheap bus to get to Gothenburg for a memorial service instead of the train and his conviction that lactose intolerance is something that weak people imagine they have - which leaves her sitting with 'Mr Bombastic' as she nicknames her unfortunate parent, stinking out the bus for seven hours as he 'marinates the air'. Yet the same journey also gives us Aicha's moving internal monologue of existential anxiety, interrupted by Ali's mizeria over the murder concerned.
Both of the twins are dealing with their own misery in a world of shootings, drug deals, theft, and relationship breakdown. The separate miseries that both twins have been silently hiding from their parents and each other collide in the final chapter which ends in a cliffhanger that leaves readers desperate to know what happens next.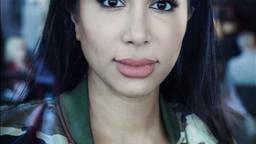 Bonnier Carlsen, 2018
196 pages
Foreign rights: Mathilde Coffy, Bonnier Rights
Mizeria was nominated for the Slangbella award for best first children's/YA novel.
The sequel, Lowkey, is due out at Bonnier Carlsen in November 2020.