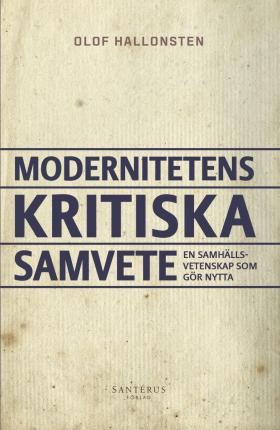 REVIEW
Modernitetens kritiska samvete. En samhällsvetenskap som gör nytta
(The Critical Conscience of Modernity: A social science that is useful)
by Olof Hallonsten
reviewed by John Gilmour
Under the descriptive chapter headings of Critical, Qualitative, Consequence-neutral, Demanding, and Constructive, Hallonsten expertly guides the reader though the maze of social science development. This book is dense – but not demanding, as Hallonsten has taken great care to communicate unfamiliar concepts and methods clearly.  So, the book is both a defence of and a handbook about social science. If you don't know your Kuhn from your Durkheim, Hallonsten has expertly compressed the essentials in this short volume.
His starting point is to relate social science to today's world and, as the title suggests, position it as an intellectual framework for the critical scrutiny of those features of modern, democratic Western societies that may potentially militate against the common good. He points out the limitations of social science and rejects comparisons with 'hard' science, i.e. the STEM disciplines, which advance our current well-being and modernity. Hallonsten asks us to accept that inexact social science methodologies are incompatible with 'hard' science. When researching human behaviour, the subject can answer back, thereby advancing understanding but at the same time making research conclusions permanently provisional; consequently, the social sciences can rarely if ever provide conclusive solutions to problematic issues.  One example is the ongoing 'nature' versus 'nurture' debate concerning the development of human characteristics.
If 'hard' science delivers concrete, identifiable results, what then do the less exact (and less exacting, some argue) social sciences provide? Here, while the STEM subjects give us physical benefits such as energy capture, Hallonsten also asks us to accept that despite their evident inexactitude and rolling theoretical development, the social sciences 'remain relevant' as the only reliable critical commentary of modern society, its institutions, groups and behaviours, thanks to their methodological approaches and academic rigour. Social science nevertheless remains a 'toolbox' without packaged solutions. This brings the field into the frontline of today's political disputes and culture wars, making it a target for all sides.
Social science should be 'consequence-neutral', i.e. findings must be supported by exacting research, but should not back contested positions. One example in Britain is the study of 'institutional racism' on educational outcomes of black pupils and students, when social sciences are catapulted into the arena of public discourse. Hallonsten demonstrates clearly how creeping 'academic capitalism' and safe-space sanctuary to exclude uncomfortable issues are extending political and corporate control of social sciences which are largely university-based. Funding preferences for 'solution-thinking' and providing binary answers disadvantage social sciences, a field which, Hallonsten argues, relies on disturbing the status quo – an activity that is never popular in any institution with vested interests.
Social sciences funding risks competition from 'hard' science when applications are assessed quantitatively with a preference for early results and 'knowledge transfer.' When Hallonsten proposes that social sciences' unique appeal is 'modernity's critical conscience', that will resonate with funders with all the attraction of a hair shirt on a sensitive skin. The problem is that the considered language of this field appears to lack the cutting edge so favoured by less ethical and less impartial disciplines. In the increasing hoopla of academic self-promotion, practitioners holding out the prospect of 'organised scepticism' may not attract the funding decisionmakers.
Hallonsten is also concerned about the proliferation of increasingly irrelevant and poor-quality research chasing publication in order to boost the author's ranking in the quantitative measurements which are now used by academic institutions to award staff resources and/or promotion and to attract students.
Yet what else stands between our freedom of thought and action and the forces of business and politics that increasingly threaten them, apart from the social sciences? Do we want a world where the unaccountable monster of Google harvests our data without our knowledge or conscious consent and insidiously infiltrates our academic institutions, where Amazon can determine our consumer choice by eliminating targeted competitors, and where social media propagate fake news and campaigns of abuse while claiming not to be responsible? Bystanding Western politicians have lost control of the tax base that funds our democratic institutions, including the welfare state, to these architects of abuse, enabling them to spend on vanity projects such as 'space research' and their own cryogenic immortality – while education, welfare and health are starved of resources. This is indeed a society that requires a 'critical conscience', and Hallonsten's book should be required reading for all politicians and academic leaders.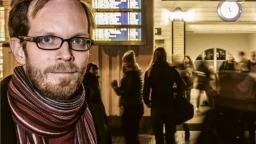 About
Modernitetens kritiska samvete. En samhällsvetenskap som gör nytta.
Santérus, 2021
267 pages
Foreign rights: Santérus förlag
Olof Hallonsten is Associate Professor of Sociology at Lund University's School of Economics and Management. His other books include The Campaign. How a European Big Science facility ended up on the peripheral farmlands of Southern Sweden (Arkiv Academic Press, 2020), and Big Science Transformed. Science, Politics and Organization in Europe and the United States (Palgrave Macmillan, 2016).