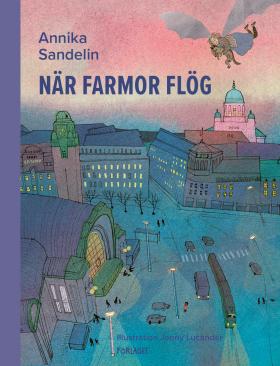 LATEST REVIEW
När farmor flög
(My Flying Grandma)
by Annika Sandelin
illustrated by Jenny Lucander
reviewed by B.J. Woodstein

In the middle-grade chapter book, När farmor flög, neither Joel nor his grandmother seem particularly pleased when Joel's parents drop him off at his grandma's flat before they head off on a holiday by themselves. Joel's grandma seems to spend most of her time at the computer, playing card games, so all Joel can do is lie in bed, reading his late grandfather's comics books. Joel reads and reads, and wishes he were a superhero, like the characters in the comics, and that he were anywhere but with his boring old grandma.
One day, however, something strange starts growing from his grandma's shoulders. Could they be wings? And if they are wings, can his grandma fly? And if she can fly, what might she and Joel be able to do together?
Over the next few weeks, Joel and his grandma begin to get to know one another for real, all the while having adventures. They stop a thief and transform his life, save an abused dog, explore their city, and more. At the same time, Joel makes a friend in school who shares some of his same interests, and he begins to be less lonely.
She may look like a bent, weakened old lady, but Joel's grandma is, it turns out, a superhero. She can help people and she can care for them, and in turn, others can learn to care for her too. She helps Joel learn what a real superhero is.
Annika Sandelin's touching book is beautifully illustrated by Jenny Lucander's bright and angular drawings. One nice feature of the images is that Joel and his grandma are of different ethnicities and colours, but this is never mentioned in the story. Instead, the focus of the narrative is on learning to open yourself up to other people.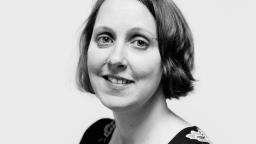 Förlaget, 2022, 76 pages.
Foreign rights: Rights & Brands, Helsinki.
Annika Sandelin is an established author and poet who worked as a librarian before becoming a full-time writer. Her works have been nominated for a number of prestigious awards, including the Nordic Council Prize in 2014.
Jenny Lucander is a graphic artist and children's book creator. Her acclaimed works are frequently used in magazines and advertising. (Note: B.J. Woodstein has translated two books illustrated by Jenny Lucander and is therefore slightly biased in favour of her work.)