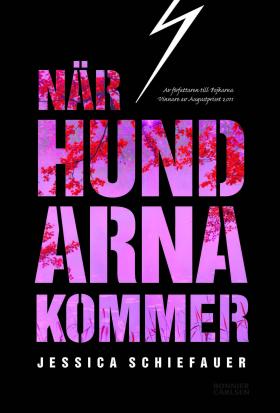 Review
När hundarna kommer
(When the Dogs Come)
by Jessica Schiefauer
reviewed by Mia Österlund
The cover of Jessica Schiefauer's När hundarna kommer perfectly matches its contents. The title is cut out and lakeside scenery in vivid pink can be glimpsed through the letters. Behind the tactile velvety black blurb, vicious dogs stare and growl at the reader. Schiefauer, who won the August Prize for her evocative tale of gender fluidity, Pojkarna (The Boys), uses a completely different voice in her new novel. This dark and haunting story, which examines a hate crime and exposes the thin line between victim and perpetrator, is written in spare, straightforward language. It is based on the tragic death of 14-year-old John Hron, murdered in 1995 by a group of neo-Nazi boys in the author's hometown. Schiefauer asks herself what circumstances and what types of family give rise to blind-hate crimes. And how are these families treated in the community when the worst has happened?
Schiefauer's portrait of brothers Anton and Isak is breathtakingly true to life. Isak experiences passionate love for the first time, while Anton succumbs to extreme peer pressure. The plot is further complicated by Ester, caught in the middle by her obsessive love for Isak, the brother of the perpetrator. The unsparing depiction of Ester's and Isak's unhealthy relationship pinpoints a fragility within us all, questioning the way we use each other and are used in our turn. Schiefauer's young characters all choose passion over reason, although they know their actions are wrong and will cause pain. The sex scenes are outspoken and honest, exposing uncomfortable feelings on both sides. And the hate crime itself is charged with homoeroticism, mixing brutal violence with sensuality. The media tend to label young killers as monsters. But in this novel the monstrous deed is committed by an ordinary boy. There is nothing extreme about him or his family. On the contrary, Schiefauer shows how 'normality' is a fragile assumption and no more than a thin layer in the complex psychology of the young mind.
This study of families, close relationships and the damage we do to each other is both convincing and complex. The juxtaposition of the obsessed girl Ester with the killer Anton is very clever. The parallel between these two poses the pressing question of what constitutes normality and makes for intriguing psychological suspense. Schiefauer scrutinizes violence from within and makes everybody emotional hostages as soon as violence is triggered. Ester's home is filled with bookshelves and her parents are caring. Isak's and Anton's working-class parents smoke at meals. This class barrier is crossed by the Romeo and Juliet plot pattern of the destructive love story. The perpetrator's family is threatened and, as a result, guarded by hostile dogs. Gradually these dogs become a threat to Ester. Jessica Schiefauer's thorough examination of neo-Nazis, hate crime and homoeroticism resists simplification and reminds us of the thin line we all tread when we choose how to treat each other.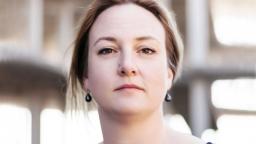 About the book
När hundarna kommer
Bonnier Carlsen, 2015. 301 pages.