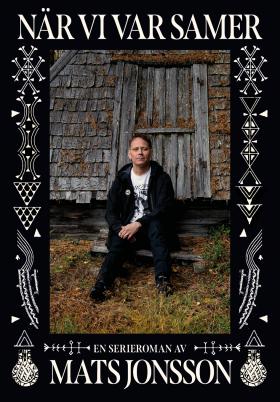 REVIEW
När vi var samer
(When We Were Sámi)
by Mats Jonsson
reviewed by B.J. Epstein

När vi var samer (When We Were Sámi) is Mats Jonsson's latest graphic text. Jonsson is a comics artist who has devoted much of his career to producing autobiographical work, exploring his own life and background with the aim of understanding himself and the times he lives in fully through the graphic format. Though he had previously avoided writing and drawing about what he considers 'the most important' topic, on turning forty-six he realised that he had to do it before he ran out of time. So in this book, Jonsson tries to understand his family's Sámi background and how this became hidden and secret, as if it was a shameful fact that they didn't want people to know about.
The Sámi people – the oppressed, often-ignored indigenous folk in Scandinavia – have in Sweden generally been pressured to speak Swedish and to be more Swedish than Sámi, which is why Jonsson doesn't even realise initially that he belongs to this ethnic group. When his paternal grandfather – the last in the family to be a reindeer herder and to live as a Sámi rather than in the way a modern Swede might do – dies in 1981, Jonsson gradually becomes aware of his background, and now, forty years later, in När vi var samer, he tries to make sense of it.
The book moves back and forth through time, showing Mats as a child, surrounded by his family, as well as stories from his grandfather's past, and then Mats as an adult, delving into his roots. During his childhood, there were clear hints about his family's Sámi ethnicity, such as particular words, foods and objects, but young Mats didn't understand their significance. As an adult, he carries out research, going to museums and reading and learning about Sámi history and the traditional Sámi ways. He sets his family's story against Swedish history generally, and the history of the Norrland region in northern Sweden more specifically. Racism against the Sámi is depicted in the book but not commented upon, allowing readers to make their own minds up regarding prejudice.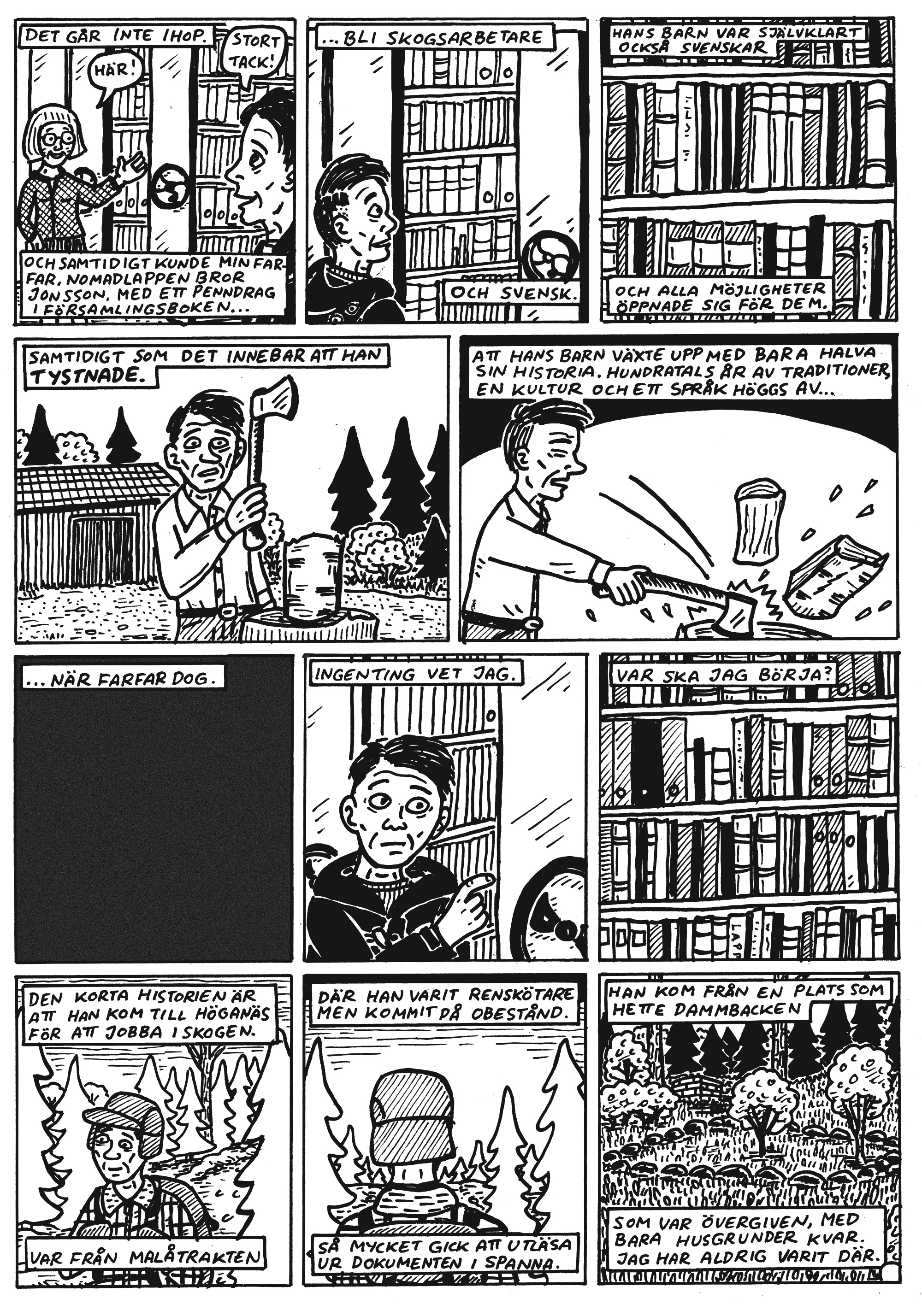 Mats Jonsson draws in black and white, in what might almost be termed a naïve style. His illustrations are simple, focusing on the people and their emotions. The eyes in his drawings are particularly expressive; with attention to small details such as where eyes are gazing, Jonsson can show what people are looking at and thereby what they are thinking about. Jonsson has previously published six graphic works about his life, as well as several children's books, and he regularly publishes comic strips in newspapers. He has won a number of literary prizes, including Norrlands litteraturpris (the Norrland Literature Prize).
While När vi var samer is personal, being the story of Jonsson's family, it is also larger than that; in the book, Jonsson writes the Sámi people back into Sweden both past and present, offering knowledge and awareness in a moving combination of words and images. This would be a fascinating read for audiences both in and outside Scandinavia, being as informative as it is artistically interesting.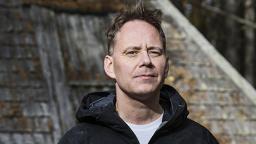 Galago, 2021
300 pages
Foreign rights: Sofia Olsson, Ordfront förlag
Nominated for Augustpriset 2021, in the literature category.
A translated extract from När vi var samer is also featured in SBR 2021:2.
Mats Jonsson has published a number of autobiographical works. He is a recipient of Sweden's Urhunden award, given annually to the country's best comic or graphic novel, and has twice won the Norrland Literature Prize.