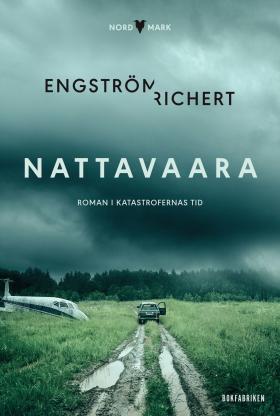 REVIEW
Nattavaara
(Nattavaara)
by Thomas Engström and Margit Richert
reviewed by Ian Giles
Established thriller writer Thomas Engström, whose four Ludwig Licht novels enjoyed sufficient success with Albert Bonniers during the 2010s to inspire an international televised production, has moved on to pastures new in both geographic and literary terms. Having returned to Sweden from a globetrotting life including stays in Georgia, Mexico and Shetland, he and his wife, Margit Richert, have settled in Norrland's Jokkmokk. Inspired by this setting, and in the finest of Swedish traditions (husband-wife writing teams à la Sjöwall and Wahlöö), they have set out to deeply unsettle readers with their Nordmark trilogy, of which Nattavaara is the first instalment.
While there has been no shortage of dystopian novels in the Scandinavian oeuvre over the last couple of decades (many regard Lars Wilderäng's Stjärnklart (2015) as the best in class – at least in Sweden), this does not mean by any stretch that the genre is overfull. In Engström-Richert land, we arrive in the not-too-distant future (2049, although frankly with the world in its present state it feels like it might be sooner). Gone (for the most part) are the digital world, electricity, cars, media and much more. Brought to its knees and transformed into a subsistence economy, what is left of Sweden is a place where bartering reigns supreme. Most of Swedish Norrland to the north of the now-decimated towns of Piteå and Luleå has seceded from Sweden, becoming independent under the new name of Nordmark. The country is ruled by an autocratic jarldom from the seat of Kiruna.
The narrative unfolds through the perspectives of the various lead characters, who make for somewhat blinkered narrators (although a conspicuous absence of omniscience is to be expected given the setting) as the reader begins to get to grips with this new society. Sixteen-year-old Erik finds his parents dead in their sauna – the result of a suicide pact. He and his sister are banished by the villagers, who fear an epidemic; they are compelled to venture to Kiruna to seek redemption. Elsewhere, a former social services middle manager in the before-times, Marja, has taken up crofting. With her husband missing, she is captured by bandits roving through the famine-stricken countryside. The book's title is taken from the village of Nattavaara, which has been transformed into a refugee camp to hold arriving southerners, in a manner that is uncomfortably reminiscent of some of humankind's darker moments.
Nattavaara offers the richness of detail that the reader needs if they are to engage with this gloomy future, and Engström and Richert's debut in the realms of speculative fiction feels all too plausible – global warming might very well see a stampede to secure the best (aka coolest) parts of the earth for the power elites. The quasi-Wild West nature of this dystopian version of a fragmented Sweden (signs on the Nordmark border read 'You are now leaving Sweden. Welcome to Nordmark. Good luck.') may feel a little closer to home for some than is comfortable. The novel has its fair share of thrills and spills, but there is ultimately little hope for any of our characters. No one saves the world – this is purely a book about survival. Much like Sjöwall and Wahlöö, our authors opt for a subtitle: 'a novel set in a time of catastrophe'. This unsettled reader wonders whether this is what we need in this time of catastrophe, but appreciates that dystopian, speculative fiction is in rude health at the moment and that Nattavaara represents a solid contribution to the genre.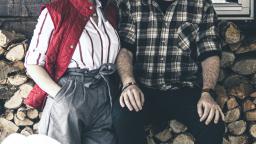 Bokfabriken, 2020, 342 pages
Foreign rights: Nordin Agency
Nattavaara is Engström & Richert's debut as an authorial duo. The sequel, Armasjärvi, was published in September 2021. Engström's Ludwig Licht series of political thrillers (2013-2017) were published by Albert Bonniers and have since been televised.
Thomas Engström was born in 1975 in Småland and despite a law degree has spent most of his working life as a journalist, author and translator. He is currently Aftonbladet's culture correspondent. Margit Richert was born in 1981 on the Baltic island of Öland and has worked as a literary critic and columnist for both Aftonbladet and Svenska Dagbladet. Nattavaara represents her literary debut.