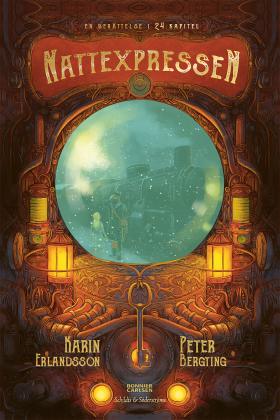 REVIEW
Nattexpressen
(The Night Express)
by Karin Erlandsson (author) and Peter Bergting (illustrator)
reviewed by Darcy Hurford
Karin Erlandsson (born in 1978) is a diverse writer with a background in journalism. While her output includes crime fiction, a cookbook and a collection of essays about writing, she stands out particularly as an author for children and young adults. Her fantasy tetralogy began with Pärlfiskaren (The Pearl Fisher, 2017), nominated for the Nordic Council prize in 2018 and winner of the Junior Runeberg Prize in the same year. It was followed by Fågeltämjaren (The Bird Master, 2018), Bergsklättraren (The Scaler of the Peaks, 2019) and Segraren (The Victor, 2019, again nominated for the Nordic Council prize). Film rights have been sold, and a spin-off reference work of all the species in the books has also appeared. Her latest novel, Nattexpressen (The Night Express) has just won the Junior Runeberg Prize. Originally from Ostrobothnia in western Finland, Erlandsson now lives in Åland.
There's a snow globe on the front cover with an old-fashioned steam train inside it; a swirl of white on blues against a background of red, gold and black, showing lanterns glowing in the dark. Inside there are twenty-four chapters, one for each day of Advent. If you picked up a copy of Karin Erlandsson's Nattexpressen (The Night Express) and held it to your ear like a seashell, it would probably whisper: Christmas.
The visuals continue on the inside and are refreshingly different to what you might expect for a story set during the festive season. Peter Bergting, an illustrator for over two decades as well as an author in his own right, has provided 24 vivid illustrations in the same comic-book style he has developed over the years: with striking, sometimes lurid colours, and with a certain quiet humour in some of the poses of the characters.
The story revolves around Danja, who together with her parents and older sister Nanda has come to spend Christmas with her grandmother, as they do every year. Her grandmother lives by a disused railway station where Danja's late grandfather used to be stationmaster. Gran has become increasingly forgetful and struggles to recognise her, yet is somehow very concerned about a missing key that needs to be turned twice. One evening, Gran disappears, and later that night, Danja hears the rumbling of a mysterious train arriving at the station. This is the Night Express, a train run by a company called Chronometer specifically for passengers looking for someone who's gone missing. The train conductor Ulf (a more smartly dressed Captain Haddock lookalike with the odd Karl Marx quote up his sleeve) explains the idea behind the Night Express to Danja: people who are no longer themselves can go to one of its stations to put themselves back into a time or state in which they used to feel better. For the next few nights, Danja sneaks out to board the train, where she also meets Konrad, a boy looking for his missing father. Each station has its own particular character: Station 13 is overrun with all kinds of animals, Station 15 is an amusement park, and Station 10, stacked with a self-renewing supply of cake, would have fitted well into Charlie and the Chocolate Factory.
There is just one snag with the Night Express – its track was never completed. It turns out that Danja's grandfather was involved in its design, which is where the key comes in. There are various other plot twists, including a musical box, a mysterious thief, and some timey-wimey complications that make Konrad temporarily turn invisible before Danja's family is eventually reunited with her gran.
This is an exciting story that would suit independent readers of primary school age and also work for reading aloud to younger children. The concept of the Night Express and the backstory of how the train came into being are well worked out. Danja's grandmother is perhaps viewed too much through the child's eyes; even when we meet her in the station with her memory back, there doesn't seem to be much more to her than baking and knitted cardies, but that's a quibble. What is more important about Nattexpressen is that it also opens up opportunities for conversations on a hard topic: how to talk about people who have changed, who are no longer themselves,  whether due to memory loss, as with Danja's grandmother, or for psychological reasons, as with some of the other characters we meet. There are no artificial happy endings on offer, just food for thought.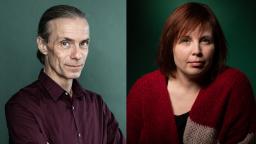 Bonniers (Sweden) and Schilds & Söderströms (Finland), 2020
221 pages  
Foreign rights: Urtė Liepuoniūtė, Helsinki Literary Agency.
Winner of the 2021 Junior Runeberg Prize.
Karin Erlandsson is a journalist and writer based in Åland. Her book Pärlfiskaren was reviewed in SBR 2019:1-2. Peter Bergting is one of Sweden's most established illustrators.