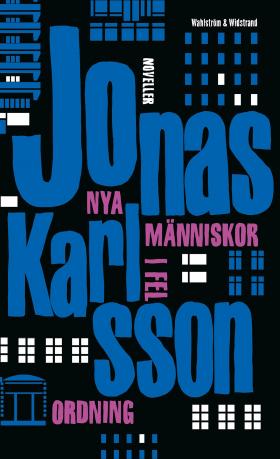 REVIEW
Nya människor i fel ordning
(New People in the Wrong Order)
by Jonas Karlsson
reviewed by Henry Jeppesen
Nya människor i fel ordning is a collection of short stories by Jonas Karlsson, a hugely successful author and actor on both stage and screen (big and small), and the recipient of countless acting awards, as well as the winner of the Ludvig Nordström literary award in 2018. It is about people trying to improve or change themselves in some way, to be somebody else, but who are not too sure how to do this. As the title suggests, the stories and their main protagonists aren't necessarily in the right chronological order, and indeed, a couple of stories take place in some of the characters' childhoods. However, putting the stories in the right order chronologically would be something that more predictable authors would do, and Karlsson can certainly not be described as predictable.
The eleven short stories, which are intertwined, feature a motley crew of characters, from a psychologist/amateur priest to an annoying singer-songwriter, and from an angry partner to a boy who decides to go a whole day at school without speaking. The two main characters in the collection are brothers Patrik and Anders, who have both been seriously affected by the recent death of their father. Anders is a journalist/author and Patrik works in IT, and the first few stories that either or both of them feature in make it clear that their relationship could be better. A feeling of melancholy pervades some of the stories. Happiness isn't a frequent theme here. Both brothers, the reader discovers, are separated from their partners.
It would be lovely to tell you about every single story, but I will tantalise you by describing a few of them. In the first story, Orättfärdigt (Unjust), we learn that Anders and Frida have split up, but are invited to the same social event, and after consuming a few glasses of the falling-down water, she launches into a tirade of abuse at Anders, throws her drink over him, and accuses him of various misdemeanours committed at the party, of which it turns out Anders is guilty as charged. Later on in the collection, in Objektet (The Object), after having chosen his father's old house over his boat, which Anders inherits, Patrik and his then-partner Vickan go to the house in the countryside and decide to try and sell it to one of Patrik's friends, if they are interested. Vickan is a horrible person, but it is fun to read what she has to say. She dissuades his friends from buying the house and sends one of them away with his tail between his legs after he intimates that he wants her to engage in a sexual act with his brother. It is difficult to comprehend why she and Patrik are still together and, understandably, they have split up by the time Patrik opens his heart to psychologist/'priest' Kent in Köpa tur (Buying Luck), who takes advantage of Patrik's emotional torpor, and fleeces him for a considerable sum of kronor.
Karlsson is very adept at linking all the stories, which makes reading the book intriguing, as the reader wants to continue to the next story to find out who the star is, and where Karlsson will go with the next tale. I feel that this collection would fare well in English-speaking countries (and elsewhere) if translated, as it features many interesting and relatable characters. Jonas Karlsson deserves to be discovered by a wider readership, and this book makes a good introduction to both the Kafkaesque and the slightly less Kafkaesque aspects of his writing.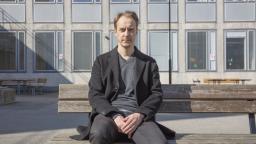 About
Nya människor i fel ordning
Wahlström & Widstrand, 2021
230 pages
Foreign rights: Federico Ambrosini, Salomonsson Agency
Jonas Karlsson's Jag är en tjuv was reviewed by Darcy Hurford in SBR 2016:1. My Friend at Gondolen; I appeared in Linda Schenck's translation in SBR 2015:1. The Commission appeared in Darcy Hurford's translation in SBR 2011:1. The Room, The Invoice, and The Circus have appeared in Neil Smith's translation at Hogarth Press.