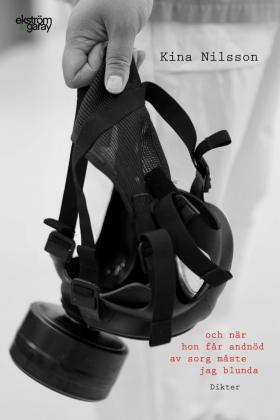 LATEST REVIEW
och när hon får andnöd av sorg måste jag blunda
(and when she gasps in grief I'm forced to close my eyes)
by Kina Nilsson, photography by Peje Åstrand
reviewed by Fiona Graham
During the first few months of the Covid-19 pandemic, Kina Nilsson, a specialist in infectious diseases treating hospital patients, put her thoughts and feelings into writing after each working day. By her own account, she saw her writing as a form of therapy, an outlet for the tension, anxiety, fatigue and sadness she experienced during the first phase of the outbreak.
Nilsson's lapidary free verse poems, 77 of which are published in this anthology, are a testimony to the dedication of the hospital staff who have borne the brunt of the pandemic. In striking visual images, she captures the emotional impact of caring for seriously ill patients. For instance, two medical workers hug one another outside an intensive care room 'likt två stupade björkar / som fångat varandra i stormen' (like two fallen birches / propping one another up in the storm). However exhausted a doctor may be, she hides her feelings behind a professional (and literal) mask: 'och sager / godmorgon / bakom masken / som ler' (and says / good morning / from behind / the smiling mask).
More than anything else, however, Nilsson captures the everyday tragedy of ordinary people caught in a pandemic: of couples and families torn apart by quarantine, isolation and death itself. The poem which gives the collection its title is a fine example.
Viruset har fångat dem båda
så de delar rum
och sängarna
står skavfötters
Hon får syrgas
genom en slang i plast
han har en likadan
Hennes avvecklas
när kinderna färgats
hans när han slutat
andas

Då hans sang förs bort
och hon får andnöd av sorg
måste jag
blunda

The virus has got them both
so they share a room
and their beds
stand end to end
She takes in oxygen
through a plastic tube
he has one too
Hers is removed
when her cheeks regain colour
his when he's ceased
to breathe

When his bed is moved out
and she gasps in grief
I am forced
to close my eyes
While the tragedy of an untimely death is a universal theme, some of Nilsson's poems also have a very contemporary edge to them. She directs biting criticism at the political elite and managerial cadre who have 'rationalised' medical care, leaving doctors and nurses on the ground to cope with shortages of basic equipment, including hospital beds. The cold anonymity of these distant decision-makers is conveyed through the device of synecdoche: they are referred to in impersonal fashion as 'finblusen' (smart blouses), or, as in the bitterly ironic poem below, 'kostymerna' (suits): 
Kostymerna har bestämt
hur manga sängar som ska finnas
men när bara en är ledig
är det jag som måste välja
vem som får
och vem som inte –

Kostymerna tittar bort
då, när jag bestämmer
vem som inte –

The suits have decreed
How many beds there should be
but when just one is free
it is I that must choose
who gets it
and who doesn't –

The suits look elsewhere
when I decide
who doesn't –
In a similar vein, Nilsson uses brevity to devastating effect in a haiku-like three-liner that parodies an automatic phone message.
Just nu är det många som väntar
Har du svår kronisk sjukdom
var god dröj

All our lines are currently engaged
If you have a severe chronic illness
please hold
Deceptively simple, her shortest poems can conjure up a scene in a few well-chosen words:  
I fikarummet
har någon vikt
en ängel
i svart papper

Jag undrar vems sorg
som hänger där

In the staffroom
someone has folded
an angel
out of black paper

I wonder whose grief it is
that hangs there
While the overall emphasis is very much on the suffering which the pandemic entails, be it among patients, family or medical staff, there are touching vignettes depicting acts of kindness and solidarity too. A sick mother and her estranged son are reunited, a man shielding at home sheds tears of gratitude when a neighbour delivers his groceries, and hospital colleagues support each other. The changing seasons, too, bring hope of new life. People out walking in the woods peer up at the sun 'likt späda vitsippor / som forcerat det bruna lövtäcket' ('like delicate wood anemones / piercing the brown leaf carpet').
The poem below feels particularly apt for the spring of 2021, one year into the pandemic. While our day-to-day lives remain dominated by Covid-19, the reawakening of the natural world nonetheless brings fresh solace and hope, a touch of reality. Or is it perhaps unreality?
När björken får musöron
är våren här
då kan rosorna trimmas
och gräsmattan krattas

Med rivsår på händerna
och jord under naglarna
känns verkligheten overklig
bakvänd och underbar

Låt mig stanna kvar
i overkligheten
ett slag

When new birch leaves unfurl
spring is here
time to prune the roses
and to rake the lawn

With scratches on my hands
and earth under my nails
reality feels unreal
topsy-turvy and wonderful

Let me linger on
in unreality
awhile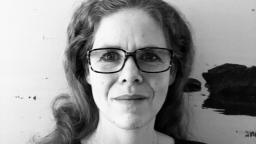 About
och när hon får andnöd av sorg måste jag blunda
Ekström & Garay, 2020
102 pages
Kina Nilsson grew up in northern Zealand (Denmark) and outside Oslo, with Danish and Norwegian as her first languages. She has lived for many years now in Stockholm, where she works as a specialist in infectious diseases. She is the author of a novel, Så som Frida Kahlo dansar (As Frida Kahlo Dances, 2020).