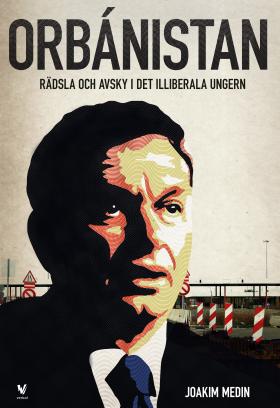 REVIEW
Orbánistan. Rädsla och avsky i det illiberala Ungern
(Orbánistan. Fear and Loathing in Illiberal Hungary)
by Joakim Medin
reviewed by Anna Paterson
Joakim Medin, a freelance writer of reports from the world's trouble spots, has again and again proved his commitment to investigative journalism and his courage under fire. He specialises in the Middle East and has written many reports from the conflict zones on the margins of the Syrian civil war. His first book is a thorough study of the role of the Kurdish army units operating in Syria and in Iraq and Turkey. Arguably a difficult read for non-specialists, it is an important source of historical and political fact. In Medin's current work about Hungary and its controversial Prime Minister, Viktor Orbán, the documentation is just as carefully researched, but handled in a more relaxed style.
Viktor Orbán was a law student in​ 1980s and an active student politician, a pro-democracy dissident. In 1988, he became the leader of a hopefully-named political party, the Alliance for Young Democrats, or Fidesz for short. Just a year later, the Wall fell and Soviet Russia's grip on its East European satellites weakened. Hungary was one of the first to respond to the changed political climate and a democratic multi-party system came into being remarkably smoothly. Joakim Medin is fascinatingly well-informed about Orbán's career during the following 20 years, as he morphed from a charismatic young left-wing firebrand into the combative mature politician, still a charismatic orator but increasingly a right-of-centre nationalist. After a spell as Prime Minister in 1998-2002, Orbán returned to power in 2010 under the banner of a unifying idea: the will of the Hungarian people would be expressed in a 'central force-field'. By now, after an election in 2018, the overwhelming dominance of Fidesz in parliament is backed by the second largest party, the extremely right-wing Jobbik.
For years, Orbán's hold on power has been consolidated by the ever-extending social network of the Fidesz faithful, a recipe for rampant patronage. Medin is very good on the indirect pressure on institutions to conform, from business and state organisations to NGOs, universities and arts venues.The popular support for Orbán and his autocratic and aggressively nationalistic leadership style seems partly based on an alarming – at least for fellow Europeans looking in – emphasis on scares about 'invasions' by outsiders. The most effective pro- nationalist propaganda focuses on keeping immigrants, especially Muslims, out of Hungary. Medin is perhaps at his reporting best, exciting and precise at the same time, in a description of his excursion into the fortified territory along the border with Serbia. The most reviled individual is the wealthy Hungarian-in-exile George Soros; the anti-Soros campaign would be simply bizarre if it had not been for its chillingly familiar undertone of suspicion of Jews, especially in the context of past Hungarian outbreaks of persecution.
Orbán is ambitious for international influence and plays a key role in setting the agenda of the 'Visegrád Four' – Poland, Hungary, Slovakia and the Czech Republic – with its stress on national, as opposed to EU, control. In 2008, the World Bank reported that Europe in the early 2000s had seen 'an unleashing of prosperity' and that the central European states had created 'stable institutions guaranteeing democracy, the rule of law, human rights and protection of minorities'. Just ten years later, all this sounds absurdly upbeat. Many countries, both within and outside the EU, are beginning to stray from the path of political virtue as defined by 'liberal democracy'. Medin has investigated the spread of 'Orbánist' ideas abroad, including in Turkey and Scandinavia, and also some of the people who have joined the flow of migrants – well received this time – of right-wing activists into Hungary.
Medin's 'fear and loathing' allude to the Hungarian population's active support for 'fortress Hungary' and opposition to aspects of the country's EU membership. It is a concern with wider implications – to put it mildly.This alone is a reason for studying his book; however, investigative journalism at this level of intelligence and personal engagement is always more worthwhile than most other sources of 'news'.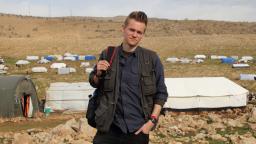 About
Orbánistan. Rädsla och avsky i det illiberala Ungern
Verbal, 2018. 247 pages
Rights: Kristian Borg.
Joakim Medin's reports from the Syria fronts are collected in Kobane – den syriska revolutionen och kampen mot IS (Kobane –The Kurdish Revolution and the Struggle Against IS), Leopard, 2016.