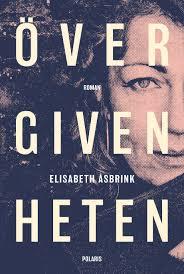 LATEST REVIEW
Övergivenheten
(Abandonment)
by Elisabeth Åsbrink
reviewed by Fiona Graham
'My plan was to give a name, once and for all, to the shadow that has followed me throughout my life.' Thus Elisabeth Åsbrink describes what motivated her to write a book that blurs the conventional boundaries between genres and defies easy categorisation. Biography, autobiography, memoir, autofiction, novel, essay? It has elements of all of these. To quote Åsbrink's own, mildly provocative words: 'This is imaginative literature, so everything recounted here is true.'
The book falls into three main parts centring on three generations of women in very different settings: London housewife Rita; her rebellious daughter Sally, now living in Stockholm; and Sally's daughter Katherine (Åsbrink's other forename), on a mission in contemporary Thessaloniki, erstwhile centre of Sephardic culture. The shadow present in all three is the tormented history of the Jewish diaspora, the recurrent menace of persecution, and the ensuing loneliness. Indeed, Ensamheten (Loneliness) was the title Åsbrink originally had in mind.
Rita's section depicts her in December 1949, the day after her wedding, aged 50, to her life companion and the father of her two daughters, Vidal Coenca. London-born Rita is the daughter of German Protestant emigrants who lost all their worldly goods while in transit to the United States, Vidal a Sephardic Jew from Saloniki, formerly part of the Ottoman Empire. As she potters about her suburban garden, Rita looks back on her penniless childhood and on being one of Britain's two million 'surplus girls' after World War I, when it was openly debated whether these footloose females should be shipped off to the colonies. A fortuitous meeting with Vidal brought a long-term relationship, a house and two children – but not the marriage that would have given her an inner sense of security and respectability. Vidal was afraid of being disowned by Flora, the stern Coenca matriarch, and by a tightly-knit community that stuck together in the interests of self-protection. It was not until well after Flora's death that Vidal and Rita married.
Their eldest daughter, Sally, trembled hearing Mosley's Blackshirts chant anti-Jewish slogans as they marched through the East End in the 1930s. Anti-Jewish graffiti was also in evidence. As a schoolgirl, she was the victim of a cruel practical joke, but her father refused to make a formal complaint to her school. 'That's not how a Jew behaves. We don't resolve problems by creating new ones. We don't make trouble.' Sally, who already resented her father, was never able to forgive him for not backing her up, and she left Britain for a teaching job in Sweden in 1949.
The central section of the book focuses on Sally and her ten-year-old daughter K in Stockholm, after Sally's divorce from György Fenyö, a Hungarian Jew who had narrowly escaped death as a child in World War II and fled Communist Hungary in 1956. K, a lonely, bookish child, knows where her mother's sleeping tablets are kept and which words 'Cannot be Uttered' (ranging from 'Budapest' to 'doctor', György's profession, and, of course, 'Jewish'). Battling to keep her suicidal mother alive, she knows she is Sally's only reason to continue living.
In a moving scene, little K seeks out 'her' fir tree (her father's surname, Fenyö, being Hungarian for fir), under which she has buried a few keepsakes to ensure that 'what has happened is still there'. This desire to uncover continuity with the past will continue to haunt her as an adult. It is not until much later that she will discover how her distressed father had 'counted the hours, days and weeks between the times they met, date for date, absence for absence.' K worships her mother as much as she fears her outbursts of anger, when Sally can suddenly appear larger than life, rather like Georg Bendemann's overbearing father in Kafka's short story The Judgment. (While K obviously stands for Katherine, it also suggests a certain kinship with those other long-suffering Kafka protagonists Josef K (The Trial) and K (The Castle).
The K motif continues in the book's final section, which depicts an adult Katherine as a krigare (warrior) on a quest to recover lost memories. Her mission takes her to Thessaloniki – once Vidal Coenca's Ottoman Saloniki – and, in imagination, to Castilian Cuenca, the home of their ancestors. The white queen of the Balkans, as the author calls Thessaloniki in an intensely lyrical passage, is also a city that has forgotten, or expunged, its own past. Once a refuge for Sephardic Jews expelled from Spain in 1492, and for Ashkenazy Jews fleeing pogroms in the late nineteenth century, it saw its Jewish population deported to Auschwitz-Birkenau and Bergen-Belsen in 1943. By then the Jewish cemetery had been broken up and the gravestones used as building material all over the city. Even street names commemorating Jewish residents were changed in a deliberate move to Hellenise the city.
In a visit to Thessaloniki's Jewish archives which one could again characterise as 'kafkaesque', Katherine tries to find out more about ancestors who were among the first to settle in Saloniki. It might be said that she comes up against a blank wall – were it not that the walls, and the squares, of Saloniki are dotted with the remnants of Jewish gravestones requisitioned after the destruction of the cemetery in 1942. Perhaps the most upsetting discovery is the Jewish tombstones embedded face down in the crypt of Saloniki's most celebrated church. This is cultural vandalism, desecration of the memory of a once-flourishing community that played a central role in the life of the city.
Övergivenheten is a book that will remain with a reader of any sensitivity for a long time. If it were pure fiction one would have to call it uneven, with its three sharply demarcated sections and accompanying shifts in narrative perspective. But it is drawn from life, with all the complexity and contradictions that entails. As in 1947 and her other works, Elisabeth Åsbrink has succeeded in placing deeply personal stories and emotions in a broader historical context. The verve with which she brings her characters to life cannot fail to move the reader to empathy, and to indignation.