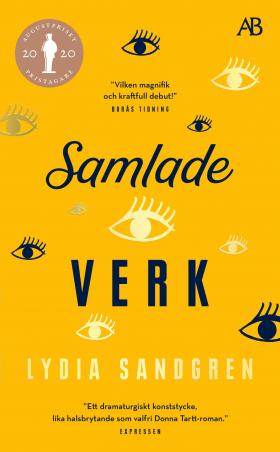 LATEST REVIEW
Samlade verk
(Collected Works)
by Lydia Sandgren
reviewed by Kathy Saranpa


A single volume called 'Collected Works' appears to be either a sad testament or a joke. The title evokes leather-bound volumes in a university library, by prolific writers such as Shakespeare or Strindberg, and not a debut novel. Lydia Sandgren thus surprises her readers before they even open her mammoth of a book (at almost 700 pages). But the reader who dares to do so will be richly rewarded. Sandgren succeeds in painting intriguing, full-bodied characters and placing them in a credible, intricate plot. And although this is not yet another iteration of Scandinavian noir, Sandgren scatters clues to the unfolding of events with the skill of a seasoned crime writer. A passing mention of a pair of worn-out women's running shoes, a tossed-off denigrating remark about gay men – these are details whose importance the reader only perceives long after their appearance.
As the novel opens, Gothenburg publisher Martin Berg, arguably the protagonist (excerpts from a protracted interview with him serve as chapter introductions), is lying on the floor with what we could call his 'collected works' surrounding him – nearly all of them unfinished. He's middle-aged, separated, about to have his last chick fly the nest. His life revolves around the office, the fitness studio, the market and home, with occasional evenings out. His daughter Rakel is studying psychology at university, although he's quite sure she'd make as excellent a translator as her mother. His son Elis seems to be following a path into discovery of French culture and style, and is typically surly and absent. Martin prepares a delicious meal for his son's birthday and assigns his daughter the task of reading a German novel, Ein Jahr der Liebe, to determine whether Berg's company should obtain the foreign rights for Swedish.
Narration of the present time of the novel is alternated with flashbacks, and it is here that we encounter the other two members of the triumvirate forming the character core of the novel. Martin meets Gustav Becker in high school and they become nearly inseparable. Gustav will eventually become an acclaimed painter but, unfortunately, also descend into alcoholism. A few years after they meet, Berg encounters Cecilia Wikner, who will become his wife. Absence makes the heart grow fonder, they say, and by the same token, the reader must become extremely fond of this character, because we never see her in the novel's present. Instead she is mediated through the narrative of other characters as well as in descriptions of oil paintings in high-end galleries and in Becker's messy studio apartment in Stockholm. We eventually learn that Cecilia left Martin and their children abruptly years ago and has not been in contact with any of them since. In the novel's present, Martin is still in love with her, still wears his wedding ring, and mostly avoids connecting with other women.
As the novel progresses, the focus widens to develop Rakel's character. Her father has nagged her about reporting on the German novel – a task she really does not want, but like her father, she is a pleaser – and eventually she begins to read it. As she gets further and further into the text, she discovers that it is about her mother, and that it may hold clues to where she is. She eventually makes contact with the author and finds out that he and her mother had an affair after Cecilia left Martin. As the novel closes, Rakel and Elis are standing at the foot of stairs that will lead them to their mother's flat.
In a curious penultimate section, Martin's 'collected works' are summarized, but immediately thereafter there comes a scene from his early adulthood  that we have not yet seen: Martin and Gustav in bed together. Is this a dream? Did it really happen? An alternate, reader's choice ending? If it hadn't been clear before, the reader now sees the obvious: Gustav has been in love with Martin all these years. The throwaway remark about not wanting to go somewhere that was 'crawling with [insert offensive term for gay men]' must have torn Gustav's heart in two. However, without it, the brilliant paintings of Cecilia may have never existed – nor, then, this story.
Collected Works is a tour de force and it is hard to think of another debut novel with so much promise and heft. Longing and memory drive the story, but it's also a novel about writing – something intimately involved with both of these.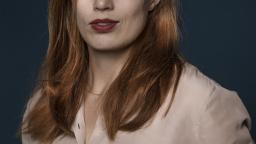 Albert Bonniers förlag, 2020
690 pages
Foreign rights: Astri von Arbin Ahlander, Ahlander Agency
Samlade verk won the 2020 August Prize for Best Swedish Fiction Book of the Year. It is due to be published in the US in April 2023 by Astra House in Agnes Broomé's translation.
Lydia Sandgren was born in 1987 in Gothenburg and is the oldest of seven siblings. She studied philosophy and literature in addition to psychology. She works as a psychologist in Gothenburg.